Military.com's Military Skills Translator has been integrated with an innovative Personality Assessment tool to deliver a comprehensive job search experience for veteran candidates. The tool uses a unique filtering mechanism to display customized job recommendations depending on a candidate's personality traits and military experience.
Veteran candidates take a self-guided visual personality test that determines their personality traits, available career paths, and recommends matching jobs. The test takes around 3-4 minutes and displays actionable results instantly.
EMPLOYERS — Explore the Personality Assessment Tool
View Tool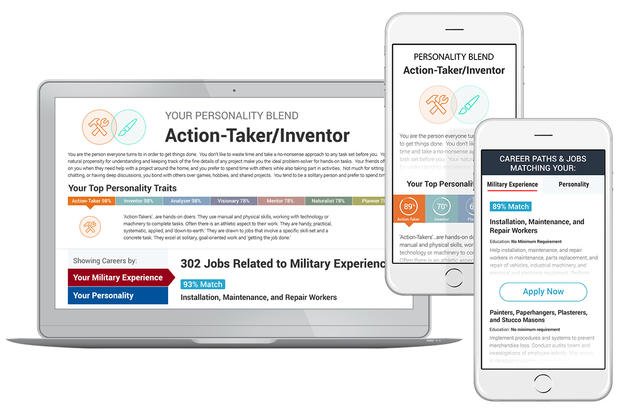 Unique Hiring Solution Designed Solely for Veteran-Friendly Companies
The Military Skills Translator + Personality Assessment is a unique hiring solution that efficiently offers the combination of industry-leading job search technology and vocational interests.
Attract qualified veteran candidates for the right job by mapping their soft as well as hard skills for your open job position.
Show your commitment to hiring veterans. According to the Monster Veteran Talent Index 2015, 90% of veterans believe it is critical to consider companies that market themselves as veteran-friendly.
Increased number of applicants who wouldn't have applied for jobs based on inadequate matching. A research conducted on 29,000 Military.com members states that 76% of respondents were impressed by their career matches after taking the personality assessment.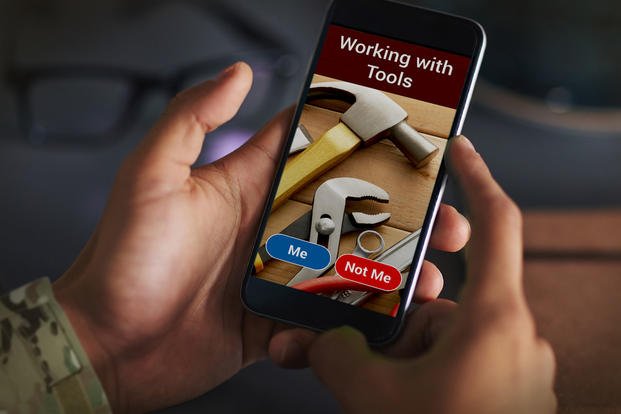 Science Behind the Personality Assessment
The assessment uses the binary decision methodology of "Me" or "Not Me" to measure the personality of the user thus producing a visually engaging experience with a 95% completion rate.
The tool operates on a mathematical algorithm that compares the full psychological breakdown of each individual with every career path and job position available to identify the best matches for the job seeker.
This patented method of measuring personality was developed by an experienced team of psychologists.
Unlike traditional personality assessments or Likert-type scale tests our assessment is based on six Holland Occupational Themes (RIASEC), a widely accepted theory of vocational choices with proven predictive validity.
VETERANS — Explore the Personality Assessment Tool
View Tool
Take Veteran Hiring to the Next Level
Map complex military occupation codes with jobs at your company with our Military Skills Translator
Advanced job search filters such as education, military occupation, and location for higher accuracy and refined results for your candidates
Easy integration on your website - only requires adding an I-frame to your career page
Custom-built design matching your brand colors
Performance reports and best practices guidance from your dedicated account manager
Multiple device & platform support - desktop, mobile and tablet
Personalized mapping of Military Occupation Codes to job positions at your company
For more information, speak to our Veteran Employment Team by filling out the Contact Us form.