The man known as the "father of Fort Bragg" said he didn't set out with a particular destination in mind when he started looking for a place to locate a new field artillery training camp.
Col. Edward P. King told a Fort Bragg historian years after he recommended the site for what is now the nation's largest military installation that he had never so much as heard of Fayetteville when he stopped in the town in June 1918.
But King -- who traveled south with an official from the U.S. Forestry Service -- liked what he saw in the rolling hills and tall Longleaf pine of the Sandhills.
"We liked it so well that we went no further," he wrote to the historian.
There are conflicting accounts as to why Camp Bragg, as it was initially known, was established in this part of eastern North Carolina. But one thing is clear. The camp, which wouldn't be completed until after World War I drew to a close, would not have been established were it not for the Great War.
The U.S. Army pre-World War I was small, even by today's standards. And officials, upon America's entry into the war in 1917, were quick to begin a massive buildup of the nation's military might.
By the summer of 1918, tens of thousands of U.S. troops were being sent to Europe each day. To support that training, the Army established dozens of new camps across the country.
Some remain to this day, early versions of what are now known as Fort Jackson in South Carolina, Joint Base Lewis-McChord in Washington and Fort Meade in Maryland.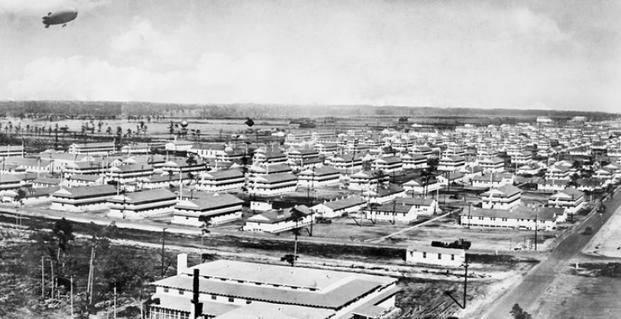 In North Carolina, three camps would eventually be created, including Camp Bragg, Camp Greene near Charlotte and Camp Polk near Raleigh.
The location of what is now Bragg was chosen as the Army sought out a new artillery training post. King was involved in the search from the start.
The Army wanted a site with adequate water, suitable soil, nearby rail transportation and a climate suitable for year-round training. An initial search in Maryland and Virginia ended empty-handed.
King began a new search with the help of geologist T. Wayland Vaughn.
Highways were nonexistent, King would write years later. The pair did not have road maps. And they found few signposts throughout the country.
"We traveled by the compass and dead reckoning," he said. "It would be impossible for me to tell you where we went."
On the fourth day of their journey, King wrote that the pair stopped in the community of Manchester, near what is now present-day Spring Lake.
"We stopped for a bottle of Coca-Cola and asked the shopkeeper where we might stay for the night," he said. "He directed us to Fayetteville. That was the first time I had ever heard of that town."
The next day, King and Vaughn examined the site of what is now Fort Bragg. It was the first tract of land that met their requirements.
Officials formally requested the creation of Camp Bragg -- named for Mexican War hero Capt. Braxton Bragg, who also served as a Confederate general during the Civil War -- in July.
Weeks later, on Sept. 4, 1918, Camp Bragg was officially established by executive order. Construction began 12 days later.
This article is written by Drew Brooks from The Fayetteville Observer, N.C. and was legally licensed via the Tribune Content Agency through the NewsCred publisher network. Please direct all licensing questions to legal@newscred.com.