Thirteen percent of military spouses are unemployed, and 43% of military spouses are under-employed. In both unemployment and under-employment, military spouses cited specific challenges around relocation, childcare responsibilities, and the economic impact of COVID-19. That's according to research by Navy Federal Credit Union and Hire Heroes USA®.
The two organizations surveyed more than 2,000 military spouses and identified 10 industries or career paths that meet the values and attributes that matter most to this community. Government and public administration topped the list, which nearly half of respondents said an analyst role in this field best-suits frequent relocation via permanent change of station. Other industries on the top 10 list include business support and human resources, healthcare and social assistance, educational services, and information technology.
For Marine Corps spouse Debbie Evans, who serves as assistant manager of operation risk at Navy Federal, technology is a growing and expanding field. "Technology is a growing business. We have to be ready to invent new processes and preserve and protect our infrastructures," said Evans.
Earning an MBA and working in banking are two key factors keeping Air Force spouse Matthew Vean's skills transferable from one city to another. And he says location plays a major role too.
"It's critical for military spouses to have transferable skills that can help advance their career due to their spouse moving every 2-4 years," said Vean, commercial banking team lead at Navy Federal. "If a military spouse is relocating to a smaller city or town, the job market can be more difficult versus moving to cities such as Washington, D.C., San Diego, or Colorado Springs."
In addition to building a broad skillset, military spouses need to take advantage of free resources available through the military spouse community.
"Since I've worked in transitioning military and military spouse employment support for almost 10 years, I sometimes incorrectly assume that military spouses know there are resources developed specifically to assist them in their continued job search," said Amy Dodson, human resources manager at Hire Heroes USA®. "Resources like this Best Careers for Military Spouses list are great step in the right direction to reach more military spouses and make them more comfortable with reaching out for support."
Vean echoes this sentiment, noting that LinkedIn and other social platforms have been instrumental resources as he progresses in his career. "These are great tools to help build your network virtually. Make your profile stick out and do not be afraid to reach out to other people. As one looks for career advice, get as specific as possible with your desired role."
When finding a satisfying career experience, Dodson encourages military spouses to get comfortable with reinventing yourself and try to find the positives in each change of location. She also encourages them to find and target employers who have military spouse hiring initiatives where their role as a military spouse is sought after when selecting employees.
"My career experience, like many other military spouses, took many twists and turns during the 22 years my husband was in the military. I never saw myself as a public speaker, teacher, or expert on military employment, but I ended up loving that job which set me on a career path I never thought I would be on, but am still on to this day," said Dodson.
Evans agrees and never thought her career would be in the financial industry.
"Like any young military spouse, most jobs were entry-level, whether you had a college degree or not. It's when we were stationed at a small Navy Communications Station in San Miguel, Philippines that my ideal job came to fruition. I interviewed at Navy Federal and was hired on the spot. My story continues today, 29 years and 8 months later."
Here's the full list of the top 10 Military Spouses industries according to the Navy Federal Report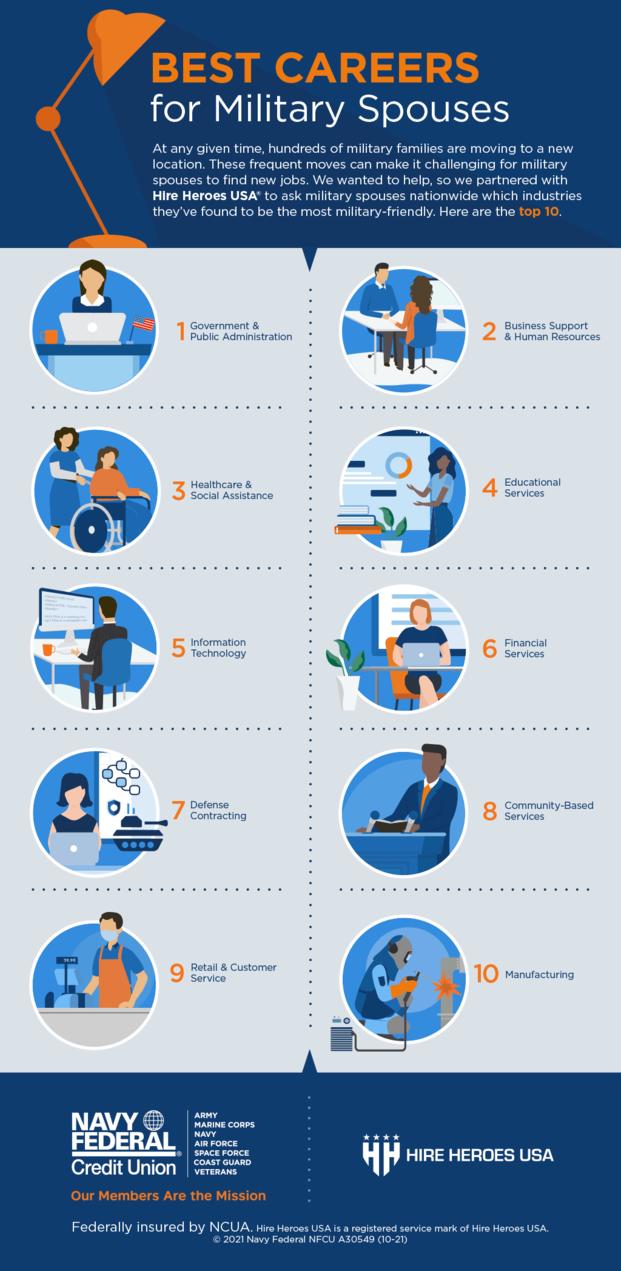 Find Out More About the Best Careers for Military Spouses and Other Resources
Read the whole report or check out the Navy Federal Blog for more articles and tips on important topics for military spouses.