President Donald Trump will nominate a new commandant of the Marine Corps this year as Gen. Robert Neller finishes out his four-year tenure as the service's top officer.
Neller, who became commandant in September 2015, is closing in on his final months leading the Marine Corps. Who will replace him remains to be seen, though multiple general officers may be well placed for consideration for the post.
In the last four years, Neller has ushered in a host of innovative efforts. He's pushed to get more high-tech gear into Marines' hands, encouraged "disruptive thinkers" to share their ideas about how to improve the Corps, and restructured the Marine rifle squad.
Those are efforts the next commandant must continue as Marines gear up for future conflicts that will look a lot different than what they grew used to in Iraq and Afghanistan, said Dakota Wood, a retired Marine officer and senior research fellow at the Heritage Foundation, a conservative Washington think tank. That's all happening at a time when Marines are already stretched thin, he added, stressing families, equipment and training.
"The next commandant will have a full plate of challenges, ranging from end strength and operational tempo, to budgeting for a broad range of acquisition initiatives, to working with the Navy in its efforts to grow the size of the fleet," Wood said.
Neller is one of just four active-duty four-star Marine generals. The others include Gen. Joe Dunford, the former commandant who's serving as chairman of the Joint Chiefs of Staff; Gen. Gary Thomas, who became assistant commandant in October; and Gen. Thomas Waldhauser, head of U.S. Africa Command who's expected to retire this year.
There are a handful of three-star generals likely also under consideration. (Neller was a lieutenant general when he was named the next top officer.)
Here's a look at who might get the nomination to be 38th commandant of the Marine Corps.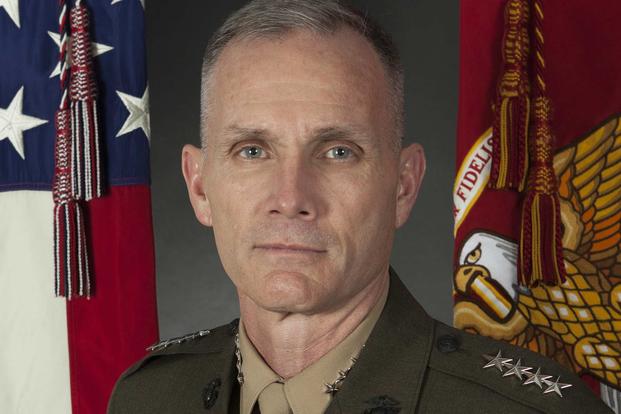 Gen. Gary Thomas
Current assignment: Assistant commandant of the Marine Corps
Thomas, a naval aviator, was named assistant commandant when Gen. Glenn Walters retired last year. He previously served as deputy commandant for Programs and Resources and commanding general of 2nd Marine Aircraft Wing. He has served for 35 years.
Thomas has commanded several F/A-18 Hornet squadrons and led troops on combat deployments. He led 2nd MAW through a deployment to Afghanistan and was commanding officer of Marine Fighter Attack Squadron 323 when it deployed to Iraq.
Thomas wouldn't be the first assistant commandant to be tapped to lead the Marine Corps. Dunford served as assistant commandant to Gen. Jim Amos before becoming the 36th commandant in 2014. Historically, though, commandants have come from the infantry community; Amos was the first Marine Corps aviator ever to serve as commandant.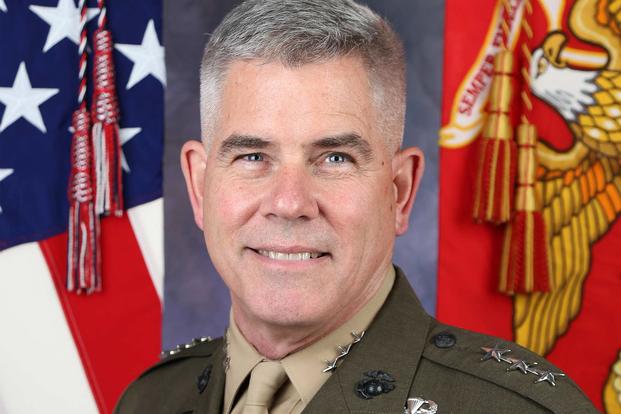 Lt. Gen. Joseph Osterman
Current assignment: Commanding general of I Marine Expeditionary Force
A career infantry officer, Osterman has led grunts in Somalia, Cuba, Iraq and Afghanistan. He now oversees all West Coast Marines as commanding general of I MEF.
Osterman led Marine Corps Special Operations Command for two years, during which the three Marine Raider battalions were organized. He also served as commanding general of Marine Corps Recruiting Command in Quantico, Virginia, after commanding a recruiting station in New York years prior.
With the Marine Corps special operations community poised to grow in the fiscal 2020 budget request and operators taking on an increasingly significant role in recent conflicts, Osterman's MARSOC experience may recommend him for the job.
He also has command experience deployed in two major conflicts. Osterman deployed to Iraq in 2004 as commander of 25th Marine Regiment. He also deployed to Afghanistan in 2010 as commanding general of 1st Marine Division.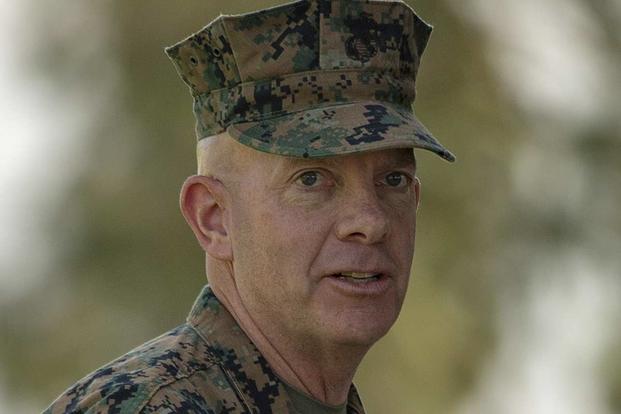 Lt. Gen. David Berger
Current assignment: Commanding general of Marine Corps Combat Development Command and deputy commandant for Combat Development and Integration
Berger, another career infantry officer, currently oversees the command that develops warfighting concepts and training doctrine. He recently spoke with Military.com about a new force-on-force training effort designed to prepare Marines for a near-peer fight.
In an interview with Military.com, Berger said the Marine Corps must teach its leaders to "think on their feet."
Berger led Regimental Combat Team 8 in Fallujah, Iraq, and was commanding general of 1st Marine Division during a deployment to Afghanistan. He has also led troops in Japan, Haiti and Kosovo. And he was head of Marine Corps Air Ground Combat Center Twentynine Palms in California, where Marines train to deploy.
Berger's career has also given him experience that dovetails with top Marine Corps priorities and cutting-edge technology, including operations in the Pacific region and the new F-35B Joint Strike Fighter.
Like Osterman, Berger has also served as commanding general of I MEF. He then served as the head of Marine Corps Forces Pacific, where he oversaw all Marines and the Corps' missions in the Asia-Pacific region, including the first operational deployment of the F-35 in the region.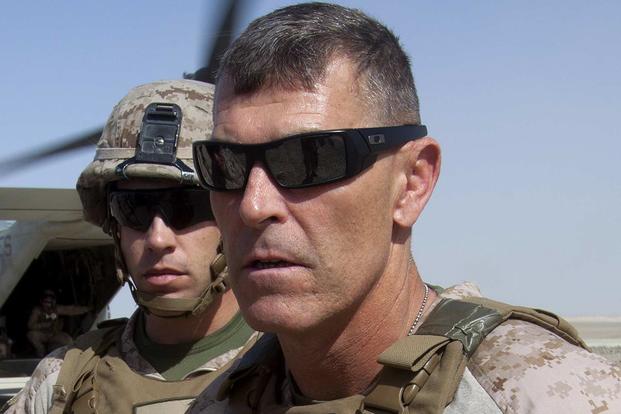 Lt. Gen. George Smith Jr.
Current assignment: Senior military assistant to the defense secretary
Smith, then a two-star, was nominated by former Defense Secretary Jim Mattis in September 2018 to serve as his senior military assistant. He was quickly confirmed by the Senate, arriving at the post before Mattis resigned in December.
It wasn't Smith's first role in the Pentagon. He also served as principal assistant, senior adviser and task manager for former Marine Corps Commandant Gen. Jim Amos.
Smith's proximity to Mattis could be seen as a boon -- he was hand-selected by one of the most revered former Marine Corps generals still living. It could also have his drawbacks; Trump, who officially will nominate the next commandant, claimed following Mattis' resignation that he "essentially" fired the former defense secretary for lack of results.
Smith served as the commanding general at Twentynine Palms before Berger took command of the training base in 2013. He was also the director of strategy, plans and policies at U.S. Central Command.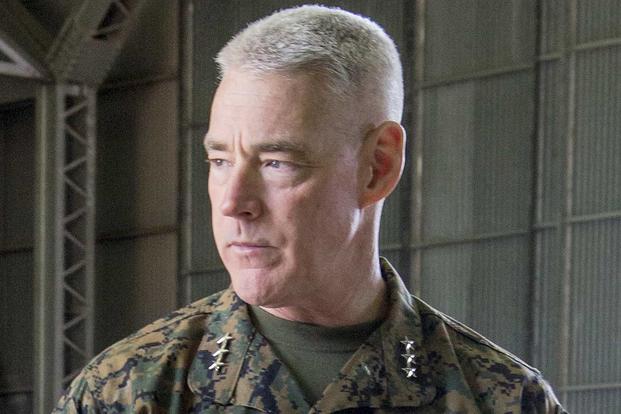 Lt. Gen. Brian Beaudreault
Current assignment: Deputy commandant of Plans, Policies and Operations
Beaudreault currently oversees the Marine Corps' plans for structure and deployments. Another career infantry officer, he has served for nearly four decades and has commanded Marines in perhaps more deployed operating environments than any other officer on this list.
Beaudreault has led troops in Somalia, Iraq, Bahrain, Puerto Rico and Pakistan. He was commander of the 15th Marine Expeditionary Unit for three years during the wars in Iraq and Afghanistan, and later deputy commander for Marine Forces Central Command.
His current role has put him at the center of key discussions about how to position and prepare Marines for the future high-end fight, including modernization decisions and the future of amphibious warfare.
He also served as commanding general of the North Carolina-based 2nd Marine Division.
-- Hope Hodge Seck contributed to this report.
-- Gina Harkins can be reached at gina.harkins@military.com. Follow her on Twitter @ginaaharkins.