The tribute was perfect for a powerful woman known for being as strong as she was tiny.
A man, dressed nattily in a slate suit with brown shoes, paused in front of Ruth Bader Ginsburg's casket, lying in state at the U.S. Capitol on Friday, knelt to a plank, and did three crisp push-ups before jumping up, standing at attention and bowing his head.
That man was quickly identified as Ginsburg's trainer, Bryant Johnson, 55, a 30-year Army veteran who had found his niche helping court officials -- including three Supreme Court justices -- give their bodies the same kind of rigorous conditioning demanded of their minds.
Read Next: 4 Military Veterans Just Released the Most Tactical Campaign Ad of All Time
Johnson, according to his website, RBGworkout.com, spent 12 years in an Army Special Forces airborne unit; a photo of him on the site shows him wearing a necklace featuring a Jump Wings pendant.
Through his company, Johnson said Friday that he was not immediately available for interviews. But a 2013 Washington Post profile states that it was his military background that led him to become a fitness trainer, noting he has jumped out of fixed-wing aircraft and helicopters, as well as one hot-air balloon.
"He's a sergeant, but he doesn't act like a sergeant," U.S. District Judge Thomas F. Hogan told the Post at the time, adding that Johnson blended strict discipline with empathy.
Johnson remained in the Army Reserve at the time of the profile; it notes he and Ginsburg had to pause training together while he deployed to Kuwait.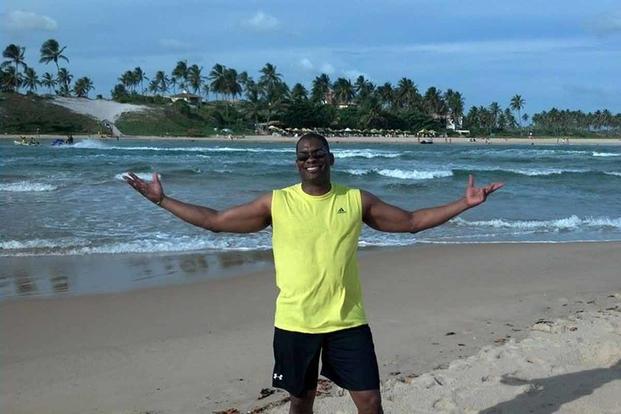 The justice, who died Sept. 18 at 87, became a Supreme Court associate justice in 1993 and first engaged a personal trainer in 1999, according to the Post. It was Johnson's training that helped the slight, 5 foot-tall justice adopt her now-famous fitness regiment of 20 push-ups a day in her 80s.
Johnson, who also has trained Justices Elena Kagan and Stephen Breyer, told the Times of Israel in 2019 that he tried to impress upon his soldiers the importance of Ginsburg's work, particularly the portion focused on gender equality within the military.
"I told a couple of soldiers, 'You wouldn't have these rights,'" if it weren't for Ginsburg, he said, according to the publication.
In a podcast interview on Orrick.com, Johnson offered a few more insights into his choice of military career. He said in the interview that he had been persuaded to become a paratrooper without really knowing what he'd be in for:
"I had no idea until after I had completed basic and I went through my school, and then they said, 'Well next place you have got to go is Fort Benning, Georgia,' and I said 'What's there?' 'Oh, that's Air Force school.' 'What?' 'Oh, yeah, you gotta jump out of a perfectly good airplane for no reason at all.' 'Look, are you serious?' And it was too late then."
In case you wanted to try the famous RBG workout, beware. Though just 22 minutes long, a Politico reporter who tried it in 2017 reported "it nearly broke me."
-- Hope Hodge Seck can be reached at hope.seck@military.com. Follow her on Twitter at @HopeSeck.
Related: How Ruth Bader Ginsburg Helped End the Military's Policy of Forced Abortion