The U.S. Air Force is testing whether fresh blood can survive being airdropped out of an aircraft in an effort to get more of it to combat medics in remote environments.
The service in April practiced parachuting 350-milliliter bags of blood secured in a small cooler out of a C-145A Skytruck during "Operation Blood Rain" at Eglin Air Force Base, Florida, test and training ranges, according to a service news release.
Read Next: The Community with the Most US Veterans Per Capita Is Finally Getting Its Own Memorial
The idea to airdrop blood was born during a combat aviation adviser (CAA) team's high altitude and cold weather training, the release states.
Air Force Special Operations Command's combat aviation advisers -- one of the U.S. military's most advanced teams training foreign partners -- frequently support other governments fighting internal threats such as terrorists, lawlessness or drug activity. The Air Force has been steadily growing this cadre of airmen for operations in austere environments, officials told Military.com in 2018.
The recent airdrop test -- a semi-finalist in the service's annual Spark Tank innovation contest -- fits the CAA mission because of its "unconventional warfare tasks," the release states. The test team, which laid the groundwork for the experiment beginning in January, was made up of 96th Medical Group doctors from Eglin and Hurlburt Field's 492nd Special Operations Wing advisers, it adds.
According to the Mayo Clinic, using whole blood instead of plasma is the preferred option for patients who need transfusions after a major surgery or trauma.
The current go-to method for delivering supplies to austere environments is frozen blood -- packed in glass tubes -- which can break easily when dropped out of a plane. Medics have advocated for more stable solutions, such as whole blood or freeze-dried plasma in non-breakable packs for their makeshift trauma rooms.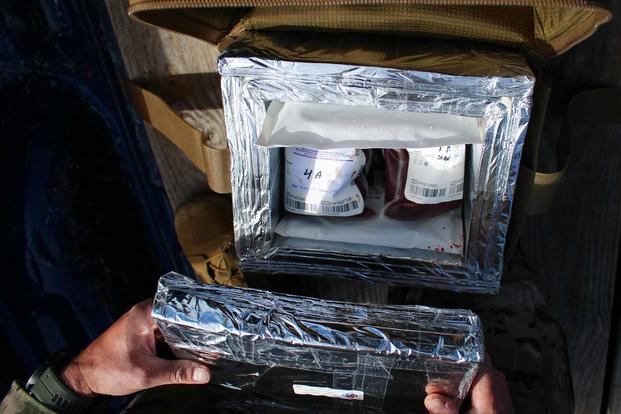 On the day of the test, 492nd SOW's "Combat Coyotes" first practiced dropping saline bags.
Then, the C-145 "passed over the drop zone at about 200 feet flying at approximately 115 mph," according to the release. "The loadmaster released the box of blood out of the aircraft, and the parachute opened shortly after."
Medical and lab teams determined "there was no breakdown or disintegration in the red blood cells of the airdropped blood samples" after they were collected from the landing zone, the release states. While initial tests were a success, the teams will schedule more airdrops to "fully validate" the dispersal method.
The Air Force said the ultimate goal is to bring blood to battlefield locations using drones, expediting deliveries while protecting pilots above a war zone.
"These deliveries would help extend the 'golden hour' or period of time following a traumatic injury when there is the highest likelihood that prompt medical and surgical treatment would prevent death," the release states.
-- Oriana Pawlyk can be reached at oriana.pawlyk@military.com. Follow her on Twitter at @Oriana0214.
Related: AFSOC Surgical Team Wants Blood Warmers to Save Lives Downrange