Service members have been helping their neighbors through a crisis in Texas this week -- and that included hundreds of reptiles who were left helplessly bobbing in cold water after unusually freezing weather crippled the state.
Navy Capt. Christopher Jason, the commanding officer of Naval Air Station Corpus Christi, was assessing problems on base caused by a rare winter storm when he and Command Master Chief Eric Kinnaman were told that wildlife on the waterfront was struggling. An Army veteran had saved a couple of birds when he noticed a few sea turtles floating listlessly in the waves.
The reptiles were cold-stunned, Coast Guard Petty Officer 2nd Class Russell Grizzard said. He's one of three Coast Guard rescue swimmers who later dove into the near-freezing water to find the turtles and bring them to safety as Texas experiences devastatingly cold temperatures.
Read Next: Marines Investigating Woman's TikTok Video Claims that General Allowed Perpetrator to Stay in Uniform
"Most of the turtles ... could barely move or keep their heads above the water and would've drowned if we didn't get to them," Grizzard said.
When the turtles first turned up Tuesday, Jason fetched his kayak and paddled out to begin plucking them from the water. He loaded a few into his kayak before paddling back to the shore where Will Bellamy, the Army veteran who first spotted the turtles, loaded them into his truck.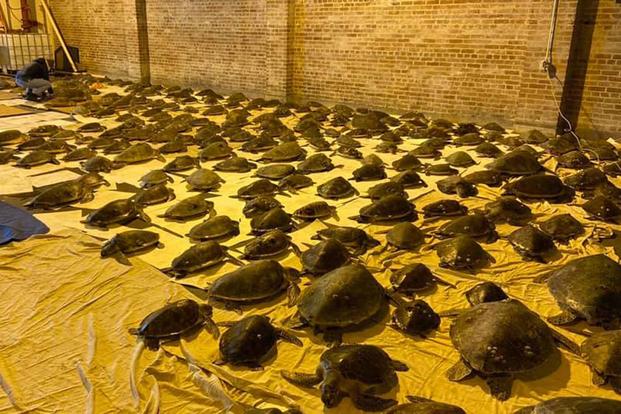 What began as a small operation later turned into a massive volunteer effort as hundreds of sea turtles began appearing near the air station. Bellamy, Jason recalled, described it as a "turtle apocalypse."
Word of the turtle-saving mission spread on social media.
"All the sudden, we had people everywhere," Jason said, as naval aviation students, Coast Guard members, and troops' spouses and kids turned out to help.
By Friday morning, the volunteers had saved more than 1,100 sea turtles. That was even as the winter storms left many of the volunteers without power or water, problems that have plagued Texas communities this week.
"It was amazing, just the energy," Jason said. "... Everybody forgot about their struggles at home and just helped out."
Grizzard and Petty Officer 3rd Class Will Groskritz were the first two Coast Guard rescue swimmers to show up Wednesday to assist. Their shop got a call for help, and the pair said they didn't hesitate to volunteer to assist.
The aviation survival technicians put on their gear, and each spent about more than an hour in the 36-degree water near South Padre Island off Texas' southern coast. Together, they rescued about 60 turtles.
"We have trained vigorously to assist anyone or anything in need of help," Groskritz said. "When the call came in that someone or something needed help, there was never hesitation to pack and go. We're all personally fishermen and hunters and respect and love the wildlife."
Grizzard went back the next day, along with Petty Officer 1st Class Rob Rendon, another aviation survival technician. They estimate they saved another 40 to 50 turtles Thursday.
Other volunteers were lowering laundry baskets to those on the rocks just above the water so sea turtles could be raised up to the seawall. The volunteers tried to reach the turtles before they got near the rocks. While some of the animals suffered minor cuts and injuries, veterinarians told Jason the turtles are expected to survive the experience.
The sea turtles were first loaded into a hangar at the air station, but were later transported to a nearby climate-controlled warehouse run by the Defense Logistics Agency. About 450 turtles were kept there overnight Wednesday since impassable bridges and fuel shortages caused by the storms made it difficult for rescue organizations to reach the area.
Service members from the air station volunteered to stay with the turtles overnight Wednesday.
Jason, who scuba dives, said he was used to seeing sea turtles in the area. Still, he was shocked by the number of turtles that were turning up.
He was also impressed by the volunteers' ingenuity, forming human chains to reach the turtles and even heading into the water on a paddleboard to get to the stunned reptiles.
"In hard times, the power of people to get together and to help out, whether it's a person in need or a creature in need, these amazing things can happen," Jason said. "It was just the power of the human spirit ... and a lot of people being selfless [and] doing something special and positive."
-- Gina Harkins can be reached at gina.harkins@military.com. Follow her on Twitter @ginaaharkins.
Related: Hungry Alligator Found Lurking Near North Carolina Marine Barracks