Every year, both the Army Black Knights and the Navy Midshipmen don special football uniforms for the Army-Navy Game. These unique unis honor a particular aspect of their branch, its history or its culture. Navy announced its new uniforms for the Dec. 10, 2022, matchup: a red, white and blue tribute to NASA.
The new uniform is reminiscent of NASA's spacewalk suits, with its distinctive red stripes, flag and NASA logo patches and even the Helvetica type NASA has used for decades. The pants, helmet stripe and gloves feature the astronaut pin, first given in 1963 to members of the Mercury 7 mission.
Astronauts receive the silver pin after completing basic training, and the gold pin after the completion of a spaceflight. Mercury 7 was NASA's first spaceflight program, to see whether it was even possible for humans to stay in space and for how long.
One side of the new helmet shows the NASA logo in front of the moon.The other side is a hand-painted picture of astronaut Bruce McCandless II, a Navy graduate, as he made the first-ever untethered spacewalk.
In 1984, McCandless flew 300 feet away from the Space Shuttle Challenger with nothing to keep him from slipping away from the shuttle except for the Manned Maneuvering Unit and two cans of nitrogen to steer him. The photo of his spacewalk is now one of NASA's signature historical images.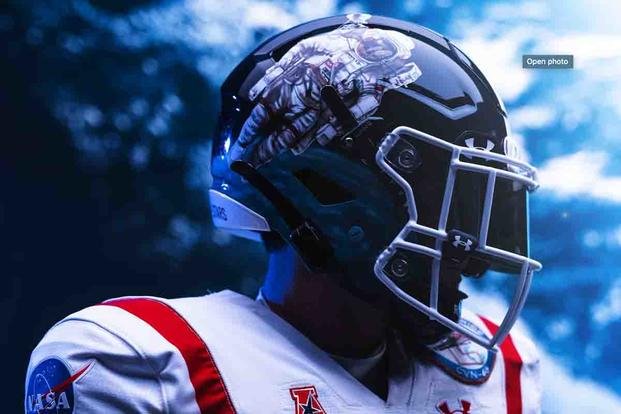 The uniform also features cleats designed to resemble moon boots, with shiny dots to represent stars. Blue socks with the NASA logo round out the 2022 Navy uniform design.
The U.S. Naval Academy and NASA have a long history together. Fifty-four Annapolis graduates eventually became astronauts, including the first American in space, Mercury 7 astronaut Alan Shepard. Shepard was also the fifth man on the moon, and the first man on the moon to play golf.
Along with Shepard and McCandless, other Naval Academy graduates have left a significant footprint at NASA. Wally Schirra was the only astronaut to fly in NASA's first three space programs, Mercury, Gemini and Apollo, and Jim Lovell commanded the Apollo 13 mission and successfully returned the crew to Earth. Six of the 12 astronauts to set their footprint on the moon got their start in the Navy.
The 123rd Army-Navy Game kicks off at 3 p.m. at Philadelphia's Lincoln Financial Field on Dec. 10, 2022. The game will air nationally on CBS.
-- Blake Stilwell can be reached at blake.stilwell@military.com. He can also be found on Twitter @blakestilwell or on Facebook.
Want to Learn More About Military Life?
Whether you're thinking of joining the military, looking for post-military careers or keeping up with military life and benefits, Military.com has you covered. Subscribe to Military.com to have military news, updates and resources delivered directly to your inbox.