Last summer, Capt. Kimberly Jones quietly took on a new job aboard a new ship. Although both she and her commander knew the posting was historic, she said nobody felt the need to ratchet up the fanfare.
The job is the reactor officer aboard the aircraft carrier USS Dwight D. Eisenhower. That position -- which is responsible for operating the ship's twin nuclear reactors and overseeing hundreds of sailors -- is one of the most important and influential aboard the ship since it provides propulsion, electricity, and the ability to launch planes for one of the Navy's biggest and most visible platforms. Plus, the risks of messing it up are enormous.
Jones is the first African American woman to be entrusted with the job. She's also only the sixth African American ever to hold the position.
Read Next: The Journey Home from Ukraine for Fallen Americans
Jones, who spoke with Military.com over the phone Tuesday, said that while she was going to college for engineering at Tuskegee University in Alabama, she wasn't thinking about the Navy as an option.
"I received a flier in the mail for the Nuclear Propulsion Officer Candidate program," she recalled. "It just sounded different, [and] it came at a time where I was very open to options."
She was commissioned in 2001 and began her career in Japan aboard the amphibious transport ship USS Juneau. That experience was formative because she was one of only two women aboard. The other female officer was on her second shipboard tour, and so Jones said she "watched her like a hawk."
"I learned everything that I could learn, and it just really kind of walked in her footsteps," she recalled.
In a 2021 Navy video, Jones also noted that, at that time, "when it came to personal questions that one might have, it was hard to find those stories and find those folks that have walked in your shoes in a very similar fashion."
The experience also led her to grapple with whether "being more feminine wasn't as professional or ... in the intent of a true [surface warfare officer.]"
While women have made huge strides and accomplishments in the service over the last several decades, they currently make up only 23% of the surface Navy. Even simple things like uniform design have been focused on men, with the Navy taking until 2022 to make uniforms that would better fit women's bodies.
Jones, however, said that she didn't find her gender to be an impediment or something she had to downplay. "I just needed to be me, and I needed to be my best," she said.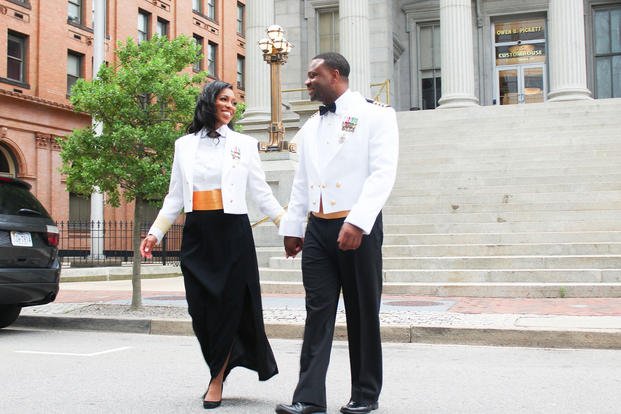 Jones says many of the challenges she faced in her career -- getting qualified as "officer of the deck" and getting surface warfare-qualified -- are the same that any surface warfare officer has faced.
But quickly she took on responsibility.
"You are probably 23 years old and you're driving a ship at night, and the boss is asleep and trusts you … and, you know, that's wild."
Since those early days, Jones has had an impressive career as a surface warfare officer. She went on to command the dock landing ship USS Tortuga, becoming only the sixth African American woman to do so and, according to her Navy biography, she recently became only the fourth African American woman to be selected for a major ship command post.
Jones is hesitant to talk about those accomplishments. She attributes much of her success to "the great leaders and peers that I worked with" and readily points out that she's just the first to "run across that finish line" but that she's "worked alongside folks just like myself, over the years" who could have just as easily been in her place.
Jones' husband, Capt. Ray Glenn, himself a nuclear officer aboard the USS Nimitz, is quick to note that his wife is "pretty humble" but points out that "there have been setbacks in her life that some people wouldn't have gotten through."
Glenn, himself the fifth African American reactor officer in the Navy, attributes his wife's success and rise to the historic role she now holds to her commitment.
"As passionate as I am, I think she's got more passion because she's the one at the dinner table that's going to talk about work," he explained, before adding that "she's the one who talks about her sailors."
To Jones, who now oversees a team of around 400, "the ability to lead them is my most coveted charge."
"The majority of them left their homes after high school and they embark on a journey of unknowns, and I take that very seriously," she adds.
Jones' appointment came during a banner year for women breaking barriers in the Navy.
In July, Lt. Amanda Lee became the first female jet pilot to join the historic demonstration squadron "The Blue Angels."
Then, in August, the same month as Jones' appointment, Capt. Amy Bauernschmidt became the first female commanding officer to complete a deployment of a U.S. aircraft carrier when the USS Abraham Lincoln returned to Naval Air Station North Island after a seven-month deployment in the Pacific.
At the end of that month, the Navy announced that it had named the first woman to serve as a top enlisted sailor on a submarine.
In December 2022, the Marine Corps also promoted its first African American woman to the rank of major general.
"They're standing toe to toe with men, and each day they're standing toe to toe in places where, if you had to look 20 something years ago, you didn't think you'd see an African American woman," Glenn boasted of his wife and other groundbreaking sailors he's known and met.
For those looking to follow in Jones' footsteps, her advice is pretty straightforward: "Learn your job and keep learning" and "take every assignment as an opportunity for yourself and for those you serve."
"You don't have to change your core self," Jones said, before adding that, as long as you do your best, you can "start to move through any of the barriers, whether they are real, whether they are artificial or something that is put in your path."
Editor's note: This story has been updated to correct the ship on which Glenn serves.
-- Konstantin Toropin can be reached at konstantin.toropin@military.com. Follow him on Twitter @ktoropin.
Related: Black Female Marine General Is Latest in Year of Firsts for Military Women and Minorities