When Master Chief Petty Officer of the Navy James Honea took office last September, he promised to focus on the needs of sailors and their families.
Sailors immediately voiced skepticism online.
"The man has been a Master Chief longer than I've been in the Navy, and joined the Navy before I was born," one person wrote on the service's Reddit page. "This man has no idea what issues his junior enlisted face."
Read Next: Gun Buying Restrictions on Base Are Needed to Reduce Suicides, Pentagon Panel Says
Others comments were more colorful and in keeping with the Navy's tradition of rough-talking sailors.
But Honea, the service's top enlisted leader, and his small team of chief petty officers have taken to using the same online forums that pilloried his early comments to reach out to sailors and offer fixes.
When one sailor posted images of a moldy and cockroach-infested barracks room in mid-January, the team from Honea's office reached out to the sailor to offer help and said that Honea had "contacted leadership to discuss this situation," adding that "he was very disappointed with what was depicted."
They've worked on the backlogs of discharge documents -- an issue that has been plaguing sailors for months -- among other problems that have been looming over service chatrooms for years.
Honea and his staff, in interviews with Military.com earlier this month, said they are keen on delivering a message: They are here to listen and help when they can.
"I don't want to walk out of there and they go, 'Ah, that guy just flaps his.... . Email us, we'll help you solve these problems," Honea said. "I didn't want them to think that our words were platitudes."
During an interview ostensibly about Honea's efforts for sailors, he let his staff -- most of whom are seasoned master chief and senior chief petty officers -- do the majority of the talking while he stood in the back, leaning on his desk next to a table littered with challenge coins.
He delights in telling people, or at least reporters, that he may "look like a big mean bear, but I'm a Care Bear. I unzip my coat, and rainbows come out."
Honea, in his own direct language shaped by 35 years of service, isn't shy about the fact that there are problems in the Navy that need solving.
"There's either a disconnect or a lack of trust or something with a lot of sailors and their chain of command," he said, before adding that they "need to build a lot of that confidence back."
One thing he's done is hand out his contact info when he holds sailor forums around the fleet. But he's also aware that there are limits to when he can insert himself directly.
"We don't want to take away the responsibility of the chain of command. We want to be there to be complementary," Honea said.
One clear result of this engagement has been the office's track record on fighting the backlog of discharge paperwork on behalf of sailors.
Chief Legalman Rebecca Duclayan -- the sailor who handles all the requests that come to the office -- said that, since September, she's helped almost 220 sailors get the key paperwork they need to not only separate from the Navy but claim the myriad benefits that are due veterans as they transition from service.
Honea said that his office also helped push along the development of the now-launched command dashboard that's aimed at giving commanders more insight into the paperwork issues going on at their units.
The sailor with the moldy barracks also wrote that "the whole building got the attention it needed" a day after he put up the pictures of his room and said the problem was "addressed."
The online outreach took off on Jan. 20, 2023, when Honea decided to plop himself in the middle of one of the prime spots for sailor complaints, holding an "Ask Me Anything" session on the Navy Reddit page.
New Ways to Talk to Sailors
The Navy Reddit page is not an official service site, and the session was initially the idea of the moderators, not the office of the Master Chief Petty Officer of the Navy.
Senior Chief Stacee McCarroll, Honea's spokesperson, explained that the session was actually "in the works since April of last year" when Honea's predecessor, Russell Smith, told the crew of the carrier USS George Washington that there was little he could do to improve their living conditions in the wake of a massive string of suicides.
That remark set off a fever pitch of criticism in online Navy forums, inspiring a slew of memes that painted the service as indifferent to issues affecting sailors.
At that time, McCarroll said the office felt it was "not an appropriate time" for a session but, once Honea took over, she pitched the idea to the boss, and he agreed.
Honea said his answer was simple: "Sure."
"I'm willing to go have a conversation with anybody anywhere," he added.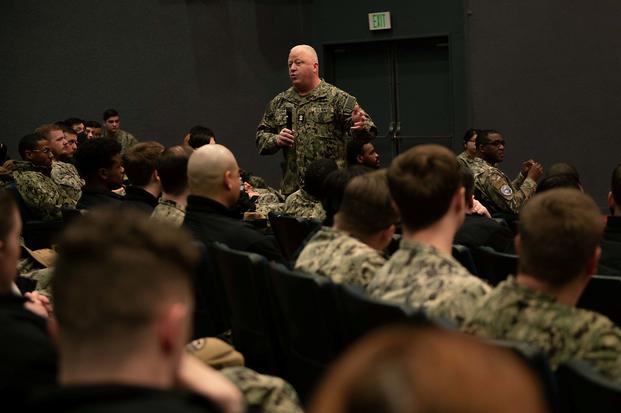 Honea's staff had been reading the site for some time, but this would be their first major foray into active participation.
Behind the scenes, some inter-service cooperation was necessary to make the event happen. McCarroll said that she reached out to her counterpart at the office of the Sergeant Major of the Army for advice. The Army's top enlisted official -- Sergeant Major of the Army Michael Grinston -- proudly held a similar session on the Army's Reddit site two years ago.
Grinston has also used the site to get feedback from soldiers on new policy and to help spread awareness of some issues.
Even the moderator for the Army's page provided advice to the Navy's counterparts as they prepared for their own session.
Honea sees the Reddit site, and any social media platform where sailors gather, "as going down to deck berthing ... or you're going up to the smoke pit," places where sailors let their guard down and converse freely.
"The conversation runs the gamut of sometimes sophomore humor to just serious serious problems that they need advice and help with, and shipmates are on there helping one another and giving each other really good advice," he added.
The Navy's top chief petty officer said he thought that "it's healthy" to find sailors "[talking] trash" about his fellow chiefs on social media.
Honea sat behind a table in his office, opened a laptop, and dove head first into what one chief predicted would be a "giant Class 'A' fire of sailor vents/rants/and complaints."
The result was a largely substantive session that broadly focused on issues like access to mental health care, paperwork and pay backlogs, and a perennial sailor favorite: beards in the fleet.
"Around the Navy, a lot of the commentary was appreciative of it; that it showed that we're open and honest and transparent or trying to help," Master Chief Rich James, Honea's executive assistant, said.
The Boatswain's Mate
Honea said he is determined to keep trying to talk to sailors and be a conduit to solve their problems.
In many ways, Honea wants to be seen as how he sees himself: a boatswain's mate who "grew up in the Navy just like anybody else [and] that's dealing with things in the Navy."
"The MCPON is not some celebrity, you know -- it's not this big personality," he adds.
Master Chief PatrickPaul Mangaran, one of the staffers in Honea's office, said that the desire to take care of sailors is genuine -- especially from the MCPON.
"He's real, he's authentic, he's genuine," Mangaran said. "That's what I love about this man."
And between the Reddit sessions, the presence on social media, and a more open tone, Honea's managed to strike a notable change in public discussion about the office of the Master Chief Petty Officer of the Navy.
Smith, his predecessor, was certainly available on most of the social media platforms, but seemed to prefer to engage with sailors privately instead of in large, public forums.
Meanwhile, the man who came before Smith, Steven Giordano, retired early after reports surfaced that an inspector general investigation was looking into allegations that he bullied subordinates and mistreated his staff. Several of those allegations were later substantiated.
The staff in Honea's office is eager to see their efforts to engage with sailors online be replicated by other commands. Although the office is still in the minority, there have been other Navy leaders who have been taking to social media platforms to engage with sailors directly.
Vice Adm. Rick Cheeseman, the man who oversees the Navy's entire personnel management system -- the one at the heart of many of the paperwork delays Honea has worked through, regularly engages with questions and criticisms on the MyNavyHR Facebook page from his personal account.
Late in January, Cheeseman foreshadowed the release of the new but delayed family leave policy in a comment on Facebook.
For Honea, the benefits of online conversations are clear. "I believe anonymity gives them maybe a little bit more courage ... and I think that's necessary; I think that's good.
"I'm not going to be offended nor am I going to weaponize somebody's comments to me," he added.
-- Konstantin Toropin can be reached at konstantin.toropin@military.com. Follow him on Twitter @ktoropin.
Related: Navy's New MCPON Aims to Be a 'Problem Solver' Amid Suicides, Water Contamination