Having missed its recruiting goals by more than 20% for the past three years, the Coast Guard is embarking on a new publicity effort aimed at Generation Z to raise awareness of the service's purpose.
Coast Guard Commandant Adm. Linda Fagan unveiled a new recruiting logo and tagline for the service -- "Protect. Defend. Save." -- in Washington, D.C., on Tuesday. She described the triumvirate that makes up the tagline as "succinctly communicating" what Coast Guard men and women do every day.
The new campaign, along with seven new recruiting centers and Junior Reserve Officer Training Corps units at 10 high schools nationwide, should go far in explaining the job and service opportunities available in the Coast Guard, Fagan said during an interview following her annual "State of the Coast Guard" speech.
Read Next: Space Command HQ Decision Delayed Due to 'Additional Analysis,' Air Force Secretary Says
"There are many, many Americans that don't really know what the Coast Guard is or what we do," Fagan said. "It's not that people don't want to work for the Coast Guard. In some cases, they aren't even aware we exist."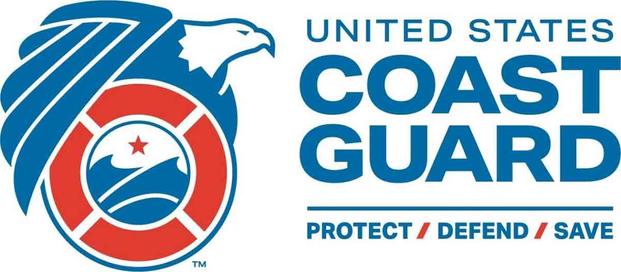 The logo, which will appear in recruiting materials and targeted ad campaigns, includes four key elements: an eagle to represent military might and strength, but also the nation's waterways and coastal environments; a life ring, depicting the Coast Guard's mission as a lifesaving service; a star that symbolizes navigation and law enforcement; and a stormy sea with three waves representing the service's core values of Honor, Respect and Devotion to Duty.
Fagan described the graphic as "tertiary" because it will not replace the Coast Guard symbols of a life ring and crossed anchors or the well-known racing stripe that adorns cutters. Instead, it will become a recognizable symbol that "resonates with the youth we are looking to draw into the service."
"It's [going to be] all through gaming sites; it's online. It's just a very different approach we are investing in. You won't see a Coast Guard national ad on TV because it's ineffective," Fagan said.
The Coast Guard's roughly 41,000 active-duty members and additional 10,000 Reserve members and auxiliarists handle 11 missions by law -- such as search and rescue, marine safety, waterways security and more -- at ports, air stations, small boat stations, cutters and small craft nationwide and across the world. Fagan said, however, that in many parts of the U.S., especially the Midwest, where Coast Guard missions are tied mainly to inland waterways, few people are familiar with the service.
The goal of the initiatives is to attract new recruits and expand opportunities within the service for young people. But they also are trying to attract those with needed training or skills who may be able to move laterally into the service, bypassing the lower enlisted or officer ranks, depending on specialty.
The service has introduced its Scout Talent and Refer program, offering $1,000 to any member, retiree, reservist or civilian employee who steers a recruit to Coast Guard Training Center Cape May, New Jersey.
It has also instituted a bonus program for certain jobs within the service, offering anywhere between $15,000 to $50,000 signing bonuses to recruits interested in becoming a gunner's mate, culinary specialist or other understaffed rating.
And it is opening up recruiting centers in El Paso, Texas; Little Rock, Arkansas; Sacramento, California; Milwaukee, Wisconsin; Syracuse, New York; St. Paul, Minnesota; and Indianapolis, Indiana, this year.
"Once we can stop being 'the best kept secret in government,' I think our product sells itself," said Capt. Richter Tipton, head of Coast Guard Recruiting Command, during an interview with Military.com.
In addition to highlighting the need for more members in her speech, Fagan said the service must continue to invest in ships, small boats and aircraft, along with shore infrastructure, housing, health care and child care services to ensure that it meets operational demands and retains members.
To continue to provide a high level of operations, Fagan said, the service will need a 3% to 5% budget increase each year, which means, by 2033, the Coast Guard would be a "$20 billion a year organization."
"I'm certain you will not find a better return on investment for the American people," Fagan said.
-- Patricia Kime can be reached at Patricia.Kime@Military.com. Follow her on Twitter @patriciakime.
Related: Badassery on Display: Coasties Seize Nearly 20 Tons of Cocaine