Nalani Quintello quit 'American Idol' to be in the U.S. Air Force -- that's how excited she was to join up. Now, she's serving her country as the lead singer of Max Impact, the service's six-member rock band. Their mission? To travel the world honoring our vets, connecting with communities and inspiring patriotism through music. It's something she never saw coming as a kid, but now she can't imagine doing anything else.
Katie Lange: You're from a military background. How did that shape your upbringing?
Nalani Quintello: My sister is also in the Air Force, and my dad was in the Army before I was born. He was stationed in Germany, where he met my mother, who was full German. I was born in Germany and raised there for about eight years, then my family ended up moving back to Florida, which is where I spent the bulk of my life. I actually had to learn how to speak English because I had a terrible German accent. So, I grew up bilingual, which was really cool.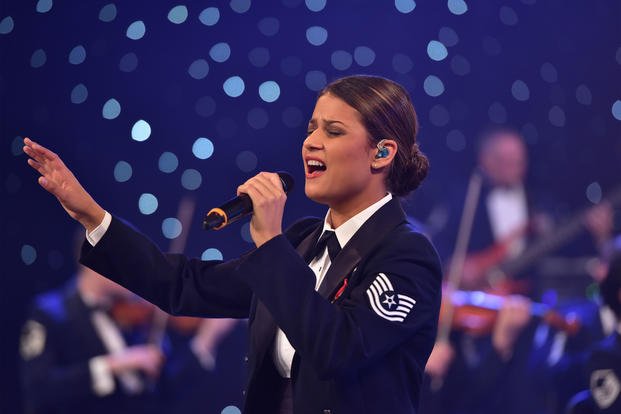 KL: How did you get into music?
NQ: I was really into sports growing up. I always thought I was going to be an athlete. It wasn't until I was about 11 or 12 when I started getting into music. One of my softball teammates introduced me to karaoke -- I didn't even know what it was at the time. I asked my dad if I could perform a song, and he was really hesitant because I was really quiet and didn't really say a lot. I think he was just trying to protect me, but I begged and begged and really wanted to go up there. So he finally said yes, and the first song I ever sand in front of an audience was ''Follow Me'' by Uncle Cracker. That's really what started it all.
KL: You tried out for season 14 of 'American Idol' shortly after graduating high school. What was that experience like?
NQ: I had started college and was performing at 12 local nursing homes, restaurants and festivals on the side. But I wanted to do something more with it, and I knew of a couple people who tried out. I grew up watching the show, so I wanted to see where it would go. I got to audition in front of Keith Urban, Jennifer Lopez and Harry Connick Jr., and luckily, I got three yesses.
I went to Hollywood and experienced the much-dreaded group rounds, where you have to find a group late in the day and then stay up all night rehearsing the song they choose for you. Then the next morning, you have to perform it. I made it past the group round and the solo performance, then got to come back home for a little bit before flying back out for the showcase round, which is right before the live rounds.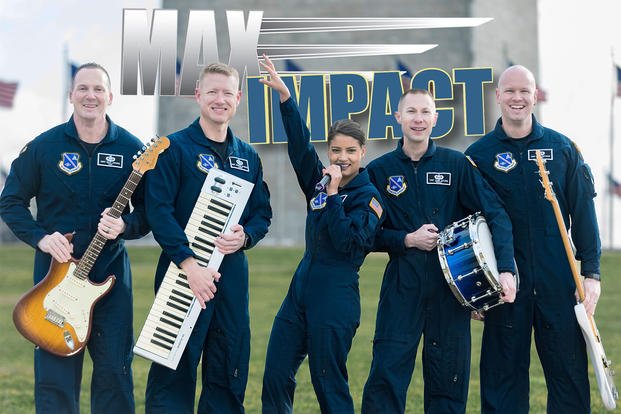 KL: The Air Force came calling when you made AI's Top 48, so you dropped out to join Max Impact. Was it a difficult decision, and how did people react to it?
NQ: I couldn't do both because of contractual issues, so it was a very easy decision for me. I knew right away that's exactly what I wanted to do -- to serve my country. I just never thought I'd be able to do it in the capacity in which I'm doing it now, as a member of the Air Force band. My family already knew what my decision was going to be. The ''American Idol'' producers were shocked, but they ended up granting me a waiver to leave. They were actually really cool and understanding about it. So, I ended up going straight from AI to basic military training, which was pretty crazy.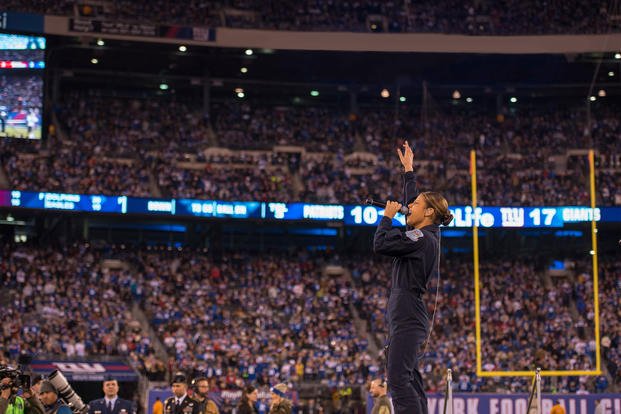 KL: What would you say is your underlying mission as an Air Force musician? And what are your typical duties?
NQ: Our mission is to honor vets, inspire patriotism, connect with others and be an icebreaker through music. It's a universal language that brings people together. We stay pretty busy year-round. In the summer, we perform at the D.C. Air Force Memorial regularly, as well as National Harbor and the U.S. Capitol. On a normal duty day, we rehearse for about two hours, then we go do our other duties because we are a self-run organization. For example, our drummer, he's in charge of operations. He schedules the day-to-day logistics. I'm the marketing manager, so anything that has to do with advertising is on me.
KL: You get to travel all over the world for this gig. What are some of your most memorable performances?
NQ: We got to headline an NFL Patriots vs. Giants game at MetLife Stadium. The stadium was sold out, and we actually got to headline the halftime show with one of our original songs that I co-wrote with our guitarist. To me, that was by far the most memorable -- to be able to perform at a huge stadium in front of thousands of people was like a dream come true. To be able to represent the U.S. Air Force wearing the military uniform was a prestigious honor.
KL: You deployed in 2016 with Operations Inherent Resolve and Resolute Support. What was that like?
NQ: We were based out of Qatar, and from there we traveled to Egypt, Kuwait, Jordan and the UAE. Our mission was to essentially unite countries, bond with our allies and create new friendships by performing at international schools and embassies. We celebrated the 4th of July in Egypt, mainly to be an icebreaker between the two cultures. At first, it started off kind of awkward. But when we started performing, there was a dance floor, and I remember the two cultures distinctly coming together, which instigated conversation. By the end of the day, they weren't thinking about politics. The only thing they were thinking about was being in the moment and having a great time with the people who were there.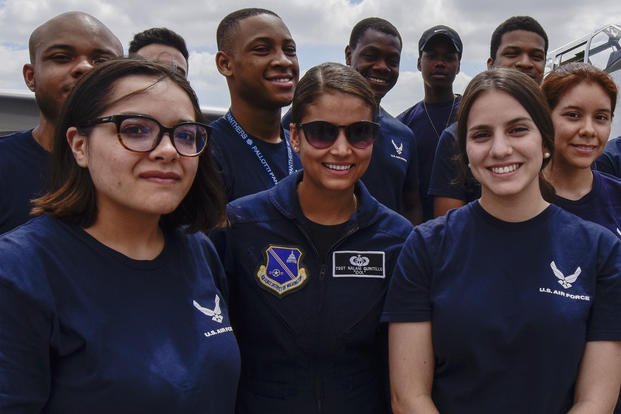 KL: Your ability to speak German has helped to bridge those barriers, right?
NQ: Yes. We performed at the German Embassy a couple of times for their Octoberfest, and it was awesome because I'm able to connect with the German military and our allies by doing our show mostly in German. I think at first they didn't know what to think because they saw this girl in a U.S. military uniform on stage speaking German. But it allowed us to have that human interaction and connect with an entirely new demographic, which is part of our mission.
KL: What is your favorite part about what you do?
NQ: After our performances, we take time to greet people and listen to their stories. That's my favorite part -- the response from the audience members. We also get a lot of good feedback on our social media sites. One woman wrote us on Facebook and said she was dealing with cancer and really depressed, but when she listens to our original music, it gives her the power and strength and will to keep going. That's when I realized that what I do truly matters.
KL: What advice would you give to other musicians thinking about joining the service?
NQ: Work extremely hard for your goals, and don't let the fear of reaching your dreams prevent you from trying. As cliché as that sounds, that's been the motto I've lived my life by. I've been told ''no'' so many times, and had I given up after every no that I'd received, I never would have achieved any of my goals. Instead, I used all of the ''no's'' as fuel and motivation to keep working harder.