We're two weeks away from the original scheduled release date of "Top Gun: Maverick." COVID-19 forced Paramount to move the release to Christmas 2020 and, if the planned movie theater reopenings don't go well in July, that date could potentially shift to next year.
"Top Gun: Maverick" reunites Tom Cruise, Val Kilmer and producer Jerry Bruckheimer, but it will be missing two important contributors to the original movie: Producer Don Simpson died of heart failure in 1996, and director Tony Scott, who fought depression, died by suicide in 2012.
1990's "Days of Thunder" (just reissued on 4K UHD, Blu-ray and digital) reunited Cruise, Scott and Simpson/Bruckheimer in another movie that's all about the "need for speed." Tom plays the unfortunately named Cole Trickle, an open-wheel race car driver who's lost his ride and hopes that NASCAR is his ticket to the big time.
Randy Quaid is Tim Daland, an automobile dealer who dreams of starting a racing team on the cheap, and Robert Duvall plays Harry Hogge, a legendary NASCAR mechanic and car builder who quit the game after he lost a driver in a racing accident.
Cole is a hothead, and Harry is the old hand who teaches him the finer points of racing
Twenty-three-year-old Nicole Kidman plays Dr. Claire Lewicki, apparently the world's youngest brain specialist and the voice of reason in Cole's professional and, eventually, personal life. Tom and Nicole later married for real, and they've got chemistry on screen here.
Kilmer's not around this time, but Michael Rooker fills the Iceman role as Rowdy Burns, the NASCAR champion who becomes Cole's biggest rival and sort-of friend. There's even a tiny part for John C. Reilly on Cole's pit crew, and John's obviously soaking up the atmosphere that he would later put to such great use as Magic Man Cal Naughton Jr. in "Talladega Nights."
All of this should sound familiar to "Top Gun" scholars. We've got boys who love their high-speed machines and need to learn how to be men. We've got the conflict between two talented drivers. And we've got a reasonable woman and some old hands who teach our hero a thing or two about life, love and responsibility.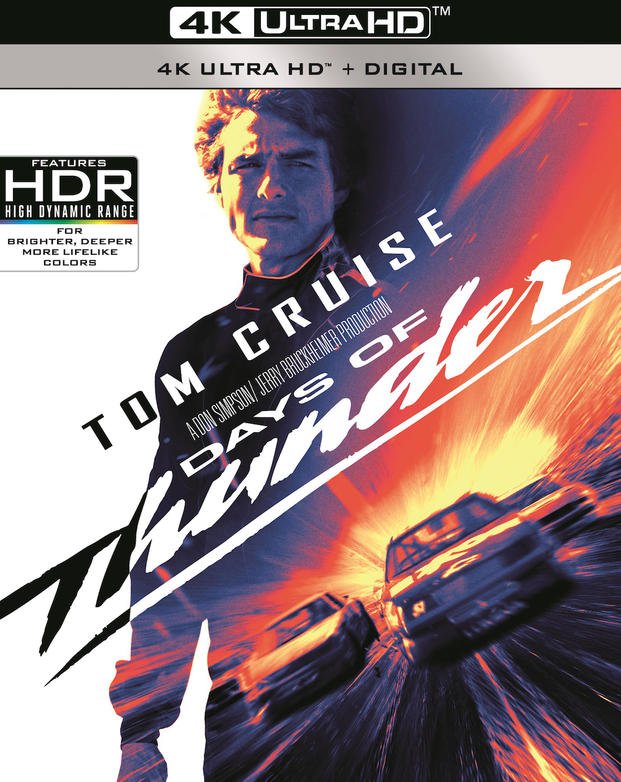 Unfortunately, the "Top Gun" magic didn't transfer to "Days of Thunder." It's not a bad movie, but it can't hope to compare to the movie that directly inspired it.
Tony Scott is not to blame here. The NASCAR racing scenes are fantastic, and he's figuring out ways to use cameras to capture the action that would never happen today. "Days of Thunder" is pre-CGI, and any modern producer wouldn't risk the danger when computers could create the sequence instead.
Cruise has made no secret that he spent the early years of his career learning how his movies were made so he could later step up and be his own producer. That's obviously worked out well for him because he has had some remarkable creative and commercial success over the last decade-plus with the "Mission: Impossible" movies, the "Jack Reacher" films, "American Made," "Edge of Tomorrow" and "Oblivion."
On "Days of Thunder," he stepped up and has a story credit shared with Oscar-winning screenwriter Robert Towne ("Chinatown," "The Last Detail"). It's easy to imagine that everyone involved was thrilled to have a prestige writer like Towne on their movie, but the result seems like Robert cashed the check, took some notes while screening old boxing B-movies and cranked out the script over a long weekend.
There's a whole lot of love here for cars and the mechanics of racing but not a lot of understanding of NASCAR culture. Scenes are filmed at actual races, and several real driving legends make cameos in the movie. But Cole is an outsider who never really immerses himself in the sport's bootlegging soul.
That's the major difference between "Top Gun" and "Days of Thunder." Both movies cut a lot of corners, but it's only the fighter pilot one that captures the heart and soul of its subject.
The movie has a Hans Zimmer score and a Geffen Records soundtrack that features John Waite, Tina Turner, Whitesnake's David Coverdale, Chicago, Cher and Elton John. There's also Guns N' Roses' excellent version of Bob Dylan's "Knockin' on Heaven's Door." This was a lineup of killer hit artists in 1990, but it's not really anyone's idea of the tunes you'd hear in the parking lot on race day.
When I worked at Geffen later in the decade, a colleague insisted that we should redo the soundtrack with contemporary country artists like Alabama, Travis Tritt, George Strait, the Judds, Steve Earle, Randy Travis and Clint Black. He believed that a new version of the movie that just swapped out the songs would be a classic.
While we're waiting for "Top Gun: Maverick," "Days of Thunder" is just about as close to a replacement as we're going to get. The racing scenes are fantastic, native Californian Duvall is incredible as a crusty old Southerner, and aspiring moviemakers can compare and contrast a pretty good movie with a stone classic like the original "Top Gun."
Keep Up With the Best in Military Entertainment
Whether you're looking for news and entertainment, thinking of joining the military or keeping up with military life and benefits, Military.com has you covered. Subscribe to the Military.com newsletter to have military news, updates and resources delivered straight to your inbox.