Tampa Bay Buccaneers tight end and Super Bowl champion Rob Gronkowski might be best known these days as the guy who can't qualify for USAA, but that roadblock hasn't slowed his support for military and veteran causes.
For the NFL's 2021 My Cause My Cleats campaign, the five-time Pro Bowl selection player chose to honor the United Service Organizations with custom-designed cleats that honor both the USO and the family of Army MSG Richard Jasen.
Jasen attended Florida State University and enlisted in the Army after the September 11 attacks in 2001. Over his career, he has two combat deployments to Afghanistan, two combat deployments to Syria , one Joint Combined Exchange Training (JCET) to Lebanon, one deployment to Kuwait and served two years in the Republic of Korea.
Jasen and his wife have two daughters, ages 9 and 6, and one son, age 7. The family are lifelong Tampa Bay Buccaneers fans and intend to live in Tampa after his Army retirement.
Gronkowski surprised the Jasen family on their visit to Tampa Bay's Raymond James Stadium and posted a video on Twitter.
The video also features Gronk's meeting with custom shoe artist Marcus Rivero, who's best known as Soles by Sir. The player tells Rivero that he wants to honor the USO on his custom cleats but also pay tribute to the military family he just met and the athlete's Gronk Nation Youth Foundation.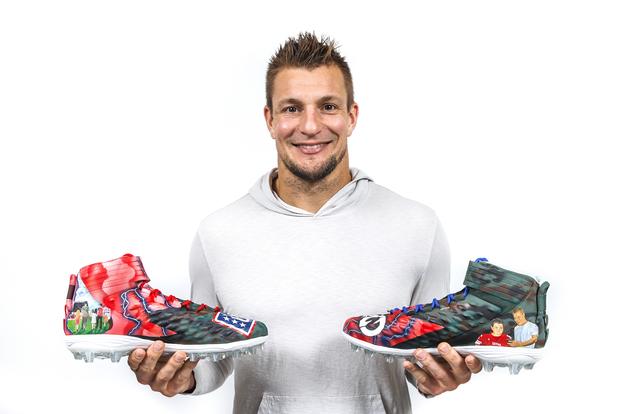 Gronkowski seems delighted by the result once he unboxes the finished shoes.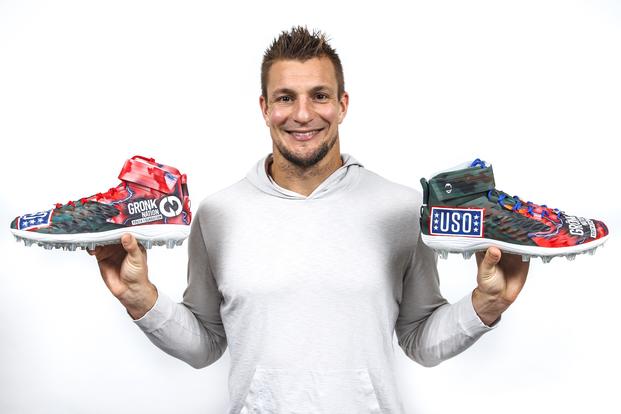 Players who've chosen to participate in the campaign will wear their custom cleats during the season's week 13 games from Dec. 2-6, 2021. Many of those pairs of shoes will then be auctioned off to support a player's chosen charity.
Keep Up With the Best in Military Entertainment
Whether you're looking for news and entertainment, thinking of joining the military or keeping up with military life and benefits, Military.com has you covered. Subscribe to the Military.com newsletter to have military news, updates and resources delivered straight to your inbox.