No matter how much we might love the usual slate of Christmas movies that resurface every year, there are only so many times we can sit through "A Christmas Story" or "It's a Wonderful Life."
While the intersection of Christmas movies and war movies is a small one, there's still a good selection. There's a lot of drama, of course, but the list includes action and science fiction, and who wouldn't love to watch Chuck Norris kill the bad guy with an anti-tank missile for Christmas?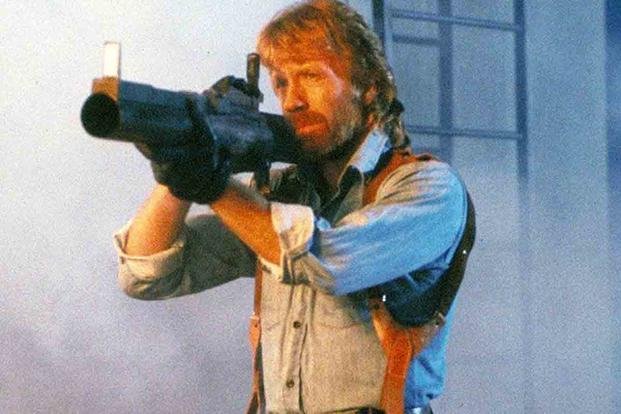 Merry Christmas, Mr. Lawrence
This movie is a special treat for fans of David Bowie's acting abilities but don't want to be intimidated by his tights in another viewing of "Labyrinth." Bowie stars as Maj. Jack "Strafer" Celliers, interned at a prisoner of war camp in Japanese-occupied Java during World War II.
"Merry Christmas, Mr. Lawrence" actually spends a lot of time focused on themes other war movies definitely do not, including elements of Japanese culture (it was written, directed and edited by Japanese creatives), life in POW camps and the ethics of war.
Joyeux Noel
From the French for Merry Christmas, "Joyeux Noel" is based on a real World War I event, the Christmas Truce of 1914. It depicts the visit of the lead singer of the Berlin Imperial Opera company on a visit to the front line, through the eyes of a handful of German, French and British soldiers.
As the Scottish bagpipers play Christmas tunes, the German opera singer starts serenading in their trench. Hearing the song, the bagpipers join the German to French applause and the truce sets in. This is a very European movie, and features dialogue in German, French and English, but is well worth the effort of reading the subtitles.
A Midnight Clear
Before Gary Sinise was sent to Vietnam in "Forrest Gump," he was at the Battle of the Bulge in "A Midnight Clear." Set in the early days of the last major German offensive of World War II, the movie is about a U.S. Army intelligence unit sent to the front to gather information about enemy movements who came upon a group of Germans wanting to surrender.
The plan for their surrender goes awry, of course; otherwise there wouldn't be much of a movie. "A Midnight Clear" isn't a great movie, but it's eminently watchable and features a cast of recognizable faces.
The Philadelphia Experiment
Depending on how much conspiracy theory you can handle, "The Philadelphia Experiment" might also be based on a real event. Ex-Merchant Mariner Carl Allen claimed he saw the U.S. attempt an experiment to turn the destroyer escort USS Eldridge invisible at Philadelphia Naval Shipyard. "The Philadelphia Experiment" movie picks up on that story.
The result of the experiment sends two sailors forward in time to 1984, where they find scientists working on shields to protect the U.S. from a nuclear attack. The 1984 experiment threatens the existence of the planet, and the two sailors have to find a way to stop it.
Stalag 17
"Stalag 17" is the story of American airmen being held as prisoners of war in a German camp in Eastern Europe. It's a massive camp, but the story centers on just one house, where the inmates have come to believe that one of their own is actually a Nazi informant.
The 1953 film is based on a play written by two Army Air Forces veterans who were shot down over occupied Europe and sent to Luft Stalag-17B in Austria .It was based on their actual experiences there, and the film was nominated for three Academy Awards. Star William Holden won the award for Best Actor.
Invasion USA
International terrorists kill a crew of Coast Guardsmen. They move to invade southern Florida with pre-positioned trucks. Bombs and shooters threaten malls where people are doing their Christmas shopping. There's only one man who can save us all: former CIA agent Matt Hunter -- Chuck Norris.
Hunter comes out of retirement, gets a CIA briefing and then goes to work. When the entire National Guard can't protect the communities or stop the terrorists, Hunter tricks their leader, a Soviet named Rostov, into facing him one on one. Hunter ends up feeding Rostov the business end of an M72 Light Anti-Tank Weapon.
-- Blake Stilwell can be reached at blake.stilwell@military.com. He can also be found on Twitter @blakestilwell or on Facebook.
Want to Learn More About Military Life?
Whether you're thinking of joining the military, looking for post-military careers or keeping up with military life and benefits, Military.com has you covered. Subscribe to Military.com to have military news, updates and resources delivered directly to your inbox.