Remi Adeleke is already an accomplished actor and writer, someone you might have seen on the Amazon Prime Video series "The Terminal List." Viewers of his previous work, however, saw a very different side of him, if they saw him at all.
Adeleke joined the Navy in 2002 as a corpsman, and then became a Navy SEAL, working in human intelligence. This means he worked sources, collected and vetted information, and used that intelligence against other intelligence.
He told the true story of his life in his first book, "Transformed: A Navy SEAL's Unlikely Journey from the Throne of Africa, to the Streets of the Bronx, to Defying All Odds." It's a long title, but there's a lot to tell. Adeleke was born in Nigeria, came to New York City. at age 5 and eventually fell into dealing drugs in the Bronx.
His new book, "Chameleon," is loosely based on his own life, but this time he uses fiction to elaborate on what he did in the SEAL teams, without using specifics that would give away classified information.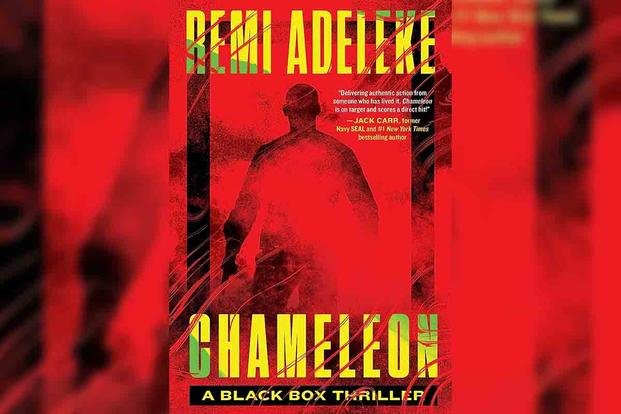 "It's a fictional extension of my memoir, 'Transformed,'" Adeleke tells Military.com. "All the things that I couldn't talk about in 'Transformed,' I fictionalized and created this fictional world with fictional characters and fictional events in order to be able to tell more of my story, but in a fictional way."
Storytelling has been a huge part of Adeleke's life, and it's what led him to become an actor and writer after leaving the Navy. He spent his young life watching movies that showed him the possibilities life could offer him, instead of working in the street.
"When I was about 15, I saw a movie called 'Bad Boys,'" he says."That began to change my perspective as far as what I could be because I saw these two guys who looked like me and came from where I came from, but they maintained that same swagger. It showed me that I could maintain who I am and be a hero. I don't have to continue selling drugs."
"A year later, I came across a film called 'The Rock,' and that was my first exposure to Navy SEALs. I told myself if I ever turn my life around, that's what I would do: I'd be a frogman."
Young Adeleke would run into some trouble with his work on the street, and to avoid ending up in the hospital (or worse), he turned to the Navy. The recruiter worked with a judge to get his priors and warrants expunged so he could become a sailor.
Now, instead of merely seeing himself in a fictional character, Adeleke is putting his real life into a fictional character of his own creation.
In "Chameleon," Kali Browder Kent is a Nigerian-born and New York City-raised member of the CIA's Black Box program, on the hunt for a former South African commando named Lucas Van Groot. Van Groot is taking wealthy hostages for ransom, but the hostage business is a front for a much bigger scheme: manipulating stock markets and bringing the global economy to its knees.
A Black Box Chameleon like Kent is privy to a host of skills, virtually transforming into myriad characters. They're experts in stealth and surveillance, transportation and aberration, who can maintain a deep cover for years on end. He will need all of those skills to track Van Groot and prevent a global tragedy.
"Fans of the espionage world who love a good action thriller and are intrigued by grounded, authentic storytelling will love it," Adeleke says. "Kids and adults who may come from where I came from and never saw themselves in this type of light will be excited about a grounded character who comes from where they come from."
Readers who love "Chameleon" will also be excited to learn that the book is a prequel to a film short, "Chameleon: Black Box," which was produced in 2022.
"The book really allowed me to expand not just on the world, but on the story and on the characters in a way that I couldn't in the screenplay," Adeleke says. "And it makes the story and the characters richer."
"Chameleon: Black Box" will itself be adapted into a novel, as book No. 2 in the series. Until that book's release, readers can pick up a copy of "Chameleon" on bookshelves everywhere on July 25, 2023. To learn more about Remi Adeleke, his life and "Chameleon," visit the HarperCollins website.
-- Blake Stilwell can be reached at blake.stilwell@military.com. He can also be found on Facebook, Twitter, or on LinkedIn.
Keep Up With the Best in Military Entertainment
Whether you're looking for news and entertainment, thinking of joining the military or keeping up with military life and benefits, Military.com has you covered. Subscribe to the Military.com newsletter to have military news, updates and resources delivered straight to your inbox.