For anyone who's ever wanted the clean, neatly tucked-in look they get with their dress blues while wearing their utility uniform, but found their shirt-stays unmanageable in their OCPs, there's now a solution. 
California-based, veteran-owned clothing company Torch offers its "Fearless" bodysuit. It's a form-fitting crewneck, short- or long-sleeve suit, available in coyote brown, the U.S. Army and Air Force Operational Camouflage Pattern T-shirt regulations. It also offers Coast Guard blue, Marine green and Navy-inspired brown.
Torch's website says the bodysuit, like all its clothing, is meant for comfort and that "rebelling against standard uniform standards is beautiful."
The bodysuit  also comes in a long-sleeve version, and colors for PT uniforms, too, but beware: None is actually approved for use by the Army, Air Force or any other branch of service. While the OCP onesie may make for a neat, always-tucked-in look, a number of female commenters on social media have noted that it might make some regular tasks more difficult. 
In a military culture where form-fitting uniforms, even work uniforms, are becoming more and more popular for both men and women -- even to the point where troops are getting their OCPs tailored to fit their legs in a "skinny jeans" style -- this onesie has its fans as well as its detractors.
The chief complaint among them is that answering the call of nature would require the wearer to undress completely, even for a simple "number one." This might not be a big deal at an office or the gym, but in a deployed environment that requires a port-a-potty or a hole in the ground, it could be a bigger issue.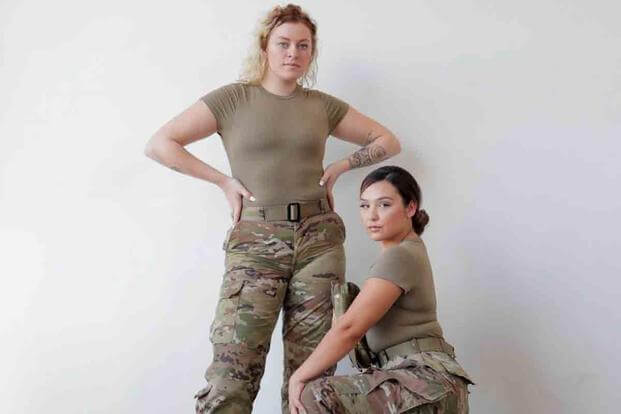 Some say that the bodysuit might cause some restriction issues "down there." Other commenters say the problem is easily solved by tucking the undershirt into biker shorts or some other undergarment and that it's not really an issue. 
No matter which side of the argument you land on, they're available on the Torch website for $60-$75. 
-- Blake Stilwell can be reached at blake.stilwell@military.com. He can also be found on Twitter @blakestilwell or on Facebook.
Want to Learn More About Military Life?
Whether you're thinking of joining the military, looking for post-military careers or keeping up with military life and benefits, Military.com has you covered. Subscribe to Military.com to have military news, updates and resources delivered directly to your inbox.