Technically, United States Marines are always on Team USA, but Staff Sgt. John Stefanowicz will represent his country this summer at the Tokyo Olympics. He'll be the first wrestler from the Marine Corps shooting for Olympic gold since 1992.
Stefanowicz didn't wrestle in any high school championships or college, so he wasn't an award-winning wrestler before joining the Marines. He couldn't qualify for state tournaments, and college programs didn't want him. So he joined the Marines and sharpened his skills with the All-Marine Wrestling Team, a Greco-Roman team that trains for competition year-round.
Stefanowicz's work over the years led him to earn one of the 15 wrestling spots on the U.S. Olympic Team. He's also the best American wrestler in his 87-kilogram (191.5-pound) weight class, according to the Jacksonville Daily News. Stefanowicz was just shy of one year old the last time a Marine went to the Olympics. That Marine was Buddy Lee, who finished sixth in the Barcelona Games.
"It feels so much bigger, seeing my team and my family and wife and brothers and sisters in the stands. I never thought I'd be here," he told the North Carolina newspaper. "I never thought in a million years I thought I'd wake up and say, 'I'm an Olympian.'"
After joining the Corps as an imagery analysis specialist, Stefanowicz, 29, put on 70 pounds, grew to 5 feet, 10 inches and started wrestling again. By 2017, he was competing in world-class wrestling events.
In true Marine Corps fashion, he says he couldn't have done it alone. He credits his teammates for their support, along with All-Marine Wrestling Team head coach Jason Loukides. Stefanowicz called him "the best coach in America."
To qualify for the games, Stefanowicz won three consecutive matches at the USA Wrestling Olympic Team Trials in Fort Worth, Texas on April 2, 2021. One of those matches was against 2016 Team USA Trials champion wrestler Joe Rau.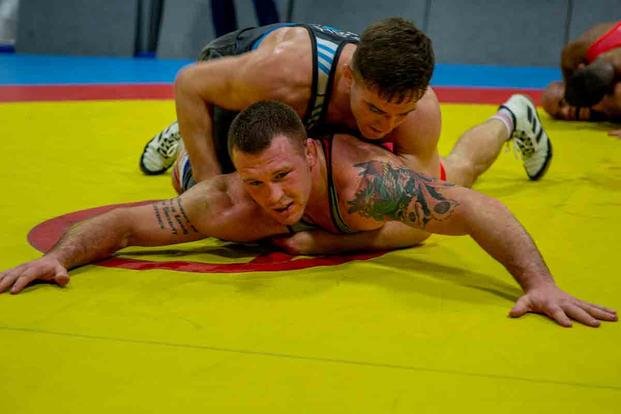 Around 288 wrestlers will compete at the 2020 Olympics this year, which were postponed because of the COVID-19 pandemic. They are scheduled to be held July 23-Aug. 8. Wrestlers compete in men's and women's divisions, and in two styles: freestyle and Greco-Roman.
Stefanowicz will wrestle in the Greco-Roman style, where wrestlers can use only their arms and upper bodies to attack, and they only can use those parts in holds. Team USA is considered one of the world's best teams, along with Russia, Iran and Mongolia.
While wrestling, Stefanowicz raises two children with his wife, is working on a college degree and still does intelligence work with the Marine Corps at Camp Lejeune, N.C.
"Just adversity and having enough grit to get through it," Stefanowicz said in a USA Wrestling interview. "I've been dealing with it since I was a kid. It's one of those things. The more something breaks down, as long as you keep getting back up, it's going to make you stronger. … At this point, I feel unstoppable."
-- Blake Stilwell can be reached at blake.stilwell@military.com. He can also be found on Twitter @blakestilwell or on Facebook.
Want to Know More About Veteran Jobs?
Be sure to get the latest news about post-military careers as well as critical info about veteran jobs and all the benefits of service. Subscribe to Military.com and receive customized updates delivered straight to your inbox.