Team Red, White and Blue, an organization that aims to help veterans make the transition to civilian life, has joined with Apple TV+ to give you a chance to see the new movie "Cherry" for free and then watch a panel discussion where experts and veterans discuss the issues raised in the film.
To view the film, click this link by 3 p.m. ET Thursday to sign up to view the movie. If you're not already a member, you'll have to register for a Team RWB account. On Friday, members who have RSVP'd will be sent an email from Apple TV+ with a link to view "Cherry." There will be a 24-hour viewing window starting at noon ET Friday through noon ET Saturday.
If you can't participate in the screening, "Cherry" will begin a limited theatrical release on Friday, Feb. 26, and stream on Apple TV+ beginning March 12.
"Cherry" stars Tom Holland ("Spider-Man") as a young Iraq War veteran who returns home to Cleveland with undiagnosed PTSD, gets hooked on OxyContin, and starts robbing banks to support his drug habit.
You may think this is an outrageous story, but the movie is based on a novel by Iraq War veteran Nico Walker, who based his book on his own life experience. How accurate is the story? Well, Walker wrote the book while serving a prison sentence for robbing banks.
The movie is a labor of love for Joe and Anthony Russo, brothers who have enjoyed overwhelming success as directors of the biggest "Avengers" movies over the last decade. They're Cleveland natives and wanted to make a movie set in their hometown.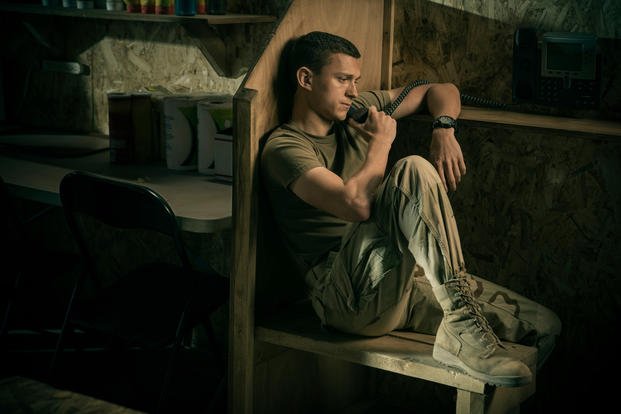 After you see the film, watch a panel discussion about the movie. The panel will premiere at 8:00 pm ET Friday, Feb. 26, and will be available for later viewing on JusticeForVets.org.
The panel features an impressive group of veterans and experts.
Patrick Murphy, the moderator, was America's first Iraq War veteran elected to Congress. He also served as the 32nd under secretary of the Army and continues to advocate and empower veterans through his work in the public and private sectors. The Russos are acclaimed directors whose film "Avengers: Endgame" is the highest grossing movie of all time.
Tim Wynn is a Marine Corps veteran who served in Iraq during the initial invasion in 2003. He currently serves as the center coordinator at the Philadelphia Veterans Treatment Court.
T'Liza Kiel is a Texas native and served in the Army for eight years. She currently serves as the alumni experience director at The Mission Continues and has worked with nonprofits serving veterans for more than seven years.
J.J. Pinter is the deputy director at Team RWB, one of the nation's largest veteran-serving organizations. He is a West Point graduate, former Army officer and an Iraq war veteran.
Anthony Spadaro is a former Marine sergeant major who retired last year after 35 years of service and multiple combat tours. He is currently the vice president and director of development and special projects for the Robert Irvine Foundation, with a primary focus on improving, empowering and enhancing the veteran community.
Melissa Bryant is an Army and Operation Iraqi Freedom veteran, an advocate with previous nonprofit work with Iraq and Afghanistan Veterans of America and The American Legion, and now serves as senior adviser for public affairs at the Department of Veterans Affairs.
Watch the movie, check out the panel and come back to let us know what you think.
Keep Up With the Best in Military Entertainment
Whether you're looking for news and entertainment, thinking of joining the military or keeping up with military life and benefits, Military.com has you covered. Subscribe to the Military.com newsletter to have military news, updates and resources delivered straight to your inbox.