If "The Greatest Beer Run Ever" movie (now streaming on Apple TV+) was based on an original screenplay, the story of Marine veteran John "Chickie" Donohue's in-country visit during the 1968 Tet Offensive would be the most ridiculous and unbelievable Vietnam War story ever committed to film.
Except Chickie is a real person, and he really made a trip to Vietnam to deliver cans of Pabst Blue Ribbon beer to guys from his New York City neighborhood. That beer run happened, and after a previous documentary and a book written with New York newspaper legend J.T. Molloy, Donohue's story is now a movie.
"The Greatest Beer Run Ever" is the first movie made by director Peter Farrelly since he won a pair of Oscars for writing the screenplay and producing the Best Picture winner "Green Book" in 2019. Farrelly has come a long way since he launched his career making gross-out comedies like "Dumb and Dumber," "Kingpin," and "There's Something About Mary," and the comedy/drama combo of "The Greatest Beer Run Ever" is closer in spirit to "Green Book" than his earlier work.
Zac Efron plays Donohue in the movie. He's another guy who's come a long way from his beginnings, moving from the teen idol of "High School Musical" to his more recent mature roles as serial killer Ted Bundy in the Netflix series "Extremely Wicked, Shockingly Evil and Vile" and in the horror remake of Stephen King's "Firestarter." 
Donohue, who's been working in the merchant marine since his own stateside stint in the military, impulsively decides to take beers to his friends serving in-country just to show them that they still have the support of their friends back home. The Colonel (Bill Murray), the World War II veteran who runs the local bar, complains about negative war coverage on the TV news and says he'd like to buy every one of the neighborhood boys a cold one.
Chickie decides that this is the greatest idea he's ever heard, even as his fellow barflies tell him he's insane. He's also partly motivated by his fights with his college student sister, Christine (Ruby Ashbourne Serkis). She's been protesting the war, and Chickie is an unquestioning supporter of the government's stories about the war, believing that the American government wouldn't lie.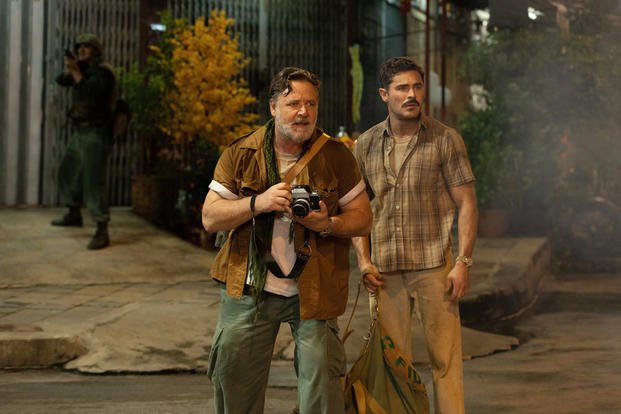 Chickie makes it to Vietnam and works his way into various combat zones to find the guys he knows. Once he sees things for himself on the ground and meets Look Magazine war correspondent Arthur Coates (Russell Crowe), Donohue starts to figure out what's actually happening. As he sees Gen. William Westmoreland attempt to explain away the Tet attacks on television, he realizes that this war is different than the one he grew up hearing about.
Much of the trip is devoted to a search for Chickie's friend Tommy Minogue, who was MIA when Donohue left New York. It's not hard to imagine the outcome of that plot thread, but the filmmakers let us know during the end credits that Minogue sacrificed his life to save his commanding officer and other soldiers in his company. His friends continue to promote his memory as worthy of the Medal of Honor.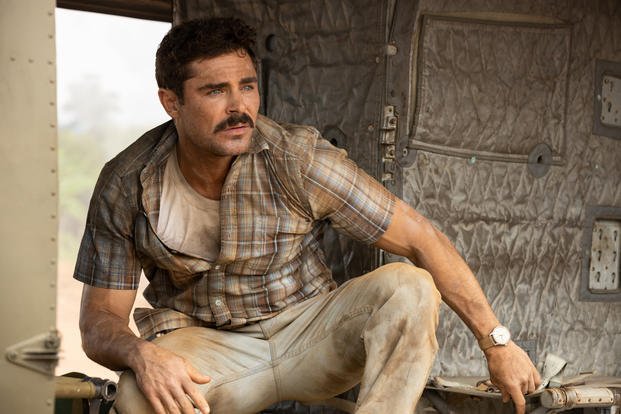 Farrelly never employs the obvious music cues that you know from a thousand other films. This time, he uses 1960s songs by The Bar-Kays, The Hombres, The Electric Prunes, Sir Douglas Quintet, Count Five, The West Coast Pop Art Experimental Band, The Peanut Butter Conspiracy, The Pretty Things, The Left Banke and a French-language cover of The Beatles' "Got to Get You Into My Life" by Johnny Hallyday. Most of these songs were at least minor hits, and they all deserve the attention this movie gives them.
"The Greatest Bear Run Ever" boils down to a simple "hate the war/respect the troops" message. It's not much deeper than the anti-racism message in "Green Book," but audiences and Oscar voters loved that movie, so maybe Farrelly has got his finger on the pulse of how people need to hear these kinds of messages. 
Keep Up With the Best in Military Entertainment
Whether you're looking for news and entertainment, thinking of joining the military or keeping up with military life and benefits, Military.com has you covered. Subscribe to the Military.com newsletter to have military news, updates and resources delivered straight to your inbox.