We usually remember veterans who went on to have successful careers in movies or television after their military service. Tom Sizemore isn't one of those veterans, but he managed to play iconic characters in some of the most beloved military movies of all time.
Sizemore died at age 61 on March 3, 2023, after suffering a brain aneurysm on Feb. 18 and never regaining consciousness.
Sizemore was born into privilege in Detroit, but he had an expressive face that made him perfect for playing the kind of everyday men assigned to get the job done. Instead of being the kind of handsome actor who looks like no one you've ever seen in a real-life unit, Sizemore actually seemed like a real guy who wandered onto the movie set and got asked to read some lines.
After struggling to get a toehold in the acting world during his 20s, Sizemore got a break when he was cast as "Veteran No. 1" in Oliver Stone's Oscar-winning movie "Born on the Fourth of July" about Vietnam War vet Ron Kovic.
Things took off in the 1990s, and he had an impressive run in a series of non-military movies that includes "Point Break," "True Romance," "Natural Born Killers," "Strange Days," "Devil in a Blue Dress," "Heat" and "Bringing Out the Dead."
We're here to remember his military roles, though, and that list is equally impressive. Here are the ones we'll most remember.
Sgt. Mike Horvath, "Saving Private Ryan" (1998)
When things get hairy on Omaha Beach, Tom Hanks' Capt. John Miller looks to Sizemore's Sgt. Mike Horvath for guidance. Horvath gives his commanding officer all the backup he needs as the former schoolteacher grows into a leadership role as his men search for the missing Pvt. Ryan.
Horvath keeps Miller focused on the mission as they face a final showdown with the German army, reminding his captain that saving Pvt. Ryan is one of the only truly decent things they can do in a messy war.
Sizemore wasn't much older than all the young actors who went on to become successful leading men, but he's the one actor besides Hanks who had some gravitas and looked like a real version of the character he played.
Sgt. Danny McKnight, "Black Hawk Down" (2001)
"Black Hawk Down" tells the story of a real mission that took place in 1993 during the civil war in Somalia. After a Black Hawk helicopter was shot down during a mission in Mogadishu, U.S. forces must fight through the streets of the city to rescue the crash survivors.
Sizemore played Army Lt. Col. Danny McKnight, whose Humvee was attacked by rebels and sustained heavy casualties. After returning to base, McKnight goes back out for another rescue attempt. The actor's look in the scene where he insists on heading back into the fray is one of the greatest moments in movie history.
Sgt. Earl Sistern, "Pearl Harbor" (2001)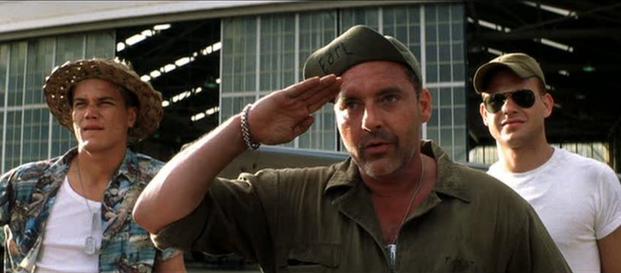 Director Michael Bay set out to make a movie that combined the brutal war action of "Saving Private Ryan" with the romance of "Titanic" and took three hours to tell the story.
One of the highlights is Sizemore's performance as Sgt. Earl Sistern, the lead mechanic at Wheeler Airfield. Ben Affleck and Josh Hartnett may be less than convincing as combat pilots, but Sizemore is the best thing in the movie as a grunt on the ground who's strafed by the Japanese attack.
Bob "Boxman" Walkawitz, "Flight of the Intruder" (1991)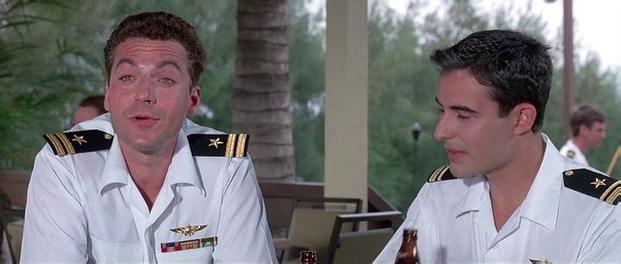 Director John Milius tried to dial it down and make a commercial movie with "Flight of the Intruder." This is the man who worked on the screenplays for the first two "Dirty Harry" movies, "Jeremiah Johnson," "Apocalypse Now" and "Clear and Present Danger" and both wrote and directed "Red Dawn," "The Wind and the Lion," "Conan the Barbarian" and "Farewell to the King."
Milius didn't write "Flight of the Intruder," which was based on a Stephen Coonts novel, but he knows about tough-guy movies. Milius was the first director to see Sizemore's potential as a guy who can play the kind of parts that became his signature.
Boxman isn't a big part, but Sizemore takes advantage of his limited screen time to make a huge impression.
Sgt. Vinnie Ventresca, "China Beach" (1989)
Sizemore just had a six-episode arc during the third season of the ABC television series, but he got to romance series star Dana Delany's 1st Lt. Colleen McMurphy. His run on the show ended with an episode where Ventresca and McMurphy argue as she insists on saving the life of his buddy, even though the friend is brain dead and will never recover from his injuries.
Unfortunately for Sizemore and movie fans, the actor had struggled with drug and alcohol abuse since his teen years, and the problem got out of control just as his career was peaking at the turn of the century. He had an ill-fated romance with the Hollywood madam Heidi Fleiss and became a tabloid icon as his career spiraled downward.
He had a lead role on the failed CBS television crime series "Robbery Homicide Division" in the fall of 2002, but that was the last time a big studio trusted him with a major role. He went on to make a ton of straight-to-video nonsense that took advantage of the great military roles he'd played early in his career.
"SEAL Team Eight: Behind Enemy Lines," "Nazi Overlord," "Company of Heroes," "Shadows in Paradise" and "USS Indianapolis: Men of Courage" aren't really up to the standards of his early career, but they're generally far better than the hundred-plus paycheck gigs he took in the 21st century.
There were brief runs on the television series "Shooter" and "Twin Peaks," but Sizemore never really got his career back to where his talent should've taken him before his death. Here's to the memory of one of our greatest fake military heroes. Rest in peace, Mr. Sizemore.
Keep Up With the Best in Military Entertainment
Whether you're looking for news and entertainment, thinking of joining the military or keeping up with military life and benefits, Military.com has you covered. Subscribe to the Military.com newsletter to have military news, updates and resources delivered straight to your inbox.