Grandpa Simpson's favorite TV show is back, but say goodbye to Ben Matlock's trademark gray suit. CBS is reviving the "Matlock" series for a new run, but there's a new Matlock: Madeline Matlock, played by Academy Award-winning actress Kathy Bates.
No one is trying to replace the original Ben Matlock, who was portrayed by actor Andy Griffith for nine seasons; in the world of the new "Matlock," the original show was just an old TV show.
The new "Matlock" isn't trying to be the old "Matlock," but is clearly inspired by the show. Madeline Matlock is just as folksy, cantankerous and skilled as the Matlock of old, and she works for a similarly prestigious law firm, but that might be where the similarities end.
Joining the cast with Bates are actress and Air Force veteran Skye P. Marshall ("Black Lightning," "The Chilling Adventures of Sabrina") and actor Jason Ritter ("Drunk History," "Accused"). It's unclear whether Madeline Matlock and partners will be defending a new client every week like Andy Griffith's Matlock, but the new show retains all the old charm.
The original Ben Matlock was loosely based on a legendary real-life defense attorney with the same folksy demeanor and legal skill Griffith portrayed on the small screen: Vanderbilt-educated U.S. Navy veteran and Georgia lawyer Bobby Lee Cook.
In the world of defense attorneys, the most famous names are often fictional: Perry Mason, Saul Goodman and, of course, Ben Matlock. When a real defense attorney achieves fame, it's usually because of the person they're defending and whether or not the defense achieves an acquittal. Names like Johnnie Cochran and Gerry Spence come to mind.
When it comes to Bobby Lee Cook, who died in 2021 at age 94, his legal acumen was as large as his personality. Cook worked from the law offices of Cook and Connelly in Summerville, Georgia (population: 4,400) for more than 65 years. By 2009, the American Bar Association estimated that Cook won 80% of his murder trials.
He was born in nearby Chattoogaville, Georgia. As a young man, he followed the murder trial of a Jewish manufacturer, Leo Frank. Frank was accused of killing a young woman after she refused to have sex with him. He was sentenced to death, but when the governor of Georgia commuted it to life, a mob broke into the jail and lynched him. It wasn't long before new evidence emerged that exonerated Frank.
When young Bobby Lee Cook's grandpa taught him that Frank didn't get a fair trial, it sent Cook on the first steps toward a legendary legal career. Cook went to school at Gordon Military College, now Gordon State College in Barnesville, Georgia. When he graduated, he spent a year at Vanderbilt University before joining the Navy in 1944.
He was sent to the Pacific Theater of World War II, serving as a gunner aboard a destroyer. Cook never talked about his time in the war very much, only ever admitting to be "a pretty good shot." He was discharged in 1945, then went to college at the University of Alabama before returning to Vanderbilt to study law.
He served in the Georgia House of Representatives at age 21, where he took the bar exam and passed. As both a state representative and, later, a state senator, he was more cantankerous than even Andy Griffith could portray. He got into arguments with colleagues that might have ended in fisticuffs.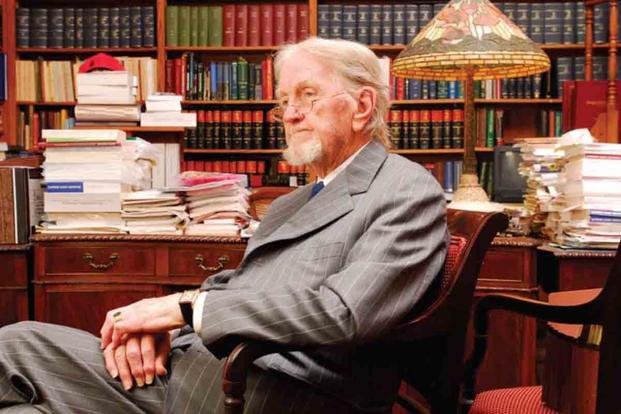 Cook eventually opted out of politics, setting up shop in Chattoogaville, where he began defending clients on the cheap -- and, sometimes, for no pay at all. The stories of Cook's long-shot defense wins are too numerous to recount.
He was the defense attorney in the trial of Jim Williams, made famous by the book and film, "Midnight in the Garden of Good and Evil." Cook defended college football star Bobby Hoppe, who was accused of killing a man 31 years prior. When Abdillahi Haji Hussein Omar, director of the Central Bank of Abu Dhabi, was charged with stealing $2 million, Cook was his attorney.
As he increased his win record, he also increased his fees. By the end of his career, his small country firm was pulling in more than $1 million, and he was riding to court in a chauffeured Rolls-Royce. It all started with the case of a farmer who killed his brother over a turnip patch.
To hear Cook talk about being a lawyer, you begin to understand why they keep making TV shows about him: "Stated in simple mountain language, I enjoy getting up every morning and kicking somebody in the ass that needs it."
-- Blake Stilwell can be reached at blake.stilwell@military.com. He can also be found on Twitter @blakestilwell or on LinkedIn.
Keep Up With the Best in Military Entertainment
Whether you're looking for news and entertainment, thinking of joining the military or keeping up with military life and benefits, Military.com has you covered. Subscribe to the Military.com newsletter to have military news, updates and resources delivered straight to your inbox.