The year is 1975. The United States no longer has combat troops in the Republic of Vietnam, and South Vietnam's army is crumbling in the face of the North Vietnamese invasion. This is where Vietnamese-American professor Viet Thanh Nguyen's Pulitzer Prize-winning novel, "The Sympathizer," begins.
As Saigon falls, a North Vietnamese communist mole who had infiltrated the South flees with the South Vietnamese leadership via Operation Frequent Wind, the final evacuation of American personnel and South Vietnamese officials from Vietnam. The fictional infiltrator maintains his cover through refugee camps, relocation to Los Angeles and, ultimately, a return to Vietnam as a guerrilla.
Max (the streaming service formerly known as HBO Max), released a trailer for an adaptation of the book, a limited series scheduled to debut in 2024.
The show stars Robert Downey Jr. ("Tropic Thunder") in multiple roles, each of which represent a different aspect of American government and culture.
In one role, he's a congressman representing Orange County. In another, he's a CIA officer. In yet another, he plays the director of a film about the Vietnam War being filmed in the Philippines. There is at least another role played by Downey, who is accustomed to being a dude, playing a dude, disguised as another dude.
Aside from Downey and his many roles, "The Sympathizer" stars Hoa Xuande ("Cowboy Bebop"), Fred Nguyen Khan, Toan Le and Sandra Oh ("Killing Eve"). At least three episodes of the series were directed by Park Chan-wook, director of the South Korean action masterpiece, "Oldboy."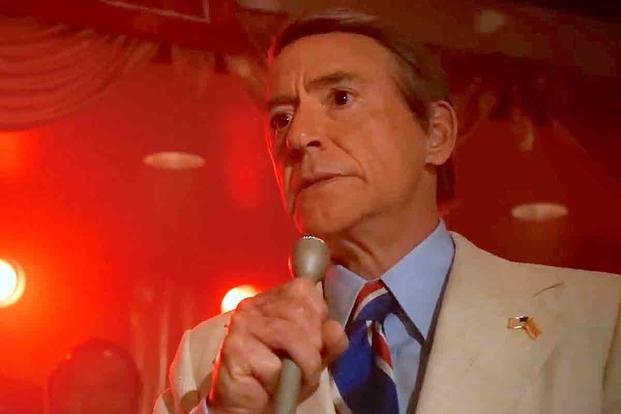 Author Viet Thanh Nguyen's book was meant to take a new look at the Vietnam War and the events that surround it, from the point of view of the Vietnamese -- not just the combatants of the war, but the Vietnamese people. It's an answer to the American media's view of the war, especially in film and television, in which the Vietnamese people are less important than whatever Americans are experiencing, or even the war itself.
"The Sympathizer" is equal parts spy game, mystery novel, immigrant story, war memorial and, most importantly, dark comedy. After its publication in 2015, it not only received a Pulitzer Prize, it also won the Dayton Literary Peace Prize, the Carnegie Medal for Excellence in Fiction and the Asian/Pacific American Award for Literature, among a host of other wins and nominations.
-- Blake Stilwell can be reached at blake.stilwell@military.com. He can also be found on Twitter @blakestilwell or on LinkedIn.
Keep Up With the Best in Military Entertainment
Whether you're looking for news and entertainment, thinking of joining the military or keeping up with military life and benefits, Military.com has you covered. Subscribe to the Military.com newsletter to have military news, updates and resources delivered straight to your inbox.