Between 1983 and 1994, almost everyone knew that the one place to go for free, top-tier painting lessons was PBS' "The Joy of Painting." Hosted by beloved Air Force veteran Bob Ross, the show was more than just tips and tricks: Ross completed an entire landscape painting during each half-hour show.
That means after 403 episodes, there are at least 403 Bob Ross originals out there (more on that in a second). But some lucky art lover, pop-culture fan or ironic hipster is about to pick up the very first painting from the show -- just as long as they have the $9.85 million to pay for it.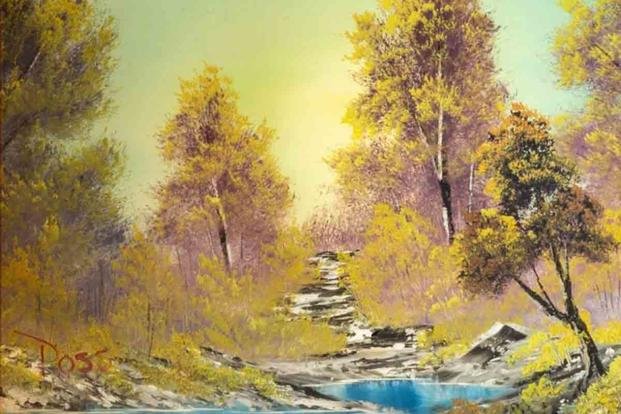 The very first painting completed on-air in 1983 was called "A Walk in the Woods," and was put on auction that year as a fundraising effort for the PBS station in Falls Church, Virginia. A volunteer at the station purchased the first Bob Ross original and kept it until 2023, when it was acquired by Modern Artifact, a gallery based in Minneapolis.
Ross spent 20 years in the Air Force, but fell in love with painting early on while stationed at Eielson Air Force Base, Alaska. The painting instructors at the USO classes would never teach him exactly how to paint things, so he turned to the one place so many of his fans would turn: TV. He learned a wet-on-wet technique from "The Magic of Oil Painting" on PBS that allowed him to create beautifully vivid paintings in 30 minutes.
Ross painted as a side gig to supplement his Air Force pay, focused on the landscapes of Alaska, a preference that would continue through the rest of his life. Eventually he started making more money from his paintings than his career, so he retired as a master sergeant in 1981 and moved to Florida, where he connected with Bill Alexander, host of "The Magic of Oil Painting."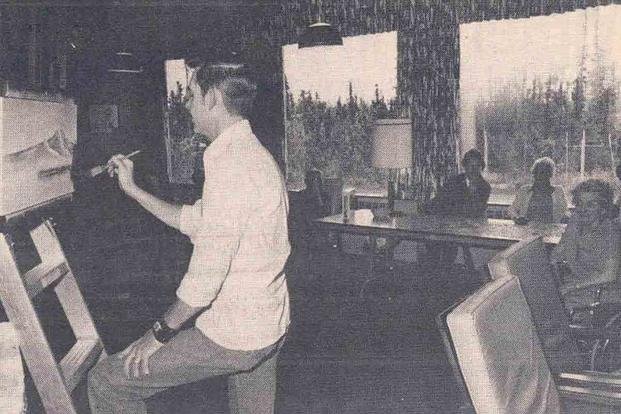 Ross started his career as a salesman and art teacher with Alexander's company, but would soon outshine his painting mentor. He filmed an art class as a pilot for PBS, started his own company, and by 1983, "The Joy of Painting" had supplanted "The Magic of Oil Painting" on PBS.
Ross actually painted three paintings per episode, meaning there are more than 1,200 pieces of his work in existence. He created the first before a taping to use as a guide for his second painting, which was made on-air. He then created a third, more detailed version to include in his books, which were basically his show in book form.
Those are just the ones he made on the show. Ross claimed he made more than 30,000 in his lifetime. When he died in 1995 at the age of 52, of complications from lymphoma brought on by a lifetime of smoking, demand for his paintings were at a fever pitch. Despite his prolific work, they were impossible to buy.
Ross' paintings were mostly kept by Bob Ross Inc. at a warehouse in Herndon, Virginia. Some were donated to the Smithsonian and others were donated to PBS stations around the country. It was a donation to one of those stations that is making a Bob Ross original available to the public.
Bob Ross Inc. has verified that the painting was done by Ross himself, making it a rare piece available to any buyer. His other paintings are just not for sale at any price. So if you're looking to own both a work of art and a piece of history and happen to have $9.85 million lying around, check out the Modern Artifact gallery.
-- Blake Stilwell can be reached at blake.stilwell@military.com. He can also be found on Facebook, Twitter, or on LinkedIn.
Keep Up With the Best in Military Entertainment
Whether you're looking for news and entertainment, thinking of joining the military or keeping up with military life and benefits, Military.com has you covered. Subscribe to the Military.com newsletter to have military news, updates and resources delivered straight to your inbox.