Before the San Francisco Gay Pride Parade in 1978, former U.S. Army soldier Gilbert Baker assembled a group of 30 fellow activists in the city's Gay Community Center. He wanted to create something that would be an enduring symbol of the surging pride within their community and a symbol of the long-sought freedom to be themselves.
Baker was creating the first rainbow "Pride" flag. He chose the rainbow to be a "beautiful" representation of the diversity and spirit among the city's gay community.
"Raising it up and seeing it there blowing in the wind for everyone to see. It completely astounded me that people just got it, in an instant like a bolt of lightning -- that this was their flag. It belonged to all of us. It was the most thrilling moment of my life," he later told San Francisco Travel. "Because I knew right then that this was the most important thing I would ever do -- that my whole life was going to be about the Rainbow Flag."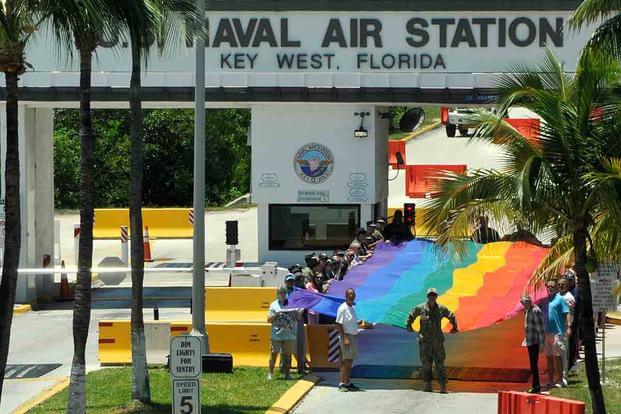 Author Randy Shilts wrote about Baker's time in the Army in his 1993 book, "Conduct Unbecoming: Gays & Lesbians in the U.S. Military." Baker originally was drafted into the U.S. Army after a troubled upbringing in Chanute, Kansas. In 1970, he was sent to Fort Leonard Wood in Missouri, where his Army family hoped they would "make a man out of him."
Instead, he refused to use a weapon and resisted the threats leveled against him from his family and the Army. They cut a deal: Baker would finish basic training without incident, and he would become a medic. He met his part of the bargain, and he was stationed at the Presidio in San Francisco. Now Pvt. Baker, he became a surgical nurse at Letterman Army Hospital.
By 1970, San Francisco had become known as "The Gay Capital of America," several gay rights groups had been founded in the city and the community there had an established voting bloc that gave them real political clout. It still faced discrimination, but nowhere else in the country gave the LGBTQA+ community as much freedom or possibility for openness.
San Francisco had a thriving culture for Baker and the many other Americans like him to be a part of. When it came time for him to leave the Army, Baker did not return to Kansas. He found a new home.
An estimated 375,000 people joined the 1978 Gay Freedom Day Parade in San Francisco that year. It was the largest single demonstration for any cause since the Vietnam anti-war protests. Baker's creation was the official symbol of the parade.
Other symbols had been in use for a long time. The Greek letter lambda had been used since 1970, because it was the ancient symbol of the Sacred Band of Thebes -- a legendary group of all-male lovers who were known to fight to the death for one another.
The pink triangle, once used by the Nazis to mark homosexual men in concentration camps, was reclaimed as a symbol of the community's fight against persecution. Baker found them obscure and depressing, respectively.
He wanted his symbol to have a thoroughly positive meaning for everyone involved. In choosing the rainbow as a theme for his flag, he also picked the colors and what they represented. In an interview before his death in 2017, he told San Francisco Travel why he chose them:
"... hot pink stood for sexuality, red for life, orange for healing, yellow for the sun, green for nature, turquoise blue for art, indigo for harmony and violet for spirit."
He already taught himself how to sew so he could make his own clothes, but making the first Pride flag was a Herculean task. Baker and his volunteers hand-dyed a thousand yards of cotton into the eight different colors. They then sewed the stripes together by hand.
The flag may have become a little different from Baker's original colors, as hot pink was not a standard manufacturing color and turquoise was dropped to give the flag equal halves. But in the 40 years since, it morphed into an international symbol of pride and community for LGBTQA+ people around the world.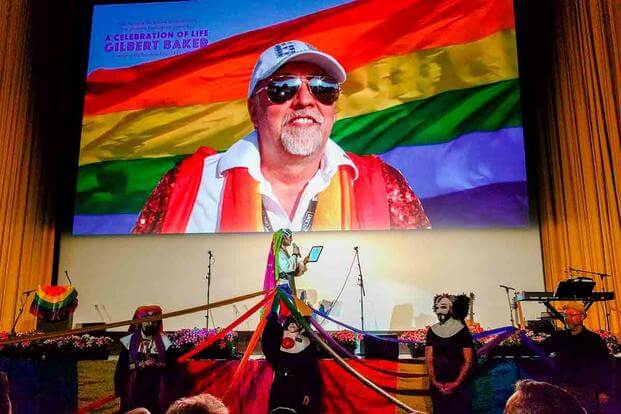 "The rainbow is so perfect because it really fits our diversity in terms of race, gender, ages, all of those things. Plus, it's a natural flag -- it's from the sky," he said.
Baker died in his sleep in his New York City home on March 31, 2017; he was 65 years old. At the time, he was planning to return to his hometown of Chanute, Kansas, where the local community college was set to host the inaugural Gilbert Baker Film Festival.
-- Blake Stilwell can be reached at blake.stilwell@military.com. He can also be found on Twitter @blakestilwell or on Facebook.
Want to Learn More About Military Life?
Whether you're thinking of joining the military, looking for post-military careers or keeping up with military life and benefits, Military.com has you covered. Subscribe to Military.com to have military news, updates and resources delivered directly to your inbox.