To some, June 7 is the most important day of the year: National Donut Day.
Among the greatest of America's completely arbitrary and made-up holidays, National Donut Day features discounted or free donuts from bakeries, shops and donut franchises nationwide. Dunkin Donuts, Krispy Kreme and even our brethren based in the North at Tim Hortons get in on the action.
Which makes sense, because: donuts.
What doesn't make quite as much sense is the Pentagon's decision to get in on the action. No, not by offering donut savings at DFACs worldwide.
Instead, the Pentagon has used the sugary "holiday" to promote the Thrift Savings Plan.
Because nothing says "National Donut Day" like saving for retirement through TSP and the Blended Retirement System (BRS).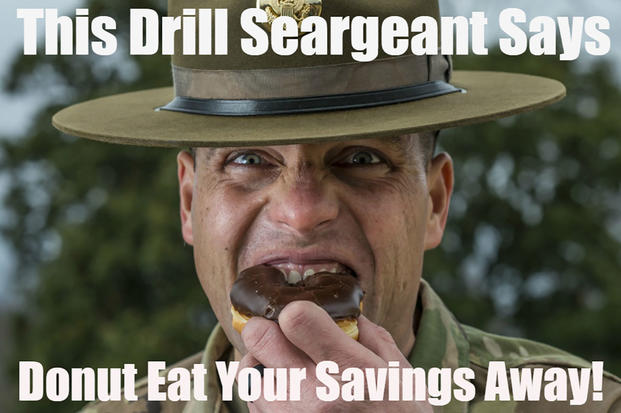 "Enjoy #nationaldonutday! But know that budgeting is like calorie counting and you have to budget calories for #donutday. Donut eat your savings away!" says the chipper public service announcement.
"Simple contributions to your TSP can add up over time. By opting into BRS, the DoD contributes 1% automatically and will match up to 4% of funds, maxing out at a 5% contribution. So take a little of that daily donut money and put it somewhere that it can grow. Double check your TSP contributions on your LES, myPay, MarineOnline or www.TSP.gov."
The accompanying photo features an Independence-class littoral combat ship doing what could generously be described as a donut in the open ocean.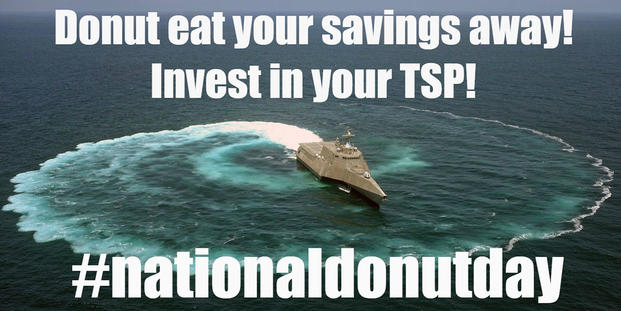 Thanks, bean counters, for that sticky-sweet reminder.
(But while we're on the subject, 'donut' forget to check out Military.com's pay app. It can be used while eating a donut).