The Life of Charlton Heston
Charlton Heston was a veteran and an Oscar-winning Hollywood icon best known as a commanding presence in biblical and historical epics such as "The Ten Commandments" and "Ben-Hur." Before becoming a marquee name, he was an Army Air Forces sergeant who served in the Aleutian Islands during World War II.
One of the titans of the "New Hollywood" era of sprawling blockbusters, Heston was also a political activist. In the 1950s and '60s, he was an outspoken supporter of civil rights, even marching in Washington with Dr. Martin Luther King Jr. He remained a steadfast supporter of the arts throughout his life. But he eventually switched from Democrat to Republican, got involved with the National Rifle Association, and served as the organization's five-term president.
His quote, "You can take my rifle ... when you pry it from my cold, dead hands!" became so infamous that it loomed over, sometimes threatening to overshadow, other aspects of his life and career.
Born John Charles Carter in 1923 in Illinois, Charlton Heston enjoyed an idyllic early childhood reading classic novels and exploring the forests near his boyhood home after the family moved to Michigan. The acting bug bit him at age 5, when he played Santa Claus in a production at his rural school. The oldest of three siblings, he was the only one to survive to old age; his brother and sister both died in their mid-50s in the 1980s.
By age 6, he was known as "Charlton," which was his maternal grandmother's maiden name. After his parents divorced, his last name also eventually changed from Carter to Heston to match his new stepfather's.
Heston, who was often called "Chuck" or "Charlie" beginning in his youth, spent his teen years in Wilmette, Illinois, on the outskirts of Chicago. He attended New Trier High School in Chicago. There, a self-described shy and nerdy loner with no talent for sports, he joined the drama department and showed early promise in the lead role of the play "The American Way."
The blue-eyed, baritone-voiced young actor later joined the Winnetka Community Theatre and eventually was awarded a scholarship to Northwestern University. His first semester of college coincided with the Japanese bombing of Pearl Harbor, an attack that profoundly affected him, along with an entire generation.
Charlton Heston's Military Service
In 1944, he married Lydia Clark, a fellow actor and Northwestern student. That same year, he dropped out of college and was called up for the Army Air Forces. He served for two years, until 1946, primarily as a radio operator and aerial gunner on a B-25 Mitchell. He reached the rank of staff sergeant.
As part of the Eleventh Air Force, he was stationed in the Alaskan Aleutian Islands. His assignment, manning a "lonely observation tower," might have bored other men, but Heston cherished the downtime, as it gave him a chance to study his dream of acting, his mother Lilla told the Chicago Tribune in a 1960 interview.
During his service, Heston "flew several combat missions over the Kuril Islands of northern Japan," according to his biography, "Hollywood's Last Icon."
"Heston, along with the vast majority of Americans, was relieved when President Harry S. Truman deployed the newly developed atomic bomb on Japan, thus obviating the need for a land invasion of the home islands and preventing the thousands of U.S. casualties that would, undoubtedly, have resulted," author Emilie Raymond claimed in the 2006 book "From My Cold, Dead Hands: Charlton Heston and American Politics."
Charlon Heston's Acting Career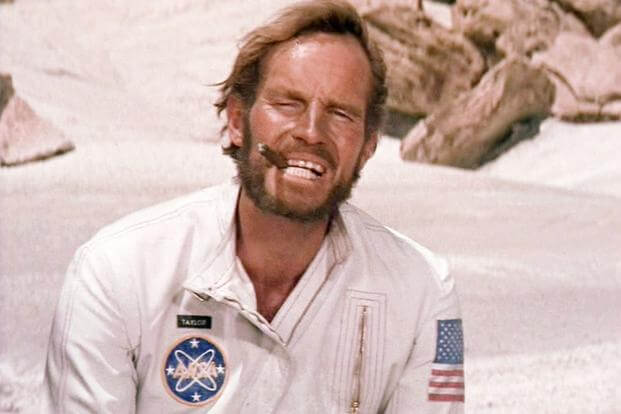 After the war, Heston and his wife moved to New York City, where they rented a Hell's Kitchen apartment and struggled to find work. The young couple took a detour in Asheville, North Carolina, where they managed and acted in a community theater.
Back in New York City, Heston finally got his first notable break in a supporting role in an adaptation of "Antony and Cleopatra," his Broadway debut.
"Even as a 'spear,' show business lingo for a bit player, the king-size, 6-foot-2, 200-pound Heston created the image on which moviemakers later would make millions," Hollywood gossip columnist Erskine Johnson wrote of Heston in 1962, understating the legendary actor's towering height by one inch.
Indeed, this turn on stage led to television roles for Heston, including adaptations of such classic dramas as "Julius Caesar," "Wuthering Heights," "Jane Eyre" and "The Taming of the Shrew."
Before long, Hollywood came calling, and Heston was catapulted into his film acting career at age 26 with a role in the 1950 film noir "Dark City."
Soon afterward, during a chance encounter at Paramount Pictures, Heston caught the eye of the legendary director Cecil B. DeMille, who was impressed by the young man's looks and confident demeanor.
DeMille hired Heston to play a circus manager in "The Greatest Show on Earth." The film, which would turn out to be the most popular of the year, won Best Picture in 1952 and made Heston a major star.
Charlton Heston's Movies
Some of Heston's best-known movies include:
"The Ten Commandments" (1956), for which he received his first Golden Globe Award nomination for his portrayal of Moses in DeMille's epic film. "The quintessential Charlton Heston performance," according to the Bible Films Blog.
"Ben-Hur" (1959), in which he took on the title character, the Jewish aristocrat Judah Ben-Hur. "Charlton Heston is always watchable and has a strong physical presence," Through the Shattered Lens opined.
"The Greatest Show on Earth" (1952), another DeMille film, in which he appeared as circus manager Brad Braden. The New York Times described it as a "lusty triumph of circus showmanship."
"Secret of the Incas" (1954), in which he portrays Harry Steele, a treasure hunter in the Peruvian jungle, a role that was a precursor to the Indiana Jones character.
"Touch of Evil" (1958), in which he co-stars with Orson Welles and Janet Leigh. The film noir thriller "brazenly hits hot buttons of police corruption, sex, drugs and racism," the San Francisco Chronicle wrote.
"The Big Country" (1958), in which he portrays ranch foreman Steve Leech in the classic Western starring Gregory Peck.
"El Cid" (1961), in which he stars alongside Sophia Loren as the legendary knight Rodrigo Díaz de Vivar in medieval Spain.
"The Agony and the Ecstasy" (1965), in which he portrays the painter Michelangelo as he clashes with Pope Julius II.
"The Greatest Story Ever Told" (1965), in which he stars as John the Baptist in the lavish production telling the story of Jesus' life.
"Khartoum" (1966), in which he portrays English Gen. Charles "Chinese" Gordon, who fights Muslim invaders in the Egyptian Sudan.
"Planet of the Apes" (1968), in which he stars as time-traveling astronaut George Taylor, who lands in a world where primates rule. Heston "carries the film effortlessly" despite how "preposterous" it is, Roger Ebert said.
"The Omega Man" (1971), in which he portrays Neville, the survivor of a germ plague who's on the run from mutant killers.
"Soylent Green" (1973), in which he stars as a police detective, Rober Thorn, in futuristic (2022) New York City, where a shortage of food, water and housing threatens humanity.
Charlton Heston's Political Activism
Heston left a political mark to rival his Hollywood superstardom. His "monumental performance as Moses in 'The Ten Commandments' and subsequent roles in which he played three saints, three presidents, and two geniuses, allowed him to forge a cinematic persona of such gravitas that he repeatedly used it to lend authority to his offscreen role as political spokesman," according to "Hollywood Left and Right: How Movie Stars Shaped American Politics," by Steven J. Ross.
A Democrat in his younger years, the chiseled leading man marched in Washington in 1963 with Dr. King Jr. A few years later, in 1969, members of the Democratic Party tried to persuade Heston to run for Senate.
He declined, he said, not only because the idea of campaigning exhausted him, but because he couldn't stomach the thought of never being able to act again. Despite acknowledging the "corrosive" nature of stardom, Heston always knew acting was his greatest passion and calling.
By the 1970s, Heston felt the Democratic Party had become too leftist, and he switched to the Republican side. Heston was a big supporter of Ronald Reagan, whom he had admired since Reagan's tenure as Screen Actors Guild president, an office in which Heston would later serve.
When Heston was in his 70s, he said he was proud of having supported civil rights and marching on Washington. But, he said, "I am not proud of the tangle of entitlements and reverse discrimination" that he believed the Civil Rights Act created.
In the 1980s, the federal government granted Heston nuclear clearance so he could narrate highly classified films and tapes about weapons. Called "Q clearance," the access from the Department of Energy was equivalent to the U.S. military's highest levels of top-secret access.
When Did Charlton Heston Die?
Heston died in 2008 at age 84 at his home in Los Angeles. He had been diagnosed with symptoms of Alzheimer's disease six years earlier.
He left behind Lydia, his wife of 64 years, and their son, Fraser, and daughter, Holly.