The U.S. Navy's final F/A-18C Hornet has officially retired from active duty.
The service announced this month that its last twin-engine, multirole C model made its final flight at Naval Air Station Oceana, Virginia, on Oct. 2. The 31-year-old Hornet's sunset flight included three F/A-18F Super Hornets, marking the Navy's transition, which began decades ago, to the more capable and advanced fighter.
The Hornet, tail number 300, was assigned to Strike Fighter Squadron (VFA)-106 "Gladiators" at Cecil Field, Florida, for its entire service life. The Navy accepted the aircraft on Oct. 14, 1988; the pilot for its final flight, Lt. Andrew Jalali, was also born that same year, according to a Navy news release.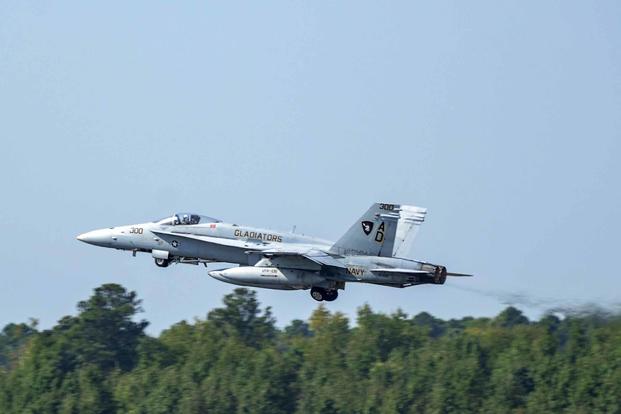 The F-18 will be stripped of its usable parts, which will be repurposed elsewhere, the service said.
Related: AC-130U 'Spooky' Gunship Completes its Final Combat Deployment
The Gladiators have transferred more than "50 Hornets to various Navy Reserve and U.S. Marine aviation commands" within the last year, according to the release. VFA-106, the Navy's fleet replacement squadron on the East Coast, trains naval aviators on the F-18.
In February, the Strike Fighter Squadron 34 "Blue Blasters" of NAS Oceana marked their own final Hornet flight -- the last by a deployable squadron.
The Marine Corps, which did not acquire the F/A-18 E/F Super Hornet, will continue to fly the aircraft until it is replaced by the F-35B Joint Strike Fighter. That transition will begin soon and be completed no later than 2032.
-- Oriana Pawlyk can be reached at oriana.pawlyk@military.com. Follow her on Twitter at @Oriana0214.
Read more: Navy CO Was Fired Over 'Repeated, Vigorous and Obvious False Statements:' Investigation