The Navy's new jacket, available exclusively to surface warfare officers, is now available for order.
Active-duty and Reserve SWOs can submit their order forms to Naval Surface Forces to get the unisex black leather jacket the Navy authorized for their community earlier this year. The order form must be submitted on signed letterhead to be processed.
The jacket is meant to build esprit de corps in the community and reflect the warfighter expertise that comes with earning a SWO pin, Navy officials said when the uniform item was announced. It's similar to the bomber jacket worn by naval aviators.
Read next: USS Theodore Roosevelt's Leadership Changes Hands for The Second Time in Four Months
"Those who wear the jacket will be easily identified as a part of a long lineage of professional ship drivers and maritime warfighters," Vice Adm. Richard Brown, commander of Naval Surface Forces, said in January.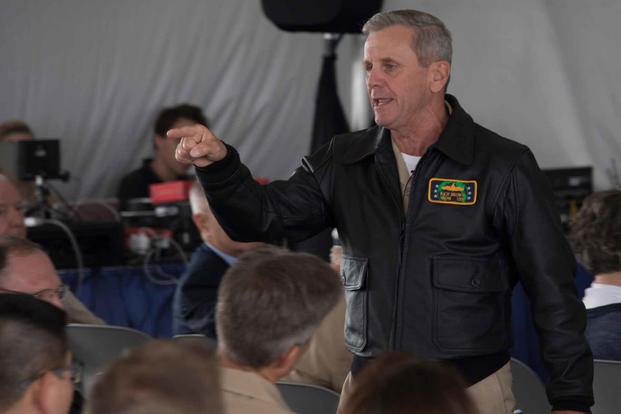 The SWO jacket is meant to be worn primarily at sea as an authorized outer garment. It's also authorized for optional wear ashore with service or dress uniforms in some settings.
It's a unisex garment and is available in regular and long jacket lengths. Naval Surface Forces includes a measurement guide on its ordering website, which SWOs are encouraged to reference to get a proper fit.
"The SWO leather jacket will be worn squarely on the shoulders, zipped three-fourths of the way up, collar down and sleeves fully extended between wrist and the lower thumb knuckle," a Navy administrative message on the jacket states. A name tag is required to denote the identity of the wearer.
Name patches are the only device authorized to be worn on the SWO jacket.
The new jacket was supposed to be available for issue in June, but was delayed by the novel coronavirus pandemic.
SWOs who qualify to get the jacket can keep it when separating or retiring under honorable conditions, but they won't be eligible for replacements after that point.
The jackets aren't available to retirees now, but the command's site states, "Just as we see with the aviator jackets, we expect there to be vendors who make their own version ... for retired SWOs to purchase."
-- Gina Harkins can be reached at gina.harkins@military.com. Follow her on Twitter @ginaaharkins.
Related: Navy Authorizes New Black Leather Jacket for Surface Warfare Officers