It was one of Maynard Sinclair's favorite shirts, a yellow tee with a tongue-in-cheek recipe for a specialty cocktail hand-crafted, not-so-lovingly, at Marine Corps Base Camp Lejeune, North Carolina, for more than 30 years.
A little bit of dry cleaning solvent, some engine degreaser, a hefty dash of benzene and a bit of vinyl chloride, and you've got Cocktail #26, The Camp Lejeune, served to Marines and family members in their drinking water from 1953 to 1987.
Exposure to the toxins at Camp Lejeune and Agent Orange in Vietnam killed Sinclair last year, according to his family members. In February, his widow, Valri, also died after battling multiple myeloma, a cancer linked to the tainted water.
Read Next: Nearly Half of Female Soldiers Still Failing New Army Fitness Test While Males Pass Easily
To honor her parents, their daughter, Samantha Via, an administrator for the Camp Lejeune Toxic Water Survivors Facebook group, led an effort to reprint the shirt, which she says "raises awareness right away" of the problem to everyone who sees it.
"I'm always surprised when I talk to Marines and they don't know about the water or how bad it was," said Via, who lived in the base's Berkeley Manor neighborhood for 11 years and has battled breast cancer twice as an adult, as well as a uterine tumor and ovarian cysts.
"My son was born missing his kidney [flap valves]," she added.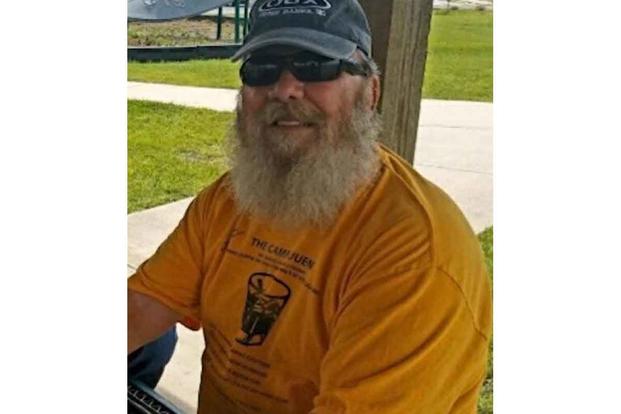 The T-shirt design was created a decade ago by Russell Mantz, a former motor transport Marine who was stationed at Lejeune from 1978 to 1981 and now suffers from sarcoma, or cancer of the bones and soft tissue. He said he was heading home from a seminar on the water situation when it came to him.
"There we were, drinking the water, showering in the water, never giving it a thought that something could be wrong," Mantz said. "I thought, well, that's a real cocktail."
He numbered the cocktail for Water Supply Well 26 in the Tarawa Terrace neighborhood, which was contaminated by groundwater runoff from a dry cleaning business roughly a half-mile away.
But the contamination extended beyond one dry cleaner and its illegal dumping. Two of the base's water treatment facilities were also polluted by runoff from underground storage tanks, industrial spills and dumping of toxic materials.
"Whenever I meet a Marine [veteran], the first words I ever say is "How is your health?'" Mantz said. "Sometimes, I get some pretty troubling responses."
Mantz printed up shirts and gave them to fellow Camp Lejeune veterans, including Sinclair, who wore it "all the time," according to Via.
With her father gone, Via sought a reprinting; she enlisted the help of Laurel Roethel, the wife of a Camp Lejeune Marine veteran who has cancer. She runs a small design shop that sells clothing items for Camp Lejeune water victims.
Via's effort to revive the T-shirt was first reported in the Jacksonville Daily News.
"I wanted to honor my dad. I was pretty angry and depressed after his death, and that shirt meant a lot to me. I'm so grateful that Laurel said she would do it," Via said.
The shirts are being made available for a limited time. Roethel has tweaked the design a bit, using the correct spelling of Camp Lejeune rather than Mantz's purposeful misspelling, a poke at the Marine Corps.
"We trusted the Marine Corps to give us clean water, a roof over our head and healthy food to eat, just like when you buy a T-shirt you expect it to be correctly spelled," Mantz said.
He has been battling cancer for more than a decade and is currently undergoing chemotherapy for sarcoma, which his doctors say is related to exposure at Camp Lejeune. He calls himself fortunate that the $3,000 monthly tab for his chemo is covered by grants, since his type of cancer is not listed among the 15 conditions that would qualify him for health care through the Department of Veterans Affairs, or one of the eight types of cancer or other illnesses that would make him automatically eligible for compensation and medical care.
"I don't know why they picked out a few cancers. If I get the numbers right, there are a million or so who have cancer, and there's only one thing they had in common: Camp Lejeune," Mantz said.
Roethel's company, River Rat Design, is taking orders for the shirts through her website. Via said she hopes people wearing them will spur questions from others and that word will spread about the contamination billed as the country's worst incident of drinking water contamination.
Sen. Thom Tillis, R-N.C., introduced a bill last year that would allow individuals to sue and recover damages for harm that has resulted from exposure to the contaminated water.
That bill has not been reintroduced this year, but Via said she is encouraging everyone she knows to call their representatives and urge them to support legislation that would broaden benefits for affected veterans.
"We don't do any type of GoFundMe. I'd like people to call their representatives and support the Camp Lejeune Justice Act. That's what we want," she said.
-- Patricia Kime can be reached at Patricia.Kime@Monster.com. Follow her on Twitter @patriciakime.
Related: Radiation Exposure and Liver Flukes: Little-Known Veterans Issues Get Attention in Congress