Lt. Col. Stu Scheller, who has become a symbol in some military and political circles of a need for military accountability and reform, spent much of his time during his court-martial this week repeatedly admitting that the statements he made through social media posts were intentionally disrespectful and unwarranted.
Scheller catapulted into the burgeoning swamp of public discontent and blame after the U.S. withdrawal from Afghanistan came to an abrupt conclusion in August with a final 13 service members dead and as images of desperate Afghans clinging to the sides of a plane stoked anger over a 20-year war that hadn't ended in triumphant victory.
In a string of videos, he berated senior military leaders for the results of the war and called out a culture that, in his eyes, was incapable of holding itself to account. It was a view that, according to Scheller's remarks in court, resonated with "many Gold Star families, junior Marines, and Congresspeople" who reached out to him "in support."
However, throughout his explanations after he pleaded guilty to six charges, Scheller's words painted dueling pictures of a man who was willing to be held accountable but remained unrepentant. 
"I am standing here today pleading guilty; this is me accepting accountability," Scheller said in his own defense Thursday. "But it deeply pains me that my senior leaders are incapable of being as courageous."  
Read Next: Navy Prepares for Discharges of Sailors Who Refuse COVID Vaccine
Scheller's videos went largely unchallenged by the Marine Corps, which said little beyond issuing a handful of statements and confirming basic facts as they accumulated views. 
But the court-martial provided long-awaited insight into what drove the Marine officer to make a series of career-altering posts, as well as what the branch's leaders found most objectionable about Scheller's public remarks, leading to a gag order, a mental health check, and finally pretrial confinement ahead of this week's hearings. It also showed how Marine Corps officers repeatedly tried to divert him away from his escalating rhetoric, only to see Scheller post again and again as his business and marriage faltered and his life "was spiraling."
In the space created by the public silence from the service, some painted Scheller as a hero, demanding a reckoning over the collapse of Afghanistan. Others saw a troubled Marine wounded by the unsuccessful end of a war in which he'd personally fought. Still others saw a man carving out a path for a political run.
All contained a level of truth, something that began to take shape when the facts behind Scheller's sudden rise to public consciousness were laid out in court. On Friday, he was sentenced to forfeit $5,000 from one month's pay and to receive a letter of reprimand. He also is set to be discharged from the Marine Corps, although the specifics of his separation have yet to be decided by Navy Secretary Carlos del Toro.
The Charges
Scheller faced six different charges -- tied to four videos and other posts he'd uploaded to social media sites -- that ranged from disrespecting public officials to conduct unbecoming an officer and a gentleman. As part of his guilty plea, the Marine officer had to go through every charge and convince the court of the sincerity of his plea. 
"The court will only accept your guilty plea if you are guilty and believe you are guilty," Col. Glen Hines, the judge in the case, explained Thursday.
The result was a detailed recounting of what brought Scheller before the court-martial, which was held in a small, utilitarian structure amid the barracks buildings and fast food restaurants of Camp Lejeune in North Carolina. Media were not allowed inside the courtroom and instead watched a video feed from a trailer set up nearby.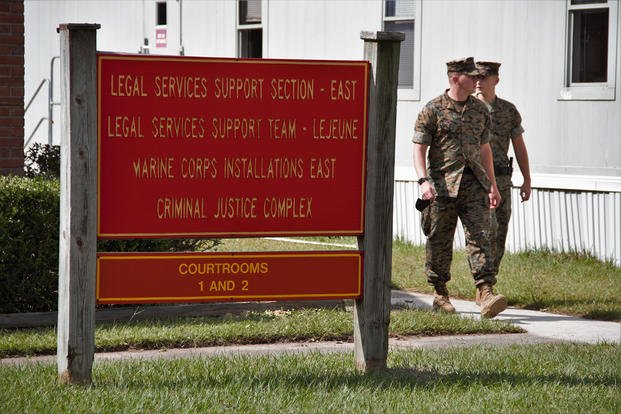 Scheller's first video, posted Aug. 26, prompted the charge of disrespecting a public official -- Defense Secretary Lloyd Austin. 
"I believed the secretary of defense made decisions that led to the failed withdrawal of Afghanistan," Scheller explained in court, admitting that he highlighted "his [Austin's alleged] incompetence publicly" in his first video.
The trial revealed that, while that first video prompted a publicly acknowledged relief from his command by the Marine Corps, Scheller's bosses also issued a nonpunitive letter of caution after his second video. Such letters are private between the writer and recipient and, according to a Navy JAG newsletter, are intended "to serve as a leadership tool for teaching and training, instead of punishment." 
Scheller, who spoke unsworn before the judge, took particular exception to a statement that the Corps released shortly after his second video in August. It was one of the few times the service commented publicly on Scheller's posts, saying it was "taking appropriate action to ensure the safety and well-being of LtCol Scheller and his family." 
"This seemed like an obvious attempt from the Marine Corps to paint me as suicidal," Scheller said in his statement Thursday.  
He went on to argue that he took the development to mean that "the system didn't really care about me, but only wanted to protect itself." 
At several points in the testimony, Scheller alluded to the stress and hardship that he was undergoing in his life amid these posts. "My life was spiraling," the Marine said in court. 
Scheller said that, by the time he had posted two videos, his wife had left him, his small business was in trouble, and the specter of legal proceedings with the Marine Corps began to loom. 
However, both Scheller and his lawyers were careful to note that, while the Marine was under extreme pressure, he was not mentally ill. 
"There is no question that there is an emotional and a mental health aspect to this case," Timothy Parlatore, one of Scheller's four lawyers, said in his closing remarks. 
Scheller, in his unsworn statement, said, "Just because you're mad, doesn't mean you're bipolar or have a mental illness." 
Meanwhile, Parlatore noted that no one was citing diagnostics manuals or calling experts for testimony.  
Instead, he argued that Scheller "went through a mental process of pain, anger and despair that countless veterans have gone through ... very publicly." Scheller's public calls for accountability stemmed from that emotional anguish, spurred on by the chaotic and deadly withdrawal from Afghanistan, Parlatore contended.
"The Marine Corps only cared about my mental health once I publicly challenged the leadership," Scheller charged in his testimony. 
The message was that Scheller's mental state was a context, not an excuse.
The Marine noted that his mandatory mental health evaluation determined that he "wasn't mentally unstable, just very angry at what I perceived to be consistent betrayal." 
After four videos and even more posts to social media, Scheller was ordered to stop posting on the sites by his boss, Col. David Emmel, on Sept. 17. It was an order that Scheller admitted he disobeyed -- though through court discussion and body language, it was clear that he didn't fully agree the order was legal. 
"I believe that's what Col. Emmel believed," Scheller told Hines. Violating the order led to the third charge for Scheller and, after three posts, brig time. 
A video Scheller posted Sept. 16, in uniform, asking for donations led to one of his two charges for dereliction of duty.  
Two other charges -- another dereliction of duty charge, as well as a charge of conduct unbecoming an officer and a gentleman -- stemmed from the total sum of the Marine's activity between Aug. 26 and Sept. 26, the date of his last Facebook post. Prosecutors charged that Scheller discredited himself as an officer or disrespected other officers and officials 27 times through posts and remarks public and private. 
The Corps Speaks
Until this trial, the Marine Corps had said almost nothing about the Scheller case. 
In his closing remarks, prosecutor Lt. Col. Troy Campbell argued that the timeline of behavior in this case was the result of a man who "insisted on escalating this process" and who "quit on the command" that was trying to help him.  
Campbell said that even the special court-martial -- a process with very limited ability to issue punishment, in contrast to a general court-martial -- is a sign of the Corps' efforts to aid Scheller. 
"Time after time, his command said, 'Come here, let's talk about this,'" Campbell said.
Scheller himself admitted that his boss was "very patient" after the first video went up and noted that he "didn't jump straight to [a gag] order." 
When the trial resumed Friday, Hines described Scheller as someone whose service record painted the picture of "a career that appeared to be on the upward slope" while his posts showed "someone to be in pain, perhaps confused, and significantly frustrated." 
The judge also had sharp criticism for the manner in which the Corps handled aspects of the case.  
Hines noted that the nine days of pretrial confinement, as well as a leak of documents related to Scheller to a media outlet, raised the "specter of unlawful command influence." 
The defense noted both events as something they found troubling and would have litigated further if not for the plea deal that was reached. 
The trial also, at times, highlighted another aspect of Scheller's saga: the unacknowledged partisanship of some of his closest backers and supporters.
Since the first video, many of the replies related to the Marine's posts have argued that his calls for accountability were a critique of Democratic policies and leadership. 
"I have stated many times that this is about Americans and not about divisions, to include Republican and Democrat," Scheller said in court. "This is about accountability of my senior leaders, not about politics."
A long post from Scheller on Sept. 25 had sharp words for both former Presidents Barack Obama and Donald Trump.
Despite that, congressional support for Scheller came only from Republicans, and many were members of the far-right Freedom Caucus.
Supporting testimony during the trial came from Reps. Louie Gohmert, R-Texas, and Marjorie Taylor Greene, R-Ga. The latter's testimony drew repeated objections from the prosecutor for being irrelevant as it meandered from a retelling of her personal experience of Sept. 11, 2001, to calls for President Joe Biden's resignation.
Parlatore defended the choice to call her as a witness by telling reporters that he "would have loved to have both parties."
"I'm not going to tell any elected official who wants to come in and speak on behalf of their constituency about the impact of this [that] we don't want to hear from him."
Congressman Ralph Norman, R-S.C., compared the case to that of Eddie Gallagher, the now-retired Navy SEAL who was found not guilty after his former colleagues accused him of war crimes during a tumultuous deployment to Iraq in 2017. 
Gallagher's story and judicial saga is closely tied with Trump, who broke tradition to overrule Navy leaders' attempts to hold the chief accountable after a court-martial found him guilty of only one minor charge. Since that trial, Gallagher has remained unrepentant and very publicly lashed out at his critics.
Now, Gallagher and his Pipe Hitter Foundation are championing Scheller's case. The former SEAL has made more than 20 social media posts on the topic and helped raise over $2.5 million for him. 
Scheller, who smiled as he walked past reporters into court Friday morning, said that he felt "good" heading into his sentencing, the only time he talked to a small group of reporters gathered to cover the trial. 
-- Konstantin Toropin can be reached at konstantin.toropin@military.com. Follow him on Twitter @ktoropin. 
Related: Marine Who Became a Social Media Star for Questioning Afghanistan War Found Guilty, Awaits Sentencing