This week in the military, after a tumultuous congressional battle, the United States Senate passed historic burn pit legislation that would expand health care and compensation to veterans and service members suffering effects from toxins they were exposed to while serving overseas; Secretary of Defense Lloyd Austin named the Pentagon's new spokesperson, Brig. Gen. Patrick S. Ryder; and more than 1,000 soldiers were moved from Fort Bragg barracks after an inspection by Sergeant Major of the Army Michael Grinston found living conditions unacceptable.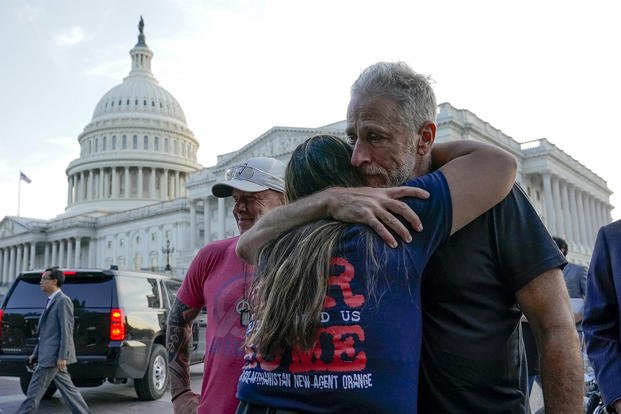 Veteran advocate and comedian Jon Stewart hugs Rosie Torres, co-founder of Burn Pits 360, a nonprofit that pushed for legislation in Congress that would expand health care for millions of veterans exposed to toxins from burn pits used to dispose of waste overseas. (Patrick Semansky/AP)
Related: After 3 Tries, Veterans Toxic Exposure Bill -- the PACT Act -- Finally Passes US Senate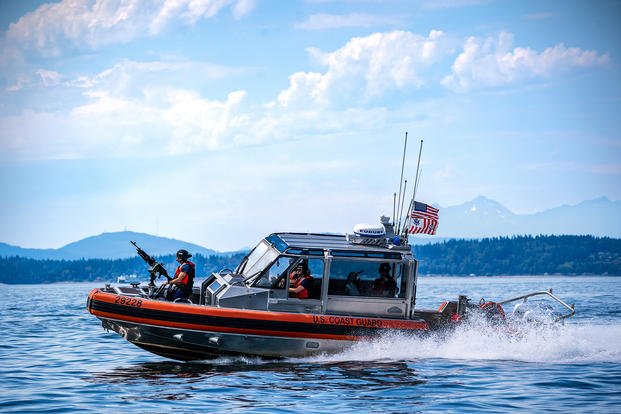 A Coast Guard boat crew patrols Puget Sound in Seattle during the military's annual Fleet Week celebration. (Petty Officer 1st Class Travis Magee/Coast Guard)
Related: Registration for the Second Ever Coast Guard Marathon Opens Thursday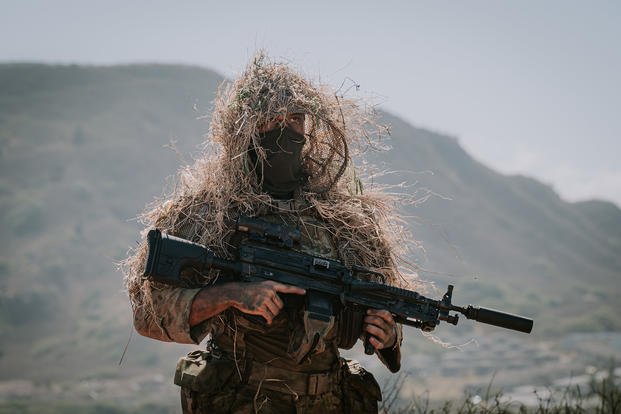 An Australian soldier participates in an amphibious raid with Marines during the Navy's Rim of the Pacific (RIMPAC) exercise. (Cpl. Djalma Vuong-De Ramos, Imagery Technician/Canadian Armed Forces)
Related: Biggest Navy Exercise in a Generation Will Include 25,000 Personnel Across 17 Time Zones
Members of the Kentucky National Guard search for disaster victims amid unprecedented flooding in the commonwealth. (Staff Sgt. Clayton Wear/Air National Guard)
Related: National Guard Rescues Hundreds Amid Flooding in Kentucky; 37 Dead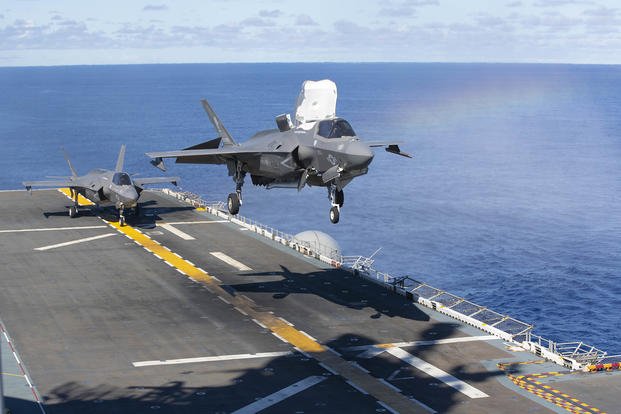 An F-35B Lightning II takes off from the USS Tripoli. (Mass Communication Specialist 2nd Class Malcolm Kelley/Navy)
Related: F-35 Ejection Seat Problem Was Discovered 3 Months Ago, But Jets Kept Flying
 -- Drew F. Lawrence can be reached at drew.lawrence@military.com. Follow him on Twitter @df_lawrence.