Just before midnight on Dec. 5, 2022, three Piper PA-28 Cherokee Warrior training aircraft embarked on a mission along New York's Hudson River. Their destination was the U.S. Military Academy at West Point.
The flight crews made 12 delivery passes of ping-pong balls and leaflets that read "Beat Army" and "Fly Navy" before the 123rd Army-Navy Game. They called the mission "Operation Black Knight Falling."
Airborne leaflet drop missions like these have been in use by the U.S. since World War I. They are employed by U.S. military psychological operations and have many functions. Some are to demoralize enemy forces, tell them about an upcoming attack or instruct them how to surrender to American forces.
Others are to inform the civilian non-combatant population about upcoming American military operations. Some are even used to turn civilian sentiment against their own government and its armed forces. Yet others are intended to show civilians the intent of U.S. troops.
Demoralizing the enemy was the likeliest reason for the Naval Academy's air sortie over West Point. After years of Army literally getting their goat, by stealing Navy's Bill the Goat mascot, it was high time for Navy to accomplish the unexpected. Only once has Navy managed to capture Army's mules.
Other notable pranks include a 400-square-foot banner hung from the Pentagon before the 1980 Army-Navy Game that read "Go Navy, Beat Army," and Army Cadets issuing a fake press release to local Annapolis news outlets about an upcoming official "Go Army, Beat Navy Day."
Even Annapolis alumnus and eccentric billionaire H. Ross Perot got in on the fun. On the eve of the 1975 game, he paid off someone at West Point to look the other way while he and other Navy fans barricaded themselves in the chapel bell tower in the middle of the night. From there, they played and sang "Anchors Aweigh" and the Marine Corps Hymn to the Army campus.
The intended target of Navy's latest prank was "the Apron," a paved area on the southern end of The Plain, the Military Academy's ceremonial parade ground. The aircraft were led by five Midshipmen from the Class of 2023.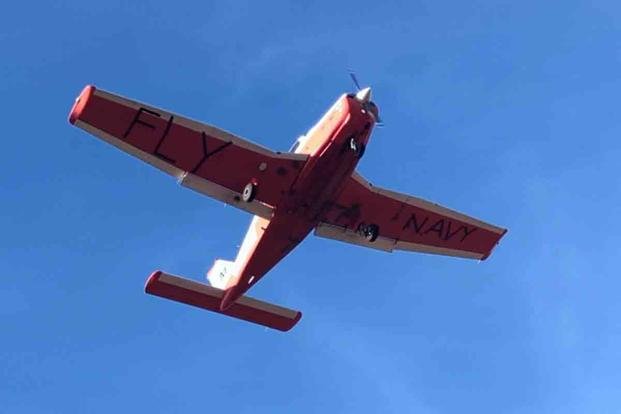 An official statement from the U.S. Naval Academy, called the flights "an air-to-ground spirit mission," which had the West Point cadets "breaking formation and running for cover." After making their drops, the Midshipmen-led airplanes followed the Hudson into New York City and took a turn around "Lady Liberty" before heading back to "the better service academy along the Severn River."
The 123rd Army-Navy Game kicks off at 3 p.m. EST at Philadelphia's Lincoln Financial Field on Dec. 10, 2022. The game will air nationally on CBS.
-- Blake Stilwell can be reached at blake.stilwell@military.com. He can also be found on Twitter @blakestilwell or on Facebook.
Want to Learn More About Military Life?
Whether you're thinking of joining the military, looking for post-military careers or keeping up with military life and benefits, Military.com has you covered. Subscribe to Military.com to have military news, updates and resources delivered directly to your inbox.