Roger Donlon joined the U.S. Army's Green Berets in 1963 and was sent to Vietnam long before the majority of folks back home realized that we were getting involved in the conflict in Southeast Asia.
Special Forces were tasked with training South Vietnamese civilians and paramilitaries to fight the insurgent Viet Cong. Capt. Donlon was part of a group that set up camp at Nam Dong near the border with Laos.
On July 6, 1964, the Viet Cong attacked. There were 12 Americans in the camp and a few hundred locals when two battalions of North Vietnamese tried to overrun the base.
Once the mortars started raining down, Donlon rushed to get sleeping troops into defensive position. He received multiple wounds but stayed in the fight. Eventually, the enemy used loudspeakers in an attempt to get the Americans and their Vietnamese allies to surrender, and the Americans used the sound to target the Viet Cong for a mortar attack that caused them to withdraw.
Every survivor of the night received a Silver or Bronze Star. Donlon was awarded a Purple Heart, and President Lyndon Johnson presented him with the Medal of Honor in a White House ceremony.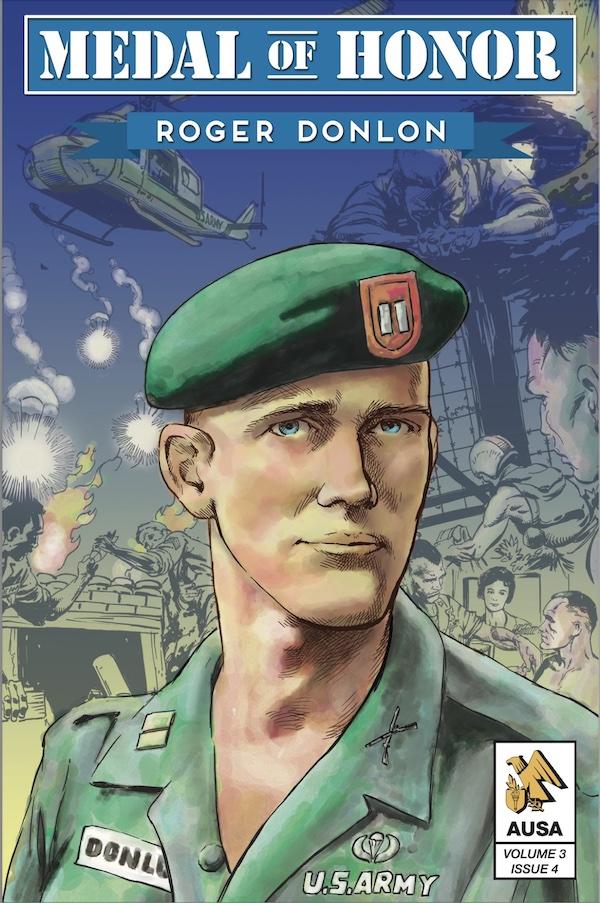 Donlon's story is being told in "Medal of Honor: Roger Donlon," the latest issue of the Association of the United States Army's graphic novel series. You can view or download a free copy at www.ausa.org/donlon.
In its current series, AUSA has released a graphic novel about Jacob Parrott, the Union Army soldier who was the first Medal of Honor recipient; Mitchell Red Cloud Jr., the Native American soldier who held off Chinese troops during the Korean War: and Wild Bill Donovan, the World War I hero who later founded the World War II Office of Strategic Services.
Related: This Native American Earned the Medal of Honor for Holding Off a Chinese Attack in Korea
Related: The First Medal of Honor Went to an Army Soldier Who Stole a Confederate Train
Related: This WWII Spymaster Received a Medal of Honor for WWI Heroism
Keep Up With the Best in Military Entertainment
Whether you're looking for news and entertainment, thinking of joining the military or keeping up with military life and benefits, Military.com has you covered. Subscribe to the Military.com newsletter to have military news, updates and resources delivered straight to your inbox.