"When General Noriega came to power, my father's company went to hell in a handbasket," Kurt Muse recalled at the Silent Warrior Foundation's annual Whiskey and War Stories event. "He killed a very dear friend of mine. My family was fearful of the roadblocks set up by the army. My kids were scared to death.
"I just reached a breaking point. So I decided to do what every red-blooded American would do: overthrow the government."
Muse was an American who had been living in Panama for decades when nationalist dictator Manuel Noriega took control of the government in 1983. By 1989, Muse would be a political prisoner in Noriega's notorious Carcel Modelo prison in Panama City.
"This prison was horrible," Muse said. "The people that go there, die there. You don't make license plates, yo get tortured and die there."
Gen. Noriega promised that the first bullet fired in a war between the United States and Panama would be the one that killed Muse. Instead, that bullet came from the rifle of the U.S. Army Special Forces in a rescue mission called Acid Gambit.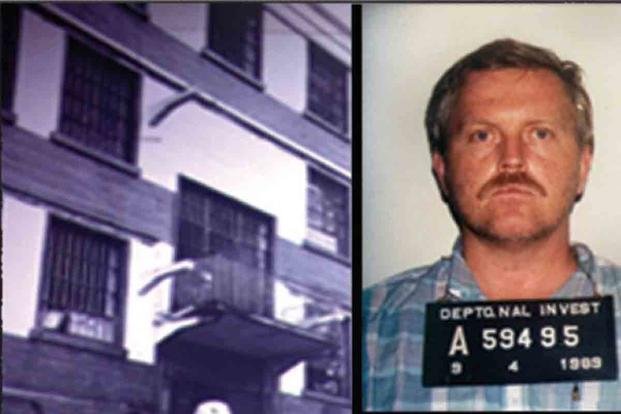 Every year, the Silent Warrior Foundation brings together key figures in famous special operations missions to discuss the behind-the-scenes events and untold stories of these famous missions. Headlining the 2022 event was Muse, his wife Anne and some of the soldiers and pilots who came to his rescue.
Muse had lived in Panama since he was five years old. He grew up with Panamanian children, and learned in Panamanian schools. His family ran a business there. Though he was an American citizen, it was a place he'd grown to love.
As Noriega rose to power, Muse came to realize that the regime threatened his business, his family and his beloved Panama itself. Noriega had to go.
In Noriega's Panama, radio equipment was illegal, but Muse and a close group of associates had access to such equipment through their business connections in the United States. Owning unlicensed radio equipment meant torture and death at the hands of the government.
At first, they used this gear to annoy the Panamanian Defense Forces (PDF) by threatening them with sniper fire, sending them on false missions and other pranks. In 1987, the pranks turned into full-blown resistance.
A close associate discovered that the signal from the government's radio station, La Nacional, could easily be overpowered by their radio equipment. On Oct. 11, 1987, Noriega was set to give a national speech celebrating Loyalty Day to a packed baseball stadium. It would be broadcast to the whole country via La Nacional.
As Noriega began to speak, Muse and his associate superseded the signal and replaced it with a broadcast of their own. They played a message encouraging Panamanian citizens not to be afraid of the PDF on election day, to go to the polls and to vote Noriega out of power. La Voz de la Libertad, the Voice of Liberty, was born.
In the days leading to election day, La Voz de la Libertad broadcast many similar messages, usurping the La Nacional signal for every one of them. The men continued their resistance. If any one of them were compromised, they were to warn the others by any means necessary with one simple word: shopette.
Muse's wife, Anne, was a teacher on the U.S. Army's Fort Clayton in the Panama Canal Zone at the time. Muse and his compatriots often conducted their resistance activities on the base. When thinking about how to handle getting caught, they were walking by the base shopette. That's how it became La Voz de la Libertad's distress signal.
The signals continued for years, broadcasting anti-Noriega messages and encouraging voters to go to the polls:
"You know the many tools that the oppressors have to keep us from the polling places. We beseech you to be brave, to persevere. We beseech you to vote. Together we can bury Gen. Noriega's dictatorship under a mountain of ballots."
The plan to get voters to the polls worked. The part about unseating Noriega was thwarted by the general himself. As the votes were counted and it became clear that Noriega was losing, PDF troops began to seize ballot boxes. The result was voided and the opposition badly beaten, as the general installed a longtime crony as president.
He would eventually bestow himself with the title of "Maximum Leader" of Panama, a title only he recognized.
As Noriega began to lose favor with the U.S. government, La Voz de la Libertad began receiving support from the U.S. State Department and the CIA. Muse was not, as is often reported, working for the CIA. Soon, the resistance cell had transmitters interrupting La Nacional in multiple locations.
In March 1989, Muse was returning to Panama from a family trip to the United States (where he also met with a State Department official), when he was suddenly arrested by customs officers. He later found out he was betrayed by the wife of a fellow rotary club member who knew about his activities. She had fallen into debt at a Panama City casino and passed information to the PDF in exchange.
Luckily for La Voz de la Libertad, a fellow associate was also on the flight. When Muse failed to emerge from the airport, that member of La Voz sent the distress word out to the other members of the resistance: shopette.
Muse was held without charges in Panama's Carcel Modelo prison for nine months. It was his status as a Department of Defense dependent under the Panama Canal Treaty that saved him from the torture and execution. If Muse died, Panama would have to return the canal to the United States.
"I was subject to days of intense interrogation," Muse recalled. "I didn't get to sleep for about four days, nonstop. I'm going cuckoo from lack of sleep. They tell me they captured my daughter, and if I didn't confess, they would torture her."
Muse never revealed the involvement of others, even as the PDF uncovered apartments filled with radio equipment and discovered Muse's cash transactions. The State Department and CIA worked for months to secure his release but to no avail; Noriega began publicly referring to Muse as a hostage.
"I wouldn't confess to anything," said Muse. "I would not give up my confederates. I'm the author of this job, I will pay the piper. Period."
As Muse's capture became a cause célèbre back in the U.S., Noriega became increasingly paranoid about an American invasion. He publicly stated that the first casualty of a war between the United States and Panama would be Kurt Muse.
The dictator even posted a soldier with a machine gun outside of Muse's cell, a 24/7, on-call executioner.
Then Noriega suddenly declared that a state of war existed between the U.S. and Panama. A few days after that declaration, Dec. 16, 1989, PDF troops killed Marine Corps 1st Lt. Robert Paz. Safeguarding the 35,000 other American troops in Panama was the justification President George H.W. Bush needed to launch an invasion.
As 27,000 U.S. troops began Operation Just Cause, 23 Delta operators and four MH-6 Little Bird helicopters from the Army's 160th Special Operations Aviation Regiment launched Operation Acid Gambit.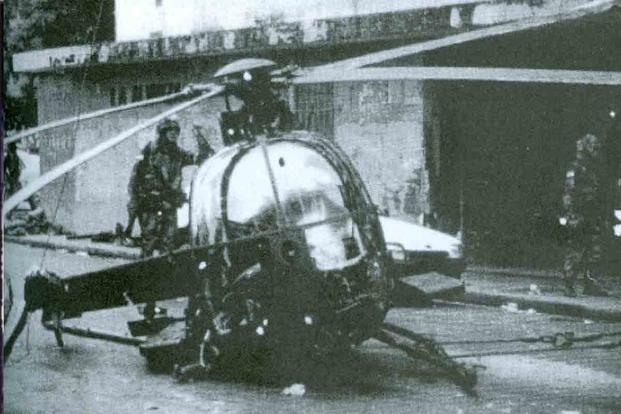 At the same time as the U.S. invaded Panama, the Army was going to rescue Muse. The moment the Special Forces' shape charge blew a hole in the prison's rooftop door, AC-130 gunships began leveling Noriega's comandancia, his official headquarters building, just across the street from the prison.
In an operation that took about six minutes, soldiers entered the Modelo prison, neutralized Muse's would-be assassin and took their precious cargo to the roof.
Noriega fled almost as soon as the invasion began. He eventually took refuge in the Vatican City's embassy in Panama City, which was soon surrounded by American troops. After 10 days of blasting rock music at the embassy all day and night, Noriega finally surrendered.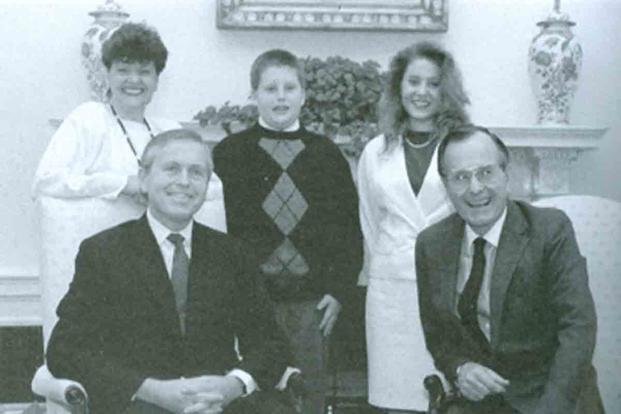 Operation Just Cause ended after just more than five weeks. Noriega was convicted of drug trafficking charges in the United States, his PDF was dissolved and the rightful winner of the 1989 Panamanian elections, Guillermo Endara, took office.
Muse was soon reunited with his family, who had been exfiltrated from the country by the CIA not long after Kurt was captured by the PDF. Every year, on the anniversary of Operation Acid Gambit, Muse calls the Delta soldiers who rescued him to update them on what's new in his life.
The full story of Muse's arrest and liberation can be found in his book, "Six Minutes to Freedom," which he co-wrote with author John Gilstrap.
-- Blake Stilwell can be reached at blake.stilwell@military.com. He can also be found on Twitter @blakestilwell or on Facebook.
Want to Learn More About Military Life?
Whether you're thinking of joining the military, looking for post-military careers or keeping up with military life and benefits, Military.com has you covered. Subscribe to Military.com to have military news, updates and resources delivered directly to your inbox.