Who Is Chuck Norris?
Air Force veteran Chuck Norris, a native of Oklahoma who learned martial arts while stationed in South Korea, went on to become a world-famous karate champion in the 1960s and 1970s.
Norris eventually parlayed his fighting skills into an acting career that showcased his smooth voice and powerful roundhouse kicks. He's best known for the TV series "Walker, Texas Ranger," as well as action films including "The Way of the Dragon," "The Hitman," "The Delta Force" and "Missing in Action."
The Life of Chuck Norris
Chuck Norris almost ran off and joined the Navy at age 17, but because his mother wanted him to finish high school before enlisting, he had time to rethink his choice of military branch and joined the Air Force instead.
This isn't just about interservice rivalry; if Norris chose the Navy, America -- and maybe the world -- might never have known the man who puts the "laughter" in "manslaughter."
Carlos Ray Norris, or as we know him, Chuck Norris, was born on March 10, 1940, to Wilma and Ray Norris in Ryan, Oklahoma. His mother was just 18 years old and, unsurprisingly, spent seven days in labor. When he was born, his skin was blue because his lungs weren't pumping.
Doctors rushed in to jump-start them, and according to his autobiography "Against All Odds," he was "gulping air like a pro."
It was the closest the Grim Reaper ever got to Chuck Norris. It also was the reason his mother was so adamant about Carlos graduating from high school. She believed God had a plan for him. She might have been right.
Chuck Norris Military Service
At a glance:
Enlisted in the Air Force in 1958
Completed basic training at Lackland Air Force Base
Stationed at Osan Air Base, South Korea, with the 6314th Air Police Squadron
Served as air policeman at March Air Force Base
Discharged in 1962 with the rank of airman first class
Received the Veteran of the Year 2001 award from the U.S. Air Force
Norris was a small boy when he and his seven months' pregnant mother traveled by train alone to California to reunite with his father, who had moved there for work. A group of Navy sailors noticed the young mother and child and took them under their wing, he wrote in his autobiography "Against All Odds."
"They were good guys, and I was in awe of them," Norris wrote. "My respect for the U.S. military had its beginnings right there on that train."
Although originally hoping to join the Navy, two months after his high school graduation in 1958, Norris enlisted in the Air Force as an air policeman.
At basic training at Lackland Air Force Base in Texas, young Carlos became known as Chuck Norris, a new name given to him by a fellow airman.
He graduated from basic training, married his high school sweetheart and was sent to Arizona for a year. Then he was sent to Osan Air Base, South Korea, where he spent four years. He called the move "a major turning point." It was there that he pursued martial arts.
"After his service in South Korea, Norris served at March Air Force Base, now March Air Reserve Base, in Riverside County, California. He continued to serve as an air policeman until his discharge from service in August 1962 at the rank of airman first class," according to a Department of Veterans Affairs biography of Norris.
Chuck Norris Movies and TV Shows
Celebrity student Steve McQueen encouraged Norris to go into acting. After bit roles, Norris captured the public's attention with his showstopping turn as Bruce Lee's martial arts opponent in the 1972 film "The Way of the Dragon" (originally released as "Return of the Dragon").
By the late 1970s, Norris was popular enough to headline his own movies and starred in cult classics such as "Good Guys Wear Black," "The Delta Force" and "Missing in Action."
He later starred in the long-running TV series "Walker, Texas Ranger."
Popular Movies
The Way of the Dragon (1972)
Missing in Action (1984)
Firewalker (1986)
The Delta Force (1986)
Delta Force 2: The Colombian Connection (1990)
The Hitman (1991)
Sidekicks (1992)
Bells of Innocence (2003)
The Cutter (2005)
The Expendables 2 (2012)
Popular TV Shows
Walker, Texas Ranger (1993-2001)
Sons of Thunder (1999)
Karate Kommandos (1986)
Can Chuck Norris Actually Fight?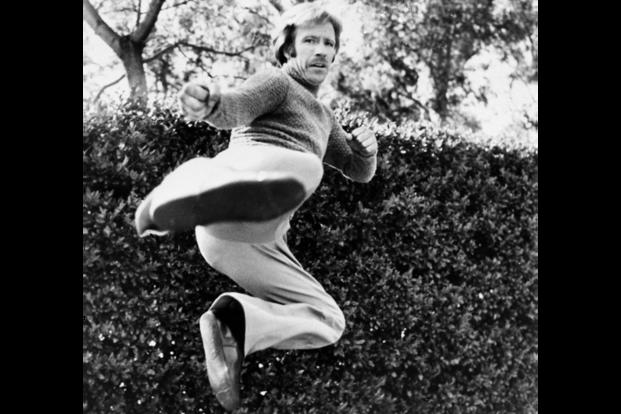 While stationed in South Korea, Norris joined the base judo team but quickly found it wasn't for him. Then one day, while walking through an alley, he discovered a dojo practicing tang soo do, the Korean art of empty-hand fighting. Even with an injured shoulder and in a class full of black belts, he took to the art.
Eight years later, he was a world champion.
He studied tang soo do and tae kwon do, both Korean martial arts, and became the first Westerner to be awarded an eighth-degree black belt in tae kwon do. He also later studied judo while stationed in California.
He briefly worked for Northrop Aviation, but moonlighted as a karate instructor and soon was teaching full time and running a number of martial arts schools. He held the world middleweight karate champion title for six years and was chosen Black Belt magazine's "Fighter of the Year'' in 1969. He eventually founded 32 martial arts schools.
Chuck Norris Jokes
The enduring popularity of "Walker, Texas Ranger" and Norris' deserved reputation as a real-world martial arts master led to the rise of "Chuck Norris Facts," an early internet meme that exaggerates his tough-guy image to hilarious effect.
Here's a smattering of some of the greatest "Chuck Norris Facts" created by the internet:
When Chuck Norris was born, he drove his mom home from the hospital.
Chuck Norris can hit you so hard, your blood will bleed.
Jack was nimble, Jack was quick, but Jack couldn't dodge Chuck Norris' roundhouse kick.
Chuck Norris can unscramble an egg.
Chuck Norris beat the sun in a staring contest.
Chuck can divide by zero.
When Chuck Norris plays dodgeball, the balls dodge him.
Sticks and stones may break your bones, but a Chuck Norris glare will liquefy your kidneys.
Chuck Norris can build a snowman out of rain.
Chuck Norris makes onions cry.
Chuck Norris's blood type is AK-47.
Chuck Norris tells Simon what to do.
Chuck Norris once went to Mars. That's why there are no signs of life.
Is Chuck Norris Still Alive?
Norris is still very much alive, probably because death lives in fear that he might seek revenge for that stunt he pulled when Chuck Norris was born.
Norris' net worth is estimated at $70 million, according to CelebrityNetWorth.com. He often uses his success to give back to the military community. He has been a spokesman on behalf of the Veterans Administration (now Veterans Affairs) and hospitalized veterans. In 1990, he created the Kick Drugs out of America Foundation and has been chosen "Veteran of the Year" by the American Veteran Awards.
Where Is Chuck Norris Today?
In 2022, Norris, a conservative Republican, became the spokesman for Roundhouse Provisions, a new emergency preparedness food brand that sells $250 buckets filled with 76 pre-packaged meals.
"I don't think anyone can look me in the eye and say it's a bad idea to have extra food in your home," he told Rolling Stone magazine.
It's doubtful anyone would dare, even if they thought so.
He and his second wife, Gena, own CForce Bottling Company, maker of a premium artesian water, CForce, which is bottled at the source on their Lone Wolf Ranch in Navasota, Texas.
These latest ventures join others in which Norris has been involved, including endorsing Total Gym fitness products, selling silver coins and founding the karate organization Kickstart Kids.
Norris stepped back from acting in recent years, in part to be by Gena's side as she battled severe health problems.
Every once in a while, you can even see Norris on USO tours, visiting deployed troops but letting them win the war.
Want to Learn About More Famous Veterans?
Whether you want to learn more about other famous veterans, polish up your resume, find veteran job fairs in your area, or connect with employers looking to hire veterans, Military.com can help. Sign up for a free Military.com membership to have job postings, guides and advice, and more delivered directly to your inbox.