When Monica Helms was in the Navy, she served aboard the submarines USS Francis Scott Key and the USS Flasher. Her missions had her going out on deployments of up to 70 days each. She served for eight years, hiding something she didn't quite understand.
Helms would come to understand it and, with a little nudge from the universe, fully embrace herself. After making her transition, she fought for the rights of transgender people, especially those who served in the U.S. military, while creating one of the enduring symbols of that struggle, the transgender pride flag.
Read: The Worldwide Icon of Pride Month Was Created by an Army Veteran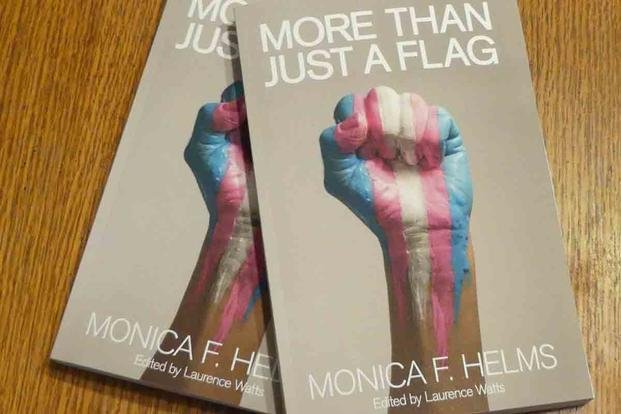 While she was on base in Charleston, South Carolina, Helms says she was hiding the fact that she liked dressing as a woman. In the 1970s, just being openly gay in the military meant the end of a service member's career. None of the branches made a distinction between being gay or transgender. Being caught meant a discharge while being caught in the act meant a dishonorable discharge in many cases.
Helms kept her secret until 1978, after the Navy sent her to San Francisco two years prior. There, she found a community of people just like her and felt she could live as her authentic self. From there, she did what many veterans do; she lived her life. She moved to Phoenix, joined the United States Submarine Veterans, got married and began raising two kids.
In 1987, during a visit to San Francisco, one of her close friends confided in her that he soon would become a woman. It hit Helms that she, too, needed to transition. It changed her life once more. Her parents stopped talking to her, and her youngest son held on to some degree of resentment for a long, long time.
She even had to fight to re-register with the U.S. Submarine Veterans organization to register under her name, Monica, at a time when only men were submariners. After some significant wrangling, the national leadership deferred the issue to a vote in her local chapter. They accepted her.
But Helms now had her voice, she told the Atlantic in 2012. She moved to Atlanta and founded the Transgender American Veterans Association in 2003 to bring the fight for equality to the public arena. She created the transgender pride flag in 1999 as a symbol of her own transness after talking with Mike Page, the creator of the bisexual pride flag. He told her to keep it simple.
"Two weeks later, I woke up, and while lying in bed, the design came to me," Helms told the Modern Military Association of America. "I got up and drew it out and liked what I saw. I contacted the people who made the Bi Flag and they sent me some swatches. A week later, I had the first Trans Flag."
The trans pride flag is made up of five horizontal stripes, two light blue, two pink and one white in the center.
"The stripes at the top and bottom are light blue, the traditional color for baby boys," Helms explained to the Huffington Post. "The stripes next to them are pink, the traditional color for baby girls. The stripe in the middle is white, for those who are transitioning or consider themselves having a neutral or undefined gender."
She first flew her original design at the Phoenix Pride Parade in 2000. Since then, it has caught on as a symbol of trans pride around the world. Cities officially raise the flag on public flagpoles during Transgender Awareness Week and the Transgender Day of Remembrance, both of which are in November. Helms is "flabbergasted."
"Because I took it everywhere, it got seen and people started liking it," she recalled. "I now see how important the flag has become to many people. I'm overwhelmed at how popular it's become … seeing it in different countries and different places, seeing the colors displayed in places, like the spiral on top of the One World Trade Center or on top of tall mountains, still thrills me to no end. I have one bucket-like goal on where I want to see the flag, and that's in the International Space Station."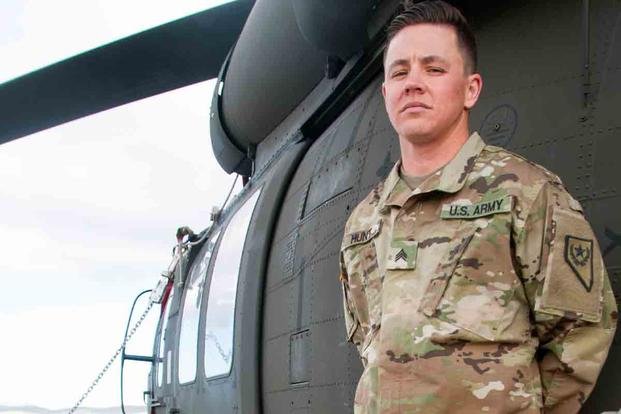 Her original Trans Pride Flag, first flown in 1999, is now in the Smithsonian Institution's National Museum of American History.
-- Blake Stilwell can be reached at blake.stilwell@military.com. He can also be found on Twitter @blakestilwell or on Facebook.
Want to Learn More About Military Life?
Whether you're thinking of joining the military, looking for post-military careers or keeping up with military life and benefits, Military.com has you covered. Subscribe to Military.com to have military news, updates and resources delivered directly to your inbox.