Not every military test pilot can set records like Chuck Yeager, but what happened to Tom Attridge on Sept. 21, 1956, was truly remarkable: He shot down his own aircraft, midflight.
As Attridge settled into the cockpit for his second test flight of the day nearly seven decades ago, he was at the controls of the Navy's first supersonic fighter jet, the Grumman F-11F Tiger. Conceived as a way to modernize the F9F-6/7 Cougar by reducing drag and increasing speed, the Navy was so impressed with its maiden flight that it placed an order for more than 400.
Attridge took off from Grumman's airfield on Long Island, New York, to perform a weapons test over the Atlantic Ocean, piloting his Tiger to an altitude of 20,000 feet. Attridge then began a Mach 1 dive, and with the jet at about 13,000 feet, he fired a four-second round from his 20mm cannons. After a few seconds, Attridge fired again, continuing his descent.
At 7,000 feet, a loud smack signaled the first sign of trouble. Attridge thought a bird had struck his windshield, but he also noticed his plane was losing power.
Attridge throttled his Tiger to about 230 mph and began his return to the airfield. He tried to maintain altitude, but the plane was functioning at only four-fifths of its total power. With the engine sounding like it was "tearing up," Attridge lost power entirely about two miles from the runway. The Tiger caught fire and lost a wing and stabilizer, forcing Attridge to eject.
The Tiger landed in a bunch of trees less than a mile from the landing strip, then went another 300 feet before stopping. Bullet holes were found to the canopy glass, right engine and nose cone; a bullet was lodged in the engine's compressor. The plane was deemed a total loss.
Attridge broke a leg and several vertebrae, but all things considered, he was a lucky man. The plane was firing only dummy practice rounds; had they been real bullets, "it's unlikely the pilot would have survived either the hit to the canopy glass or the hit to the plane's engine," according to We Are the Mighty.
So how was this even possible? It seems implausible that a plane can somehow catch up to a bullet it fired. A projectile can travel so much faster, some even reaching more than twice the speed of sound.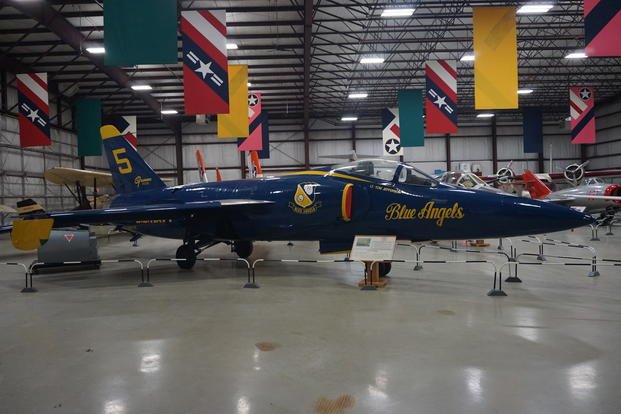 The rounds fired by Attridge were traveling at about 2,000 mph. Because the bullets slowed down greatly because of the drag induced by air resistance, they began a downward curve. While their speed dropped to about 400 mph, Attridge accelerated the Tiger to about 880 mph.
As both the plane and bullets descended -- and one was slowing down as the other was speeding up -- the difference in distance was erased. Their paths intersected a few miles after Attridge fired the rounds. It took 11 seconds from the time the bullets were fired to when they struck the Tiger, according to Aviation Geek Club.
While the Navy dismissed the incident as a "million to one shot," Attridge was skeptical. "At the speeds we're flying today, it could be duplicated anytime," he later said.
If anyone would know about such things, it would be Attridge -- and he was right. In 1973, another test pilot ejected safely after his F-14 Tomcat in California was hit by its own (dummy) missile.
For all of its promise, the Tiger was in service only from 1957 to 1969. It is known for setting an altitude record, for its use by the Navy's Blue Angels flight demonstration team, and for a man who went where no test pilot had gone before -- right into the path of his own bullets.
-- Stephen Ruiz can be reached at stephen.ruiz@military.com.
Want to Know More About the Military?
Be sure to get the latest news about the U.S. military, as well as critical info about how to join and all the benefits of service. Subscribe to Military.com and receive customized updates delivered straight to your inbox.