Veterans Day visitors to the National World War I Museum and Memorial in Kansas City were treated to a unique sight: a former Navy SEAL BASE jumping from the top of the 217-foot memorial in honor of the prisoners of war and missing in action troops.
Ryan "Birdman" Parrott is a Navy SEAL veteran and extreme sports enthusiast whose zeal for veterans and first responders led him to found two nonprofits. One of those, the Birds Eye View Project, uses extreme sports to raise money for charities.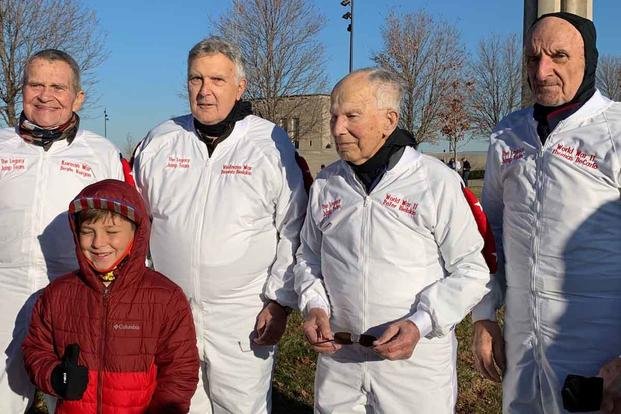 Right before his own solo Veterans Day jump, he also led an all-veteran legacy team of fellow veterans from each American conflict in a group skydiving event above the memorial.
That "Legacy Jump," included veterans of every conflict era of which there are living veterans. That meant veterans of World War II, Korean War, Vietnam War, Gulf War and Iraq and Afghanistan jumped together out of a perfectly good airplane, perhaps one last time.
After the legacy jump, Parrott performed a symbolic "WWI Soldier & Missing Man" BASE Jump from the 217-foot Liberty Memorial Tower.
Illegal in many places, BASE jumping (with BASE being an acronym for building, antenna, span, and earth -- all the tall structures from which to jump) is much more dangerous than skydiving, as BASE jumping doesn't give the jumper the time for things like reserve parachutes. Parrott, a skilled jumper, performed that stunt alone.
Not a bad way to honor Veterans Day while socially distancing and spending time outdoors.
The jumps were all to benefit Parrott's Birds Eye View project in both fundraising and awareness. The project currently supports five separate veterans charities, including Parrott's first nonprofit, Sons of the Flag.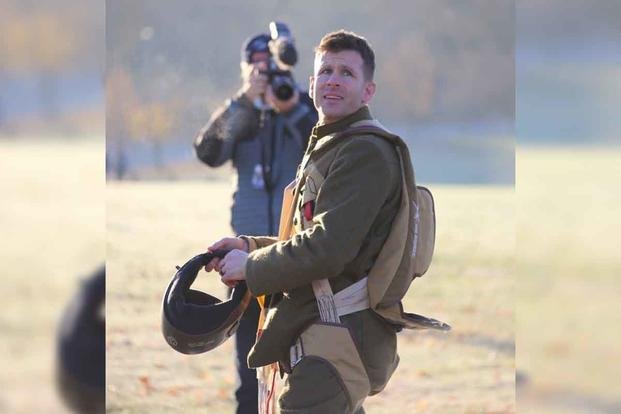 Sons of the Flag is dedicated to the care of burn survivors and supports them either directly or through funding for burn care research or for fellowships for doctors looking to specialize in burn treatments, according to their website.
The National WWI Museum and Memorial in Kansas City, Missouri is currently the top memorial site for the Great War and the second oldest World War I museum in the United States. A new national memorial is currently being erected at Pershing Park in Washington, D.C.
-- Blake Stilwell can be reached at blake.stilwell@military.com. He can also be found on Twitter @blakestilwell or on Facebook.
Want to Learn More About Military Life?
Whether you're thinking of joining the military, looking for post-military careers or keeping up with military life and benefits, Military.com has you covered. Subscribe to Military.com to have military news, updates and resources delivered directly to your inbox.