When Helen Viola Jackson was born, the year was 1919 and the United States had just finished fighting World War I. When her husband James Bolin was born, it was 1843 and the U.S. had yet to fight World War I. Or the Spanish-American War. Or the Plains Wars. Or the Civil War. Or the Mexican War.
You get the idea.
Jackson married Bolin in September 1936, when she was just 17 years old. Bolin, who fought in the Civil War, was 93. It's a situation akin to a Gen-Zer marrying a World War II veteran.
The two met in her hometown of Niangua, Missouri. Jackson would go to the elderly man's house every day after school to take care of him. But Bolin had no way to repay her except to offer to marry the young girl.
As a veteran of the Union Army, Bolin lived on a pension from the Department of Veterans Affairs. If Jackson married him, she would be eligible to receive that pension. And with the Great Depression in full swing, a government pension was a big deal.
"Mr. Bolin really cared for me," she said in an interview for Our America Magazine. "He wanted me to have a future, and he was so kind."
Bolin wasn't the only Civil War veteran to marry a younger woman to carry on his pension.
Read: Last Person to Receive a Civil War Pension Dies at 90
Except Jackson never applied to receive Bolin's pension after he died in 1939. In fact, she kept the nuptials a secret until 2017, when she realized she was among the last in a dying line. It was only in planning her funeral that she revealed her hidden past to her minister.
The proof was kept in her Civil War-era bible, a gift from her husband.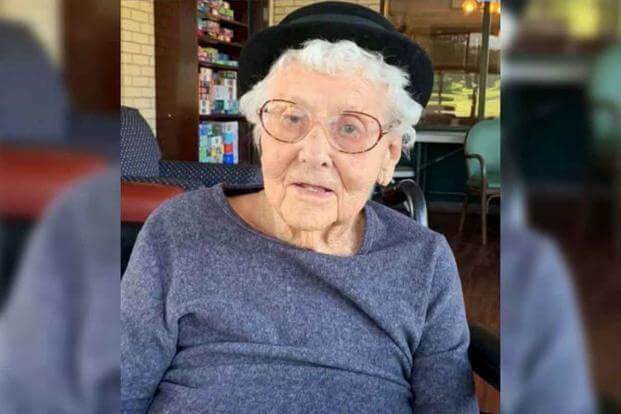 Their marriage was strictly on her terms, according to a statement from the Missouri Cherry Blossom Festival, at which she told her story in 2018 and answered questions from the crowd. She kept her last name and stayed on her family's farm as she cared for the former private of the 14th Missouri Cavalry. She never remarried and had no children.
"I never wanted to share my story with the public," Jackson said in an oral history recording in 2018. "I didn't feel that it was that important, and I didn't want a bunch of gossip about it. ... I had great respect for Mr. Bolin, and I did not want him to be hurt by the scorn of wagging tongues."
Jackson never applied for the pension because one of her stepdaughters threatened to ruin her reputation over it. Back then, Jackson said, all a woman had was her reputation. If she had applied, she would have collected $73.13 every month for the past 81 years, for a total of more than $71,000.
The elderly Jackson was living in the Webco Manor Nursing Home in Marshfield, Missouri, when she died on Dec. 16, 2020. She is survived only by a star on the Missouri Walk of Fame.
-- Blake Stilwell can be reached at blake.stilwell@military.com. He can also be found on Twitter @blakestilwell or on Facebook.
Want to Learn More About Military Life?
Whether you're thinking of joining the military, looking for post-military careers or keeping up with military life and benefits, Military.com has you covered. Subscribe to Military.com to have military news, updates and resources delivered directly to your inbox.