If your family likes to crowd around the phone to talk with family deployed overseas or even if you're just connecting with a grandparent who lives far away, this Anker PowerConf Bluetooth Speakerphone is exactly the tool you need to make that work.
Anyone who's set foot in an office over the past few decades has encountered a big starfish-shaped hunk of plastic at the center of a conference room table. That's allegedly a speakerphone system and those things usually cost thousands of dollars as part of an office-wide PBX system.
But, as we all know, those things almost never work. Everyone stumbles through a call with a lousy connection and no work really gets done. Enter the PowerConf, a $130 solution to the world's conference call disasters.
It's a square speaker that comes with its own road case, offers 24 hours of talk time on a single battery charge and doubles as a phone power bank in a pinch. The build quality is more than solid, nicer than that $2000 disaster on the table at your office.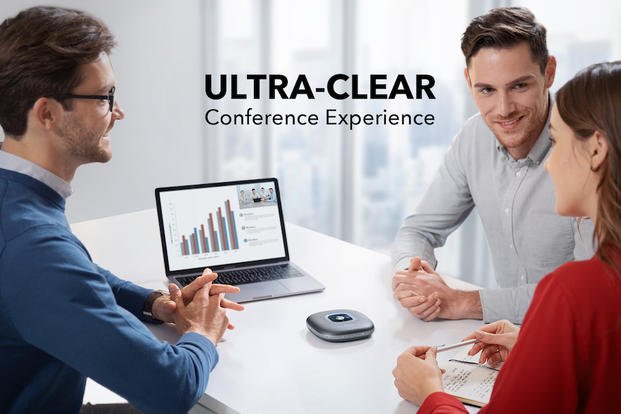 How does it sound? Well, there are six microphones arranged around the speaker and DSP noise reduction to give your caller the kind of solid hookup you'd think would be the standard (unless you've been using speakerphones for the last 50 years).
You pair it with your phone the same way you'd pair with a Bluetooth speaker and Anker has a long history of building products that keep a connection and easily reconnect the next time (and the next), another tech thing that you'd think everyone else would've solved by now.
If you're Skyping from a laptop, it'll also plug into your computer with no extra drivers. It's also small enough to fit in your travel bag and can even sub for a music speaker if necessary.
At this point, you're either wondering why anyone would care or you're lighting up because someone out there has finally figured out a way to ease your pain. If you crowd people around a speakerphone for a frustrating call more than a few times a year, the PowerConf might just be the solution to your telephone problems.