In a small area of Northern France, in a town called Seringes-et-Nesles, is a cemetery filled with soldiers who died fighting to keep France from falling to the Kaiser's Germany during WWI.
The cemetery, Oise-Aisne American Cemetery, holds the remains of 6,012 soldiers in plots A-D, some unidentified, as well as a memorial to the almost 300 who went missing and were never found. There are many interesting side stories about this cemetery. Famous poet Joyce Kilmer is buried here. The tombs of the unknown are marked with the same epitaph as the Tomb of the Unknown Soldier in Arlington National Cemetery.
The most infamous stories, however, lie in plot E.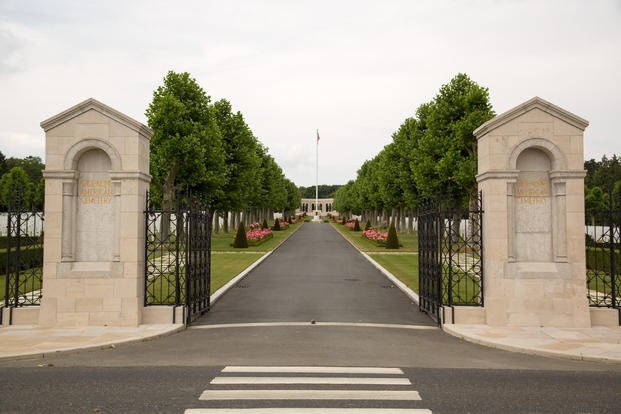 Officially Plot E does not exist. The 100-by-54 foot oval does not appear on maps, pamphlets, or on any websites. Ninety-six white markers the size of index cards, carrying only a small ID number litter the ground in Plot E, overlooked by a single granite cross. No U.S. flag is allowed to fly over it. The bodies are interred with their backs to the four plots across the street.
Plot E now contains the remains of 94 bodies. Across the street, unmarked, surrounded by thick shrubs and undergrowth, and accessible only through the supervisor's office, the infamous fifth plot inters the "Dishonorable Dead," Americans dishonorably discharged by the U.S. Army before being executed for crimes like rape and murder during or shortly after WWII.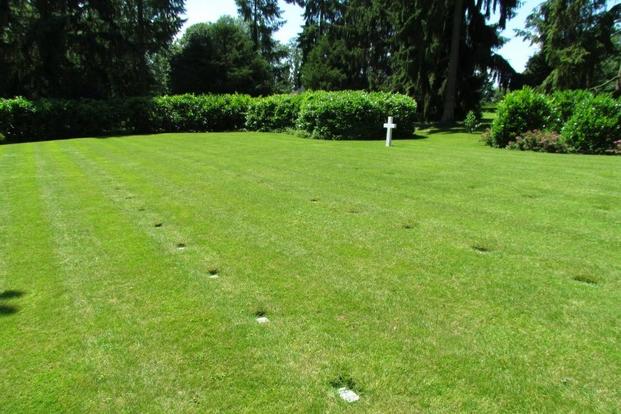 With the exception of the infamous deserter Eddie Slovik (who was buried here after becoming the first soldier since the Civil War to be tried and executed for desertion – his remains have since been repatriated), each criminal faced the firing squad or the hangman's rope for the murder of 26 fellow American soldiers and 71 British, French, German, Italian, Polish and Algerian civilians (both male and female) who were raped or murdered.
British murder victim Elizabeth Green (age 15) was raped and strangled by Corporal Ernest Lee Clarke (Grave 68) and Private Augustine M. Guerra (Grave 44). Louis Till (Grave 73), the father of American Civil Rights Icon Emmett Till, was hanged for his part in the murder of an Italian woman in 1944. Sir Eric Teichman was shot in the head by George E. Smith (Grave 52) in December 1944 after Smith was found poaching on his estate. Smith was hanged on V-E Day.
The Army executed a total of 98 servicemen for these kinds of crimes during WWII. While they were originally buried near the site of their execution, in 1949 they were all reinterred to where they are today.
---
More articles from We Are the Mighty: 
Good news, airmen: The Air Force put all of your basic training photos online
This is how Marine infantrymen prepare for a hike
Here is how the Allies planned to evacuate wounded before D-Day
We Are The Mighty (WATM) celebrates service with stories that inspire. WATM is made in Hollywood by veterans. It's military life presented like never before. Check it out at We Are the Mighty.
Keep Up With the Best in Military Entertainment
Whether you're looking for news and entertainment, thinking of joining the military or keeping up with military life and benefits, Military.com has you covered. Subscribe to the Military.com newsletter to have military news, updates and resources delivered straight to your inbox.