The celebrity dead rumor mill is at it again. This time the (supposed) victim is Chuck Norris. According to rumors circulating on social media, the 80-year-old martial arts action movie star and Air Force veteran was felled by the novel coronavirus.
What fools these mortals be.
Read: Two Criminals Once Tried to Rob the Wrong Air Force Veteran
Norris, who served in the Air Force in Korea and beyond, is alive and well still, and maybe forever. He's just the latest target of the endless rumor mill surrounding celebrity deaths -- a rumor mill that had better watch its back.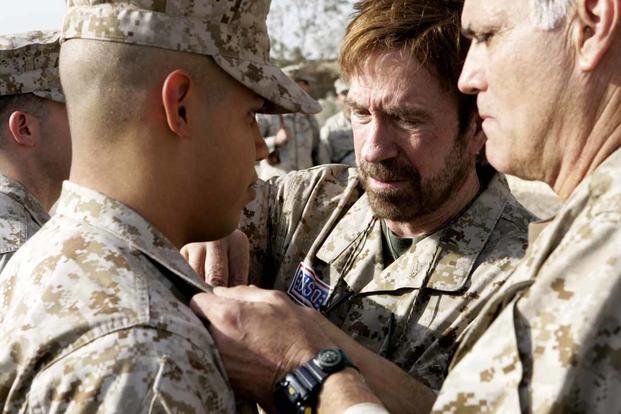 Celebrities are frequently the targets of such rumors, dating all the way back to Mark Twain, who was famously reached for comment about his own death in a June 1897 issue of the New York Journal. Beyonce, Clint Eastwood and -- arguably the most famous -- Paul McCartney have all supposedly died before their time.
The age of COVID-19 has brought out a lot of new rumors surrounding celebrity deaths, given the misunderstandings about the virus and its lethality. Many celebrities have (really) contracted it, including actors Tom Hanks and Tony Shalhoub, singer-songwriter Pink and even the UK's Prince Charles. All went into isolation to prevent the spread of the virus.
Read More: Famous Veteran Chuck Norris: His Military Service, Career and Life
Chuck Norris isn't one of those. Chuck Norris puts the coronavirus in isolation.
According to the Poynter Institute, the Chuck Norris rumor comes from a Facebook post on June 11th in the group "Are You Not Entertained?" It read:
"Corona Virus claims a black belt. Carlos Ray 'Chuck' Norris, famous actor and fighter, died yesterday afternoon at his home in Northwood Hills, TX at the age of 80."
Like many things on Facebook, readers apparently only read one part of the gag and then ran with it to spread the "news" among their networks. If they had kept reading, they would have arrived at the obvious joke.
"However, after his minor inconvenience of death, Chuck has made a full recovery, and is reported to be doing quite well. It has also been reported that the Corona virus is in self isolation for 14 days due to being exposed to Chuck Norris."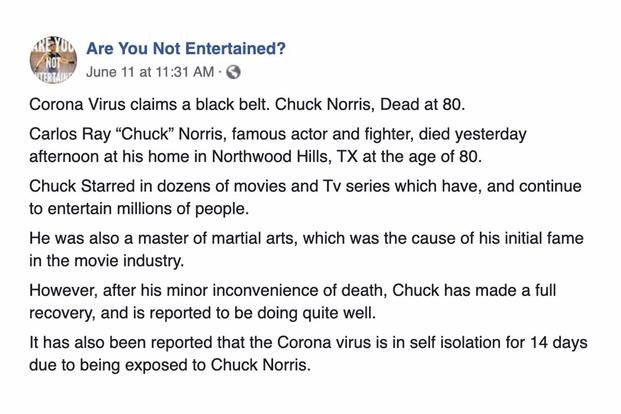 Remember to keep a skeptical eye toward rumors of celebrity deaths. Just because your favorite celebrity's name is trending somewhere, doesn't mean they've met their maker. They might have instead met Chuck Norris.
As for Chuck, when Chuck Norris actually decides to die, you'll know. Chuck Norris doesn't cheat death, he wins fair and square.
-- Blake Stilwell can be reached at blake.stilwell@military.com. He can also be found on Twitter @blakestilwell or on Facebook.
Want to Learn More About Military Life?
Whether you're thinking of joining the military, looking for post-military careers or keeping up with military life and benefits, Military.com has you covered. Subscribe to Military.com to have military news, updates and resources delivered directly to your inbox.