They say life isn't about the destination, it's about the journey. For Gerard Butler in the new movie "Kandahar," it's about both. Butler plays Tom Harris, an undercover CIA operative working against the Iranian nuclear program. When his mission is exposed, he has 30 hours to make it to an extraction point in Kandahar, some 400 miles away. 
With Harris is his Afghan translator (Navid Negahban, "Homeland"), who had already escaped from Afghanistan. Together, the two must navigate the Taliban's new Afghanistan, the rival militias and a foreign intelligence bent on revenge to return to their families. 
"Kandahar" is an epic road trip across dangerous, unknown terrain, set amid a spy thriller, and Butler's Harris is far from the James Bond kind of operative. Don't expect the kind of action where the bad guys can't aim and the hero never has to reload. Once Harris' mission is blown, he and his translator have to trust each other and work together to survive. 
There is an interesting element of realism thrown into this Iranian Cold War spy game. "Kandahar" was written by Mitchell LaFortune, an Army veteran who helped develop counterinsurgency strategy for Afghanistan and Pakistan during his deployments. As a soldier with the Defense Intelligence Agency (DIA), he also actively worked against Iranian influence in the region.
LaFortune's deep knowledge of the region could mean veterans of the Afghan War and foreign policy wonks will have a special insight to the complex landscape across which Harris and his translator have to survive. Director Ric Roman Waugh, who worked with Butler in "Angel Has Fallen" and "Greenland," returns to direct "Kandahar" in what's sure to be a movie that is peak Gerard Butler.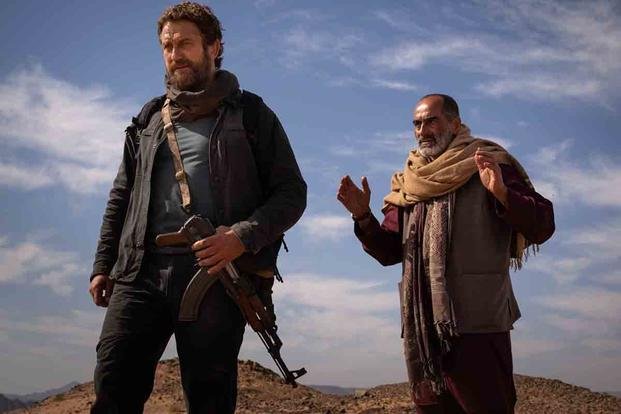 Just judging from the trailer, Harris and his translator are all alone in their journey, hopelessly outgunned, while outrunning jihadi fighters, like the Islamic State-Khorasan Province (ISIS-K), Iran's Revolutionary Guard Corps and certainly the Taliban. 
"Kandahar" also stars Ali Fazal ("Furious 7") and Travis Fimmel ("Vikings"). It opens in theaters nationwide on May 26, 2023. 
-- Blake Stilwell can be reached at blake.stilwell@military.com. He can also be found on Twitter @blakestilwell or on LinkedIn.
Keep Up With the Best in Military Entertainment
Whether you're looking for news and entertainment, thinking of joining the military or keeping up with military life and benefits, Military.com has you covered. Subscribe to the Military.com newsletter to have military news, updates and resources delivered straight to your inbox.