For the past year, the USO has fought to overcome pandemic restrictions to bring as much of its regular programming to military families as possible.
With the addition of its online Military Virtual Programming, or MVP, series, military families and service members can watch programming live or on-demand from anywhere. This is a great way for families separated by deployments or schools to watch or experience things together.
Over the next few weeks, athletes will take center stage as part of the MVP Champions Series. Athletes from many sports and backgrounds are participating, from football player J.J. Watt to Olympic gymnast Laurie Hernandez.
As part of the series, military families will have a chance to ask the athletes questions over Zoom.
Two-time NBA champion and Hall of Famer Ray Allen, a USO tour veteran and former military kid, is taking part.
"I grew up with a dad who served in the Air Force. I know all too well that the men and women who serve our country need our support. I am honored to be able to participate in USO programs and activities that do just that, and I'm looking forward to connecting with the military community through the USO MVP conversations and finding out how they've been doing," Allen said in an email to Military.com.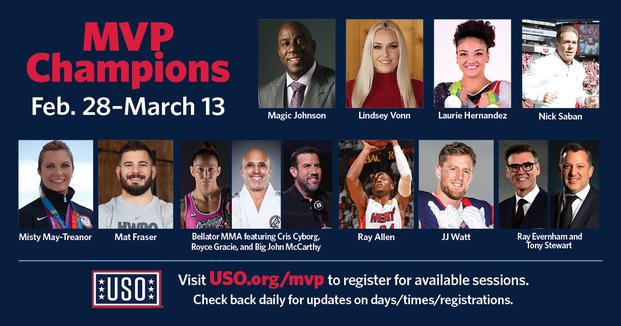 The full schedule is available online, but here are some of the highlights.
J.J. Watt, three-time NFL defensive player of the year
Sunday, Feb. 28, 2021, at 11 a.m. ET
Misty May-Treanor, Olympic gold medalist, beach volleyball
Monday, March 1, 2021, at 4 p.m. ET
Ray Allen, NBA Hall of Famer and two-time NBA champion
Tuesday, March 2, 2021, at 2 p.m. ET
Laurie Hernandez, Olympic gymnast
Monday, March 8, 2021, at 3:30 pm. ET
Lindsey Vonn, olympian and entrepreneur
Monday, March 8, 2021, at 9 p.m. ET
Nick Saban, head coach of the University of Alabama football team
Wednesday, March 10, 2021, at 1 p.m. ET
Wrapping up the month of March is the USO Coffee Connections Live, featuring Samantha Busch. The wife of NASCAR champion Kyle Bush and a mother, Samantha has a few things in common with military spouses, including balancing her family and a career. Busch has also been very open about their struggle with infertility -- something many military couples also face.
Coffee Connections Live: Samantha Busch
Thursday, March 25, 2021, at 3 p.m. ET
--Rebecca Alwine can be reached at rebecca.alwine@monster.com. Follow her on Twitter @rebecca_alwine.
Keep Up with the Ins and Outs of Military Life 
For the latest military news and tips on military family benefits and more, subscribe to Military.com and have the information you need delivered directly to your inbox.