Got the kleenex handy? 
With National Day of the Deployed on October 26, we wanted to pause for a moment to remember all of those who have gone overseas in the service of our nation.
But as military families, we know those surrounding deployments come in a bunch of types and categories.
These photos perfectly capture what those moments are like right before they ship off -- whether it be for several months or a year. 
The crying kids and parent goodbye.
You all try to hold it together, but it's not happening.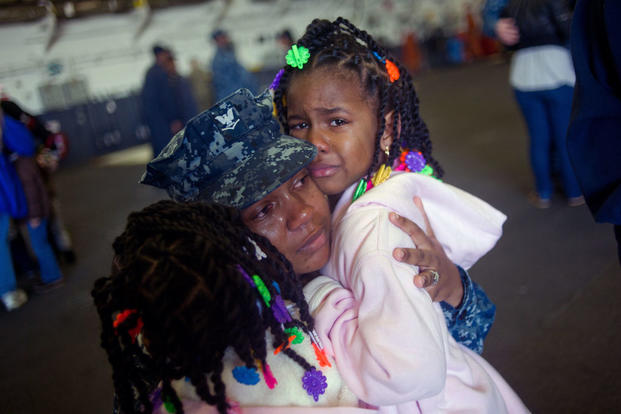 Petty Officer 3rd Class Haadi M. Turner hugs her children goodbye aboard USS Makin Island. (Photo: U.S. Navy/ Cpl. Tommy Huynh)
The long, quiet hug.
Give me alone time and don't let me go.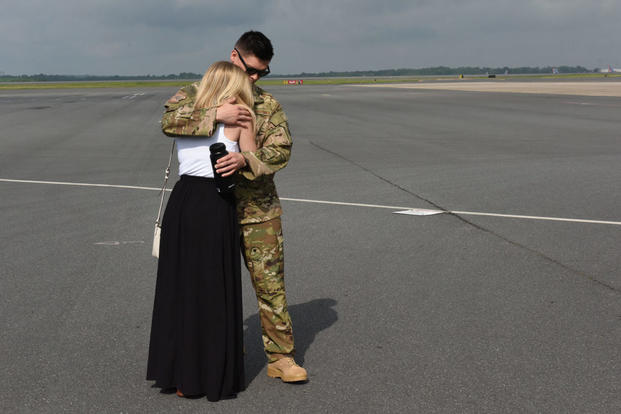 A deploying North Carolina Air National Guardsman hugs his wife and says goodbye before departure at the North Carolina Air National Guard Base, Charlotte Douglas International Airport, April 28, 2017. (Photo: Air National Guard/Tech Sgt. Nathan Clark)
The I-can't-let-go-yet.
If we just stand here like this, will you really have to leave?
Airman Lonnie Sheppard says goodbye to his loved ones before deploying aboard the aircraft carrier USS Dwight D. Eisenhower. (Photo: U.S. Navy/Mass Communication Specialist 3rd Class Ryan U. Kledzik)
The just-before-I'm-off squat hug
It's a final moment before he's gone.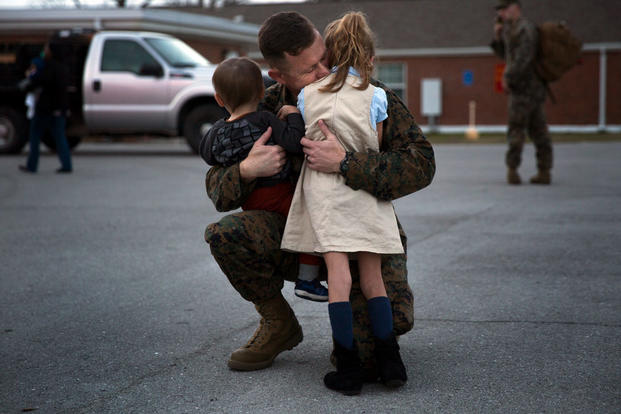 Capt. Christopher Skinner embraces his children Feb. 27, 2017, at a bus stop on Camp Lejeune before he leaves for a deployment with the 24th Marine Expeditionary Unit. (Photo: U.S. Marine Corps/Sgt. Matthew Callahan)
The last glimpse of that baby.
The next time he sees her she'll have changed so very much.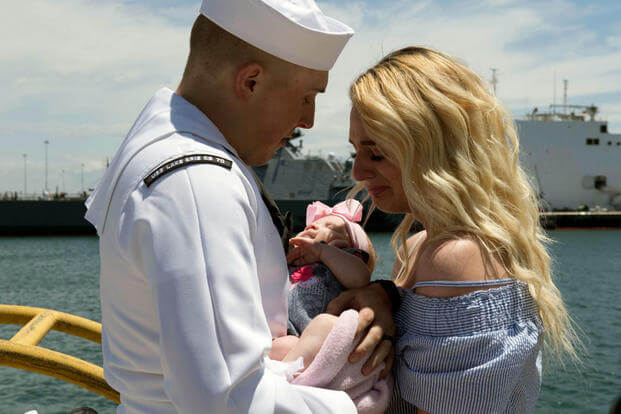 Fire Controlman 2nd Class Dylan Bagdasarian says goodbye to his wife and daughter prior to the Ticonderoga-class guided-missile cruiser USS Lake Erie departing Naval Base San Diego for a scheduled deployment. (Photo: U.S. Navy/Mass Communication Specialist Seaman Lucas T. Hans)
The best friend squeeze.
Not every goodbye is between family members.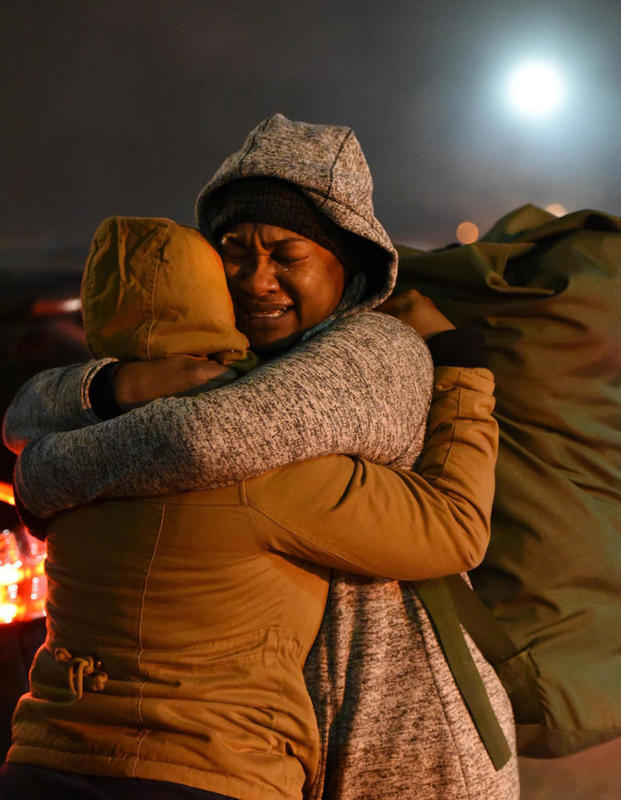 Information Systems Technician 1st Class Lurita Hough hugs her best friend Jenea Foster while saying goodbye as USS George H.W. Bush prepares to depart from Naval Station Norfolk. (Photo: U.S. Navy/Mass Communication Specialist Seaman Brooke Macchietto) 
The hangar farewell.
Off they go, but first...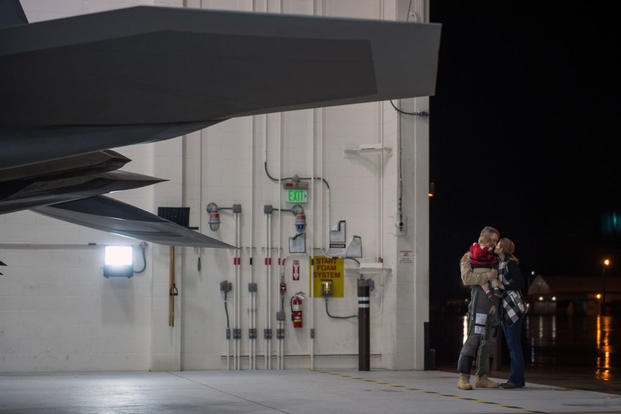 A U.S. Air Force pilot from the 90th Fighter Squadron, Joint Base Elmendorf-Richardson, says his goodbyes before deploying to Southwest Asia on March 24, 2016. (Photo: U.S. Air Force/ Senior Airman James Richardson) 
The group hug.
One last embrace before he's gone.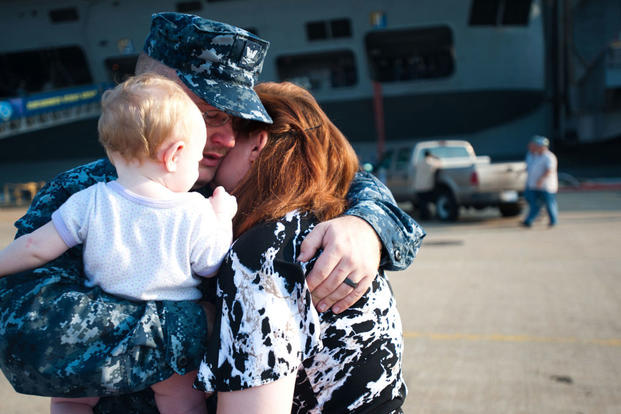 A family says its final goodbyes as the aircraft carrier USS Dwight D. Eisenhower prepares to depart for a regularly scheduled deployment in support of maritime security operations and theater security cooperation efforts in the U.S. 5th and 6th Fleet areas of responsibility. (Photo: U.S. Navy/Mass Communication Specialist 3rd Class Douglas Revell)
The safety kiss.
That one long kiss before we meet again.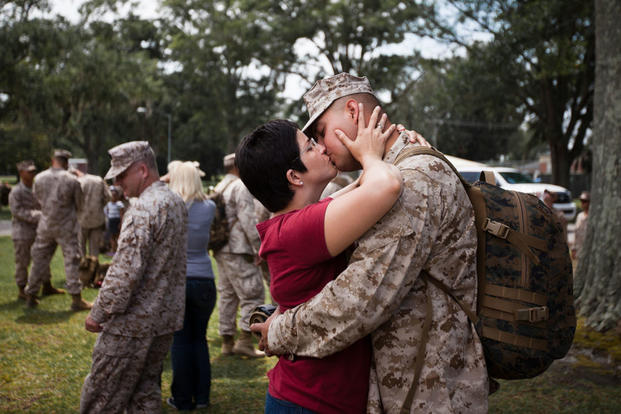 Staff Sgt. Paul Regino, Advisor Training Cell, II Marine Expeditionary Force Headquarters Group, and a native of District of Columbia, kisses his wife before he departs for Afghanistan at Marine Corps Base Camp Lejeune, North Carolina. (Photo: U.S. Marine Corps/Cpl. Bryan Nygaard)
Waving out the ship.
They're on the ship and off they go -- and you get to watch them slowly, slowly pull away.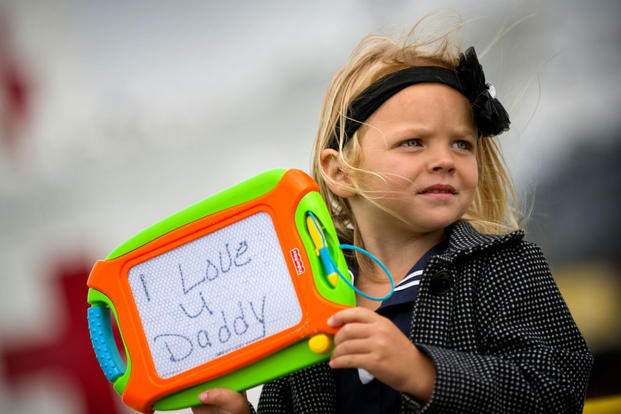 The 5-year-old daughter of Dental Technician 2nd Class Joel Tatum says goodbye to her father as the Military Sealift Command hospital ship USNS Mercy departs for Pacific Partnership 2012. (Photo: U.S. Navy/Petty Officer 2nd Class Todd Frantom) 
The shoulder smell.
Inhale that musty, sweaty uniform smell one last time.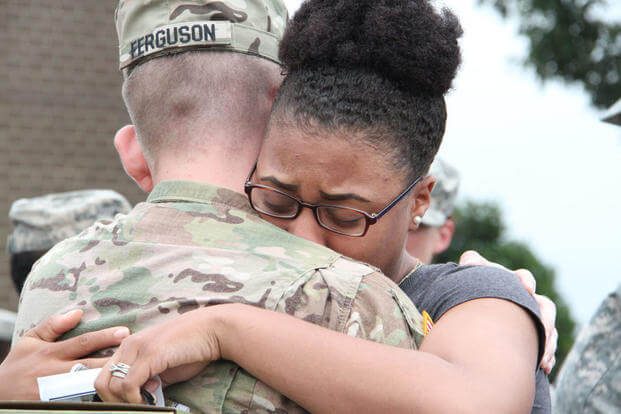 Sarojini Ferguson, a native of Fayetteville, North Carolina hugs her husband, Pfc. Joshua Ferguson, as he and fellow Soldiers with the 1st Sustainment Command (Theater) prepare to deploy from Fort Bragg, North Carolina. (Photo: U.S. Army/Elizabeth Gerhart)
Eye contact.
Maybe we can slow time and stand here forever.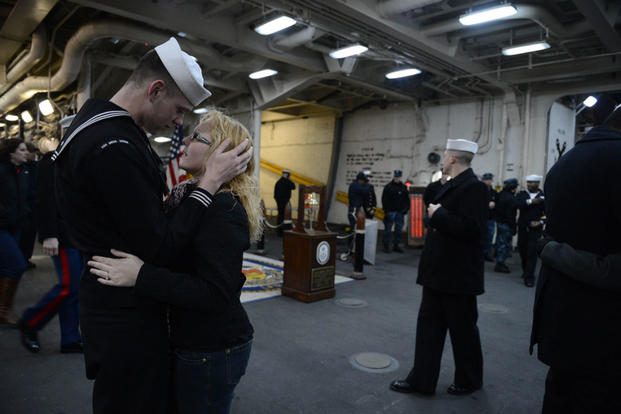 Sailors aboard amphibious transport dock ship USS Mesa Verde say goodbye to loved ones as the ship prepares to leave. (Photo: U.S. Navy/Mass Communication Specialist 2nd Class Shannon M. Smith)
The ugly cry in the rain.
Some military moments are just like in the movies. This is definitely one of them.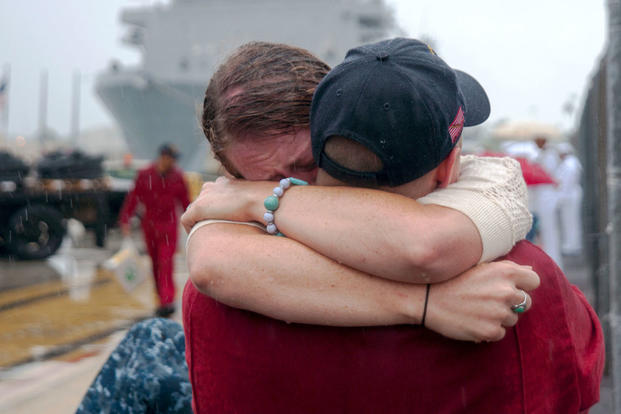 A Sailor says goodbye to a loved one as the guided-missile destroyer USS Paul Hamilton prepares to depart Joint Base Pearl Harbor-Hickam, Hawaii for a scheduled independent deployment to the Arabian Gulf and Western Pacific Ocean. (Photo: U.S. Navy/Mass Communication Specialist 2nd Class Diana Quinlan)
Stolen moments.
A few more smiles before he's really, truly gone.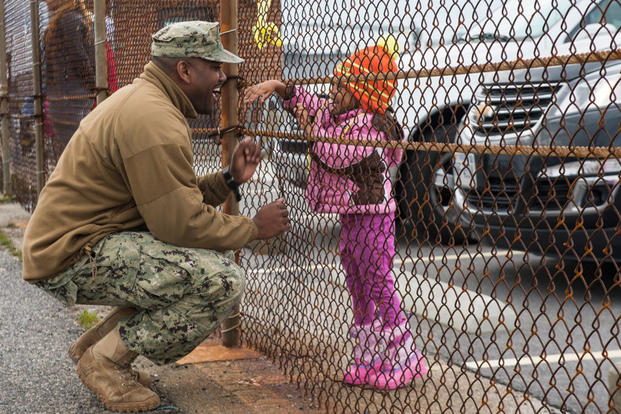 Chief Operations Specialist Dwayne Brown says goodbye to his daughter at Joint Expeditionary Base Little Creek-Fort Story, Virginia before deploying aboard the Military Sealift Command joint high-speed vessel USNS Spearhead. (Photo: U.S. Navy/Mass Communication Specialist 3rd Class Desmond Parks)
The mom hug.
His face says "Mom, I'll be fine." She's not so sure.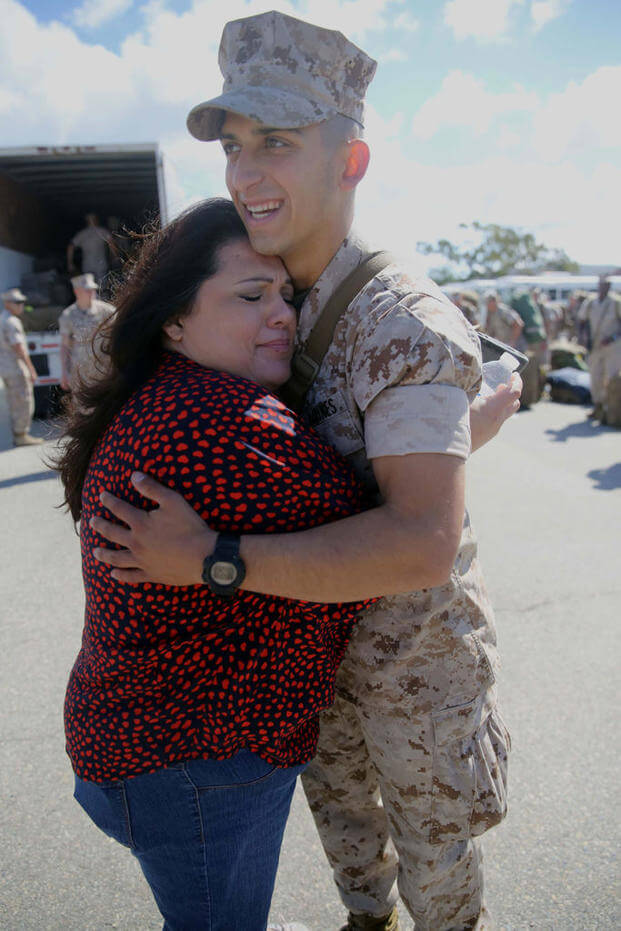 Lance Cpl. Deacon C. Morales, an intelligence analyst with Headquarters and Service Company, 1st Battalion, 5th Marine Regiment, says his final goodbyes to his mother during a deployment ceremony aboard Marine Corps Base Camp Pendleton, California. (Photo: Marine Corps/Cpl. Corey Dabney)
The bus farewell.
There's nothing quite as heart-wrenching as watching the bus leave.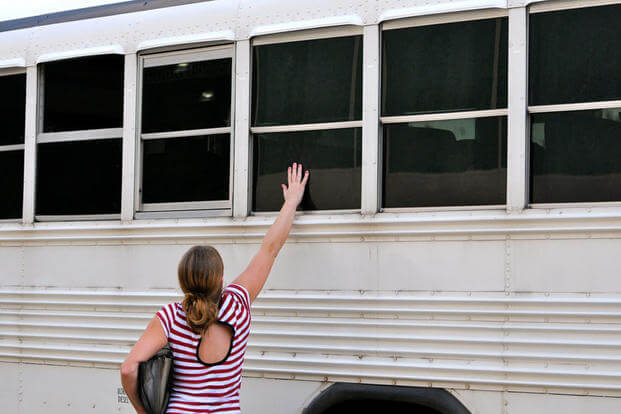 Loved ones say goodbye to 82nd Combat Aviation Brigade soldiers as they begin their trip to Afghanistan for a yearlong deployment in support of Operation Enduring Freedom. (Photo: U.S. Army/Staff Sgt. Donna Davis)
Keep Up with the Ins and Outs of Military Life 
For the latest military news and tips on military family benefits and more, subscribe to Military.com and have the information you need delivered directly to your inbox.