Every time someone buys a Super Soaker, it's an investment in the future. An Air Force veteran and inventor of the Super Soaker, Lonnie Johnson receives a residual from the sale of the toy squirt guns, which he uses to develop new ideas at his facility in Atlanta.
So far, he's developed a ceramic battery with three times the charge of a lithium ion battery and an efficient hydrogen engine with no moving parts.
It's the kind of technological innovation we might expect from someone who engineered the Galileo spacecraft, developed the stealth bomber and revolutionized the summertimes of Millennial children.
Johnson is the son of a World War II veteran and was raised in Mobile, Alabama. His father taught him about electricity at a young age, and he was soon able to repair simple electronics. He became known among the neighborhood kids as "The Professor" and built his first engine (from junkyard scraps) to power a go-kart -- just one of his many projects as a youth.
In 1968, one of the most turbulent years for race relations in the United States, Johnson entered the University of Alabama Junior Science Fair. His entry was a working, remote-controlled 3.5-foot robot named Linex, powered by compressed air and reel-to-reel tape. In spite of the racial tensions of the time and place, Linex and Johnson won first place.
He attended Tuskegee University, where he received a bachelor's degree in mechanical engineering and a master's in nuclear engineering. His first job was working on cooling systems at Oak Ridge National Laboratory in Tennessee. In 1975, the Air Force called on him to head the Space Nuclear Power Safety Section at the Air Force Weapons Laboratory in Albuquerque, N.M.
Johnson worked for NASA and the Jet Propulsion Laboratory, where he identified a flaw in the coming Galileo mission, an unmanned spacecraft that would be sent to study Jupiter. To correct it, he was tasked to attach the craft's nuclear power source to its electrical systems, which he did. The Galileo spacecraft would orbit Jupiter until it was intentionally destroyed in 2003.
Johnson would work for NASA by day and tinker with his own projects by night. One of those extracurricular activities was an air conditioning system that used water instead of chlorofluorocarbons (CFCs), which were widely known to have a harmful effect on the Earth's ozone layer at the time. After hooking up a self-created nozzle to his bathroom sink, a stream of water burst out. It was his first inkling that the idea of a powerful stream of water could be fun.
In the early 1980s, the Air Force sent him to Nebraska, where he worked on the B-2 Stealth Bomber for the Strategic Air Command. It was there he began to forge the plastic parts of what would become the Super Soaker in his basement, not really knowing whether the idea would work.
It did, and he gave it to his 7-year-old daughter, who used it against the other kids on the Air Force Base. His idea was right; it was fun. His daughter dominated the other kids with their squirt guns.
He tried to manufacture the guns himself, but the production costs were much too high. So he approached Larami, a toy company that made knockoffs of already popular toys. Larami was interested in it, so Johnson went home and made a new prototype, this time with different materials that included a two-liter soda bottle as a reservoir.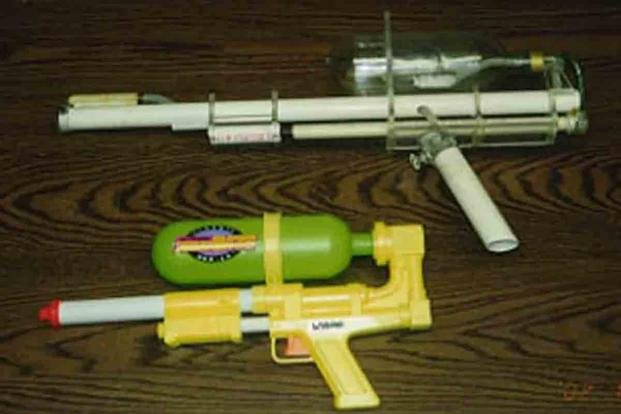 In 1990, Johnson met with the toy company representatives and fired the Super Soaker (originally called the "Power Drencher") across the board room. They were rightfully amazed. In the summer of 1991, America purchased 20 million Super Soakers. Since then, there have been 170 different Super Soaker designs. He also developed the N-Strike Line of Nerf weapons.
His work in creating Super Soakers and Nerf weapons is what allows him to create game-changing technologies like the ceramic battery and Johnson Thermo-Electrochemical Converter (JTEC), which efficiently converts waste heat to electrical energy and can be run in reverse as a cooling device. He holds more than 100 U.S. patents and tries to collect one of every item in which those patents are used, but has trouble keeping up.
Johnson was inducted into the Inventors Hall of Fame in 2022, not just as the creator of the Super Soaker, but for his contributions that "extend far beyond the realm of toy design."
-- Blake Stilwell can be reached at blake.stilwell@military.com. He can also be found on Twitter @blakestilwell or on Facebook.
Want to Know More About Veteran Jobs?
Be sure to get the latest news about post-military careers as well as critical info about veteran jobs and all the benefits of service. Subscribe to Military.com and receive customized updates delivered straight to your inbox.