Over the coming decade, the United States will need an average of 49,200 welders, solderers and similar jobs every year as the older generation of skilled trades people retire or otherwise leave the workforce. The Bureau of Labor Statistics estimates these jobs come with a median annual pay of more than $47,000.
These jobs can range from welding for local businesses to working for railroad companies like rail transportation giant CSX or Ingalls Shipbuilding, the largest ship manufacturer in the United States. Jobs with these companies and others like them will not only allow veterans to continue serving the needs of their country, but also make good pay doing it.
Now Tulsa Welding School is offering transitioning service members an even bigger incentive. On top of its already-discounted tuition rates for military members, they're now a DoD Skillbridge partner. This means veterans leaving the military can train for this new career field while still serving.
"When you hire a veteran, you get somebody that's loyal, dedicated to their job, with a solid worth ethic," Les Davis, Tulsa Welding School's director of military services, tells Military.com. "They are drug free, they're gonna show up every day, they have ethics, they treat their peers well, and they wanna be, they wanna be part of the team again, like they were part of the military. I mean, everything you want in an employee, you get with a veteran."
Davis is a retired U.S. Army sergeant first class, and though he's not a professional welder himself (he learned a little bit in high school), he knows about the demand for welders in the United States. He also knows it's a huge opportunity for veterans.
He says major American companies are coming to Tulsa Welding School looking for veterans almost every day.
"We're 400,000 welders short in this nation right now," says Davis. "It's only gonna grow. A lot of companies need welders, and they're coming to Tulsa Welding School to hire them. CSX Railroad needs welders. Ingalls Shipbuilding is on campus every other week. SpaceX, General Dynamics, Bainbridge Excel, from top to bottom, everyone needs welders."
To train welders, Tulsa Welding School's 18-week course for veterans starts with the basics (including safety) and progresses students through more complex training. They learn the different types of welds, different materials and different tools through each phase of training.
Toward the end of the course (around week 15), students will be connected with the school's career services. This office helps coming graduates complete a resume, complete with the keywords needed to get through the software on many job-posting websites to reach a real person. Then, the school helps students apply for work in the area in which they want to live and work.
Often, the school can connect them to employers, like those mentioned above, that are looking for skilled welders. Once in the interview phase, it's up to the newly minted welder to get the job.
"We definitely connect the dots," Davis says. "We don't guarantee anything because there are certain things the students have to do on their own. They have to pass a weld test. They have to pass the interview. Since we have a 94% placement rate, we're not too worried about our students getting jobs afterwards."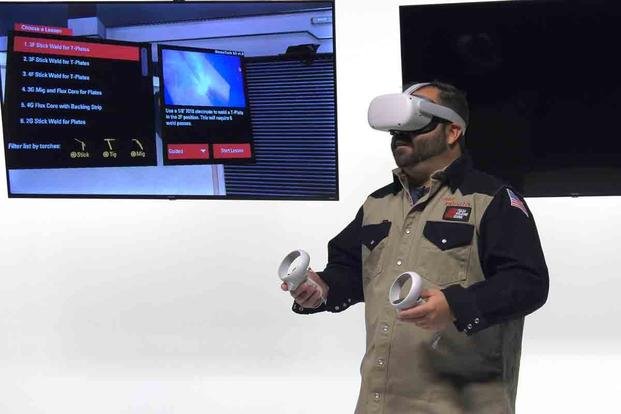 Tulsa Welding School's connection with DoD Skillbridge means that military members who are still serving can attend the training while still receiving their military pay and benefits during the last 180 days of their service. The military allows for permissive temporary duty assignment to Tulsa Welding School's campuses in Tulsa, Oklahoma; Jacksonville, Florida; or Houston.
The school requires no previous training or experience in welding to get started, and its tuition is $20,000 for military members. Tulsa Welding School accepts post-9/11 GI Bill benefits, military tuition assistance and funding from all other VA chapters.
Students attending the school will also be in good company. As the school looks for more veteran students, even Tulsa Welding School itself wants to hire more veterans.
"I've been working with veterans since 2006," says Davis. "I am probably the luckiest guy in the world. I love watching these young kids, transitioning out and seeing them get to work. It's inspirational. It's good for employers, and it's good for the veterans."
To apply for the Tulsa Welding School, service members can work with their transition officer to gather the necessary documents and approval from their chain of command. To learn more about the school or what its welding programs can do for veterans, visit its military services website.
Tulsa Welding School is also looking for skilled instructors. Check out its job openings for more information.
-- Blake Stilwell can be reached at blake.stilwell@military.com. He can also be found on Twitter @blakestilwell or on Facebook.
Want to Know More About Veteran Jobs?
Be sure to get the latest news about post-military careers as well as critical info about veteran jobs and all the benefits of service. Subscribe to Military.com and receive customized updates delivered straight to your inbox.