Dick Gregory was a comedy icon and a civil rights activist whose stand-up work mocked bigotry and racism during one of the most turbulent times in American history. He released numerous comedy albums and books, appeared on television and spoke about civil rights in places like Alabama and Mississippi.
His activism against the Vietnam War landed him on President Richard Nixon's infamous "enemies" list, and Gregory even launched a campaign against Nixon in the 1968 presidential race. But before any of that took place, he was drafted into the U.S. Army.
Gregory was born in St. Louis in 1932 and grew up to become a young athlete. His sport was running, and he excelled at it. He was the Missouri state cross country champion in 1950, which helped him earn a scholarship to Southern Illinois University. There, he set school records in the mile and the half-mile.
In 1954, before he finished college, Gregory received a draft notice and entered the U.S. Army at Fort Hood, Texas. He served at various posts for two years, but it was during his time as a soldier that he felt comedy could be his calling.
A commanding officer noticed his comedic timing and encouraged him to enter talent competitions, which he did, winning several. After his time in the Army ended, Gregory went back to SIU for a time, but felt the school wanted him more for his athletic ability, not for his studies. He dropped out and moved to Chicago.
Once in the Windy City, he began his stand-up comedy career, using racial bias and segregation as the sources for much of his material. Gregory played at local Black comedy clubs while working as a mailman by day.
His big break came when Hugh Hefner saw his act at the Black-owned Roberts Show Bar. Hef hired him to do a set at Chicago's Playboy Club in 1961. His one-night appearance turned into a six-week set at Hefner's venue.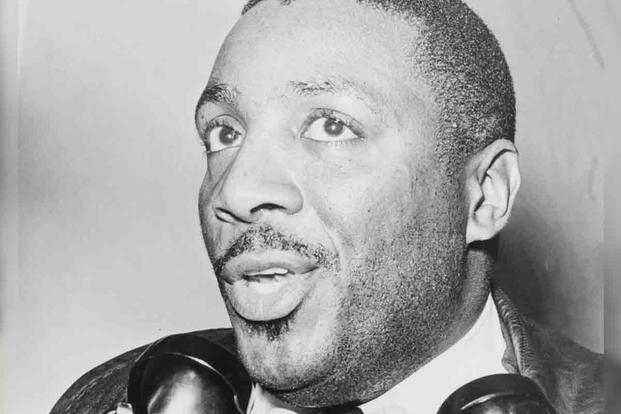 Before long, Gregory was making appearances in Time Magazine and on "The Tonight Show Starring Jack Paar." In 1964, he published an autobiography, which was meant to frankly address the discrimination and racism he had experienced, titled "Nigger." The book has been so popular since it was first published, it has never gone out of print. He followed his first book with a vegetarian cookbook, "Dick Gregory's Natural Diet For Folks Who Eat: Cookin' With Mother Nature."
Though a comedian by trade, Gregory had a higher calling: activism. He spent the rest of his life performing while advocating for various social and political causes.
With the publication of his cookbook, he became a vegetarian activist, but that wasn't the limit of his activism. He joined the burgeoning Civil Rights Movement, speaking at the 1963 "Freedom Day" voting registration drive in Selma, Alabama. He also joined the effort to find the bodies of three missing civil rights workers in Philadelphia, Mississippi, offering a $25,000 reward for the information.
Gregory was also active in the antiwar movement of the Vietnam era, speaking at the Moratorium to End the War in Vietnam demonstration in Washington, D.C., in 1969. His political activism led to a campaign against Mayor Richard J. Daley in Chicago in 1967 and a run against Nixon for president (as a candidate of the Freedom and Peace Party) in 1968.
He was an outspoken advocate for numerous other social and political movements. He marched for the passage of the Equal Rights Amendment in 1978, advocated for the rights of American Indian tribes and publicly criticized American foreign policy toward apartheid in South Africa.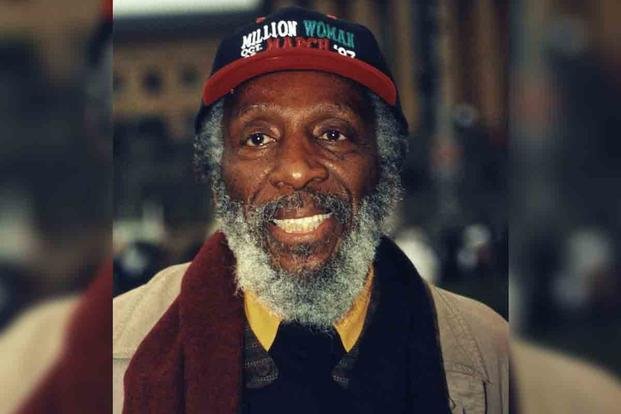 Gregory even flew to Iran in 1980 to negotiate the release of hostages being held at the former American Embassy in Tehran. When that didn't work, he staged a public hunger strike while in Iran and weighed less than 100 pounds by the time he returned to the U.S.
Gregory was an active performer and comedian for most of his life, while working for social change. He died from heart failure in Washington, D.C., on Aug. 19, 2017, at the age of 84.
-- Blake Stilwell can be reached at blake.stilwell@military.com. He can also be found on Twitter @blakestilwell or on Facebook.
Want to Know More About Veteran Jobs?
Be sure to get the latest news about post-military careers as well as critical info about veteran jobs and all the benefits of service. Subscribe to Military.com and receive customized updates delivered straight to your inbox.