As the old saying goes, the only two constants in life are death and taxes. The government will ensure taxes keep being collected, no doubt. Caring for the dead, however, is left to the private sector -- a sector that is running out of skilled workers.
The businesses and professionals who handle America's mortuary work are now looking to the ​​estimated 200,000 military veterans who will separate annually to consider joining them and have launched a "Journey to Serve" initiative to help get vets started.
For most of us, a funeral means paying our last respects to the deceased. Douglas "Dutch" Nie, a funeral home director in Ann Arbor, Michigan, wants us to know that those in the funeral services industry see a funeral as caring for the living relatives left behind.
"When someone dies, the grief is physical and mental," Nie tells Military.com. "Our work is in helping someone in grief go through the mourning process, to accept the grief. The satisfaction comes when you see that family months or a year later, and they thank you for walking them through that."
Nie is also the spokesman for the U.S. National Funeral Directors Association (NFDA), a network of funeral services professionals that provides education, resources and more to those in their industry.
Like most sectors of the American economy lately, funeral services are suffering from the same staffing shortages as anyone else. The association says local funeral homes are undermanned and sometimes overwhelmed by the demand for their services. To remedy this, the NFDA is calling on military veterans to consider joining the industry.
Nie is a U.S. Air Force veteran who served for eight years as what we today would call Security Forces. When he left the Air Force, he returned to Michigan, went to mortuary school and began working alongside his family until they retired.
He says that families and their funeral home businesses used to make up much of the workforce in the funeral services industry. These days, those numbers have dwindled, and the shortage versus demand situation is only getting worse.
"It wasn't just the pandemic," Nie says. "The labor shortages have been ongoing for the last couple of decades. There have been fewer family businesses handed down to family members. When I went to mortuary school in 1992, about 50% of students were from those family businesses. Today, maybe 20% come from those businesses."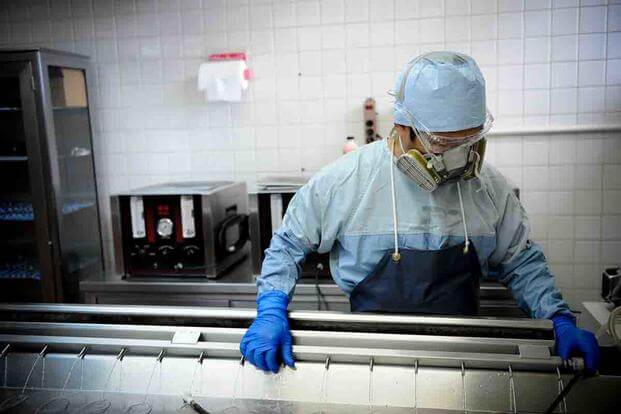 With the losses of family businesses, and the current rate at which funeral home directors are retiring, mortuary services businesses are increasingly unable to keep up with the demand. Launched in 2021, the Journey to Serve program is designed to recruit veterans while helping them find training and certification anywhere in the country they might want to go. Those working in the funeral services industry had a median annual income of more than $48,000 in 2021.
Separating veterans can apply for the program, which utilizes their GI Bill benefits, to find them a place in a mortuary school program, often a four-year degree. The NFDA will then find a funeral home where their skills are needed, one in an area of the country of their choosing. The separating member can use their last relocation shipment to move to an area where their new job is waiting. Online classes are available, too.
"It's a resource to connect all the dots for separating service members," Nie says. "It uses a lot of the benefits military members get to help them find a new career in funeral service nationwide. The Journey to Serve website has all the resources to show where the schools are and the states that are looking for help."
Those who have qualms about working in mortuary services should know that there is more to the industry than working with the deceased. Funeral directors and embalmers are just a clinical aspect. Many supporting roles, both at the funeral home and the cemetery, mean you might never be exposed to the person in the casket.
"The military is a natural fit [for funeral services]," Nie says. "There are a lot of parallels with not just funeral directors, but cemetery workers and support staff. A lot of the traditions we are taught, along with military bearing, just brings a lot to the ceremony.
"When I was growing up, we lived above the funeral home, and my dad would be missing Christmas and birthdays, because he was serving families in the community. I realized in the military, I missed a lot of those because I was deployed -- so now I know instead of serving globally, we serve locally."
Those interested in pursuing a career in funeral services should start at the Journey to Serve website to see what schools are open and what parts of the country need your help. Scholarships are available for those veterans who qualify.
-- Blake Stilwell can be reached at blake.stilwell@military.com. He can also be found on Twitter @blakestilwell or on Facebook.
Want to Know More About Veteran Jobs?
Be sure to get the latest news about post-military careers as well as critical info about veteran jobs and all the benefits of service. Subscribe to Military.com and receive customized updates delivered straight to your inbox.